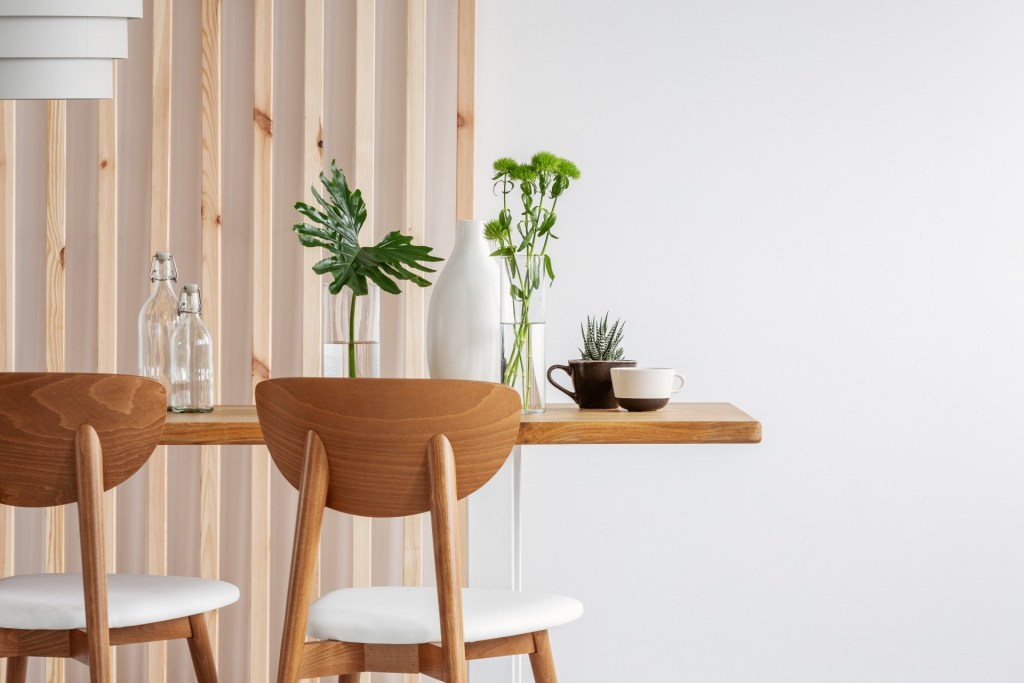 Smaller spaces can be some of the trickiest ones to decorate. The task becomes even more challenging when the room's main purpose is entertaining. One of the best ways to maximize square footage and give your space versatility is by using adaptive dining room furniture that can operate in several ways. By making your dining room multifunctional, you can get more out of it and make the space work for you.
The Organizedlife convertible table is nothing short of life-changing if you live in a small space and need options. The classic wood and metal piece can be used as a shelf and easily converts to a dining table. The large surface area has enough room for four diners to gather around, and it could also be used as a desk when needed.
A reviewer raves that the piece is a "quality table, the metal parts are thick and sturdy, it is real wood, and has a beautiful finish." Others can't say enough about how this space-saving piece is the perfect addition to their homes.
When you want the flexibility of a small table sometimes and a large table other times, a drop-leaf like this one from Gracie Oaks Nerida may be the perfect match. It would be a great piece in a small dining space that may not always be set up for eating. It has a charming, classic design with a natural wood top and crisp white legs. With both leaves up, it can seat four comfortably. Put one leaf down and push it against the wall for smaller dining or to be used as a desk. With both leaves down, it makes an ideal console table. We love that it offers a variety of options in one adorable package.
The sleek and contemporary design of this Brightech Maxwell Column Lamp would fit perfectly in any modern space. It offers a unique combination of a lighting fixture with display shelves and is ideal for adding light to a dark corner. With its slim profile, you can place this piece on almost any wall. It would be a great place to have barware or house additional serving pieces. Reviewers say this is an easy-to-build piece that is sturdy and is a great solution for a small space.
Hidden storage is always a bonus, and this Umbra Ottoman is no exception. The 16×15 base is large enough to hold extra placemats or napkins and can be tucked into a corner or an out-of-the-way spot. The contemporary design of masterfully bent wood adds a neutral warmth that will fit any contemporary style room. When extra seating is needed, this versatile piece can be used as a stool.
One reviewer touts the strength and durability of this piece. Another says, "I love the look of this stool, and it has been sturdy for large adults to sit on as well!" Many find it to be useful for storing odds and ends in a stylish, chic way.
These days, many rooms in our home need to serve more than one purpose. For anyone who finds they need to use their dining space as an office, this adjustable laptop table from Neetto may come in handy. Create an instant standing desk by placing it on your dining room table. Have a little one? This light and sturdy piece can also be used while seated on the floor as a snack table. When not in use, it folds away for easy storage.
Reviewers rave about it being an easy way to upgrade their workspace. One commented that the construction is good, quality materials are used, and it is very versatile. It sounds like everything you could ask for in a product!
Incorporating multifunctional furniture into a petite space is one of the best ways to maximize the floor space you have and give your room options. These hard-working pieces allow a space to operate in unexpected ways.
Editors' Recommendations