The key to making a small dining room look bigger is using easy design tricks that give the perception of greater space. While you may not be able to change the measurements, you can make the best of what already exists. There is no reason a small dining room can't be a welcoming haven that you will be proud to entertain in. By using pieces that maximize space and create the illusion of greater flow, yours will be dinner-party-ready in no time.
Play with perception
Making a dining space feel larger has a lot to do with the makeup of the room. While furniture plays a big part, it's by no means the only method you can use to make the space feel bigger.
Furniture
One of the biggest mistakes people make in a small room is having furniture that is too big for the space. Not only does this emphasize the tight quarters, but it also hinders good flow. When selecting pieces, pay attention to scale. The goal is to have a good amount of space between the furniture and the walls to create openness. For example, an oversized chunky table and chair set and a sleek one with tapered legs offer the same amount of seating. The difference is, the latter will fit better in a small room and give the design an airier feel. Look for pieces that have trim legs and smaller frames. If you need storage, consider hanging shelves instead of a bulky cabinet that will eat up floor space.
Walls
To give the room an open feel, make sure the color you choose for the walls imparts a feeling of airiness. Whites are one of the best examples of this because they offer a light, serene aesthetic. White is also the most effective color at reflecting light. Painting the walls and the ceiling a clean, crisp hue produces a cloud-like effect. To keep the space from looking cold, bring in wood elements to warm it up. Other hues that work well are light grays and soft pastels.
Consider adding horizontal shiplap to make the space look wider. This simple addition forces the eye to travel around the room and will give the feeling of movement. Painted a clean white, it offers a chic design feature and pairs well with many different styles.
Light
Much like the furniture in a small dining room, when searching for a chandelier or pendant light, look for options that are not heavy or bulky. Try to find a fixture that lets natural light filter through it. Instead of a large wrought iron one with shaded lights, opt for one with glass or clean, simple lines.
Any small room can benefit from the addition of a mirror. They are masters at tricking the eye into thinking there is more space than there really is. Not only do they reflect light, but they also reflect the view, which gives the illusion of a bigger room. For a dining room, try hanging groupings of smaller ones to look more like an art installation.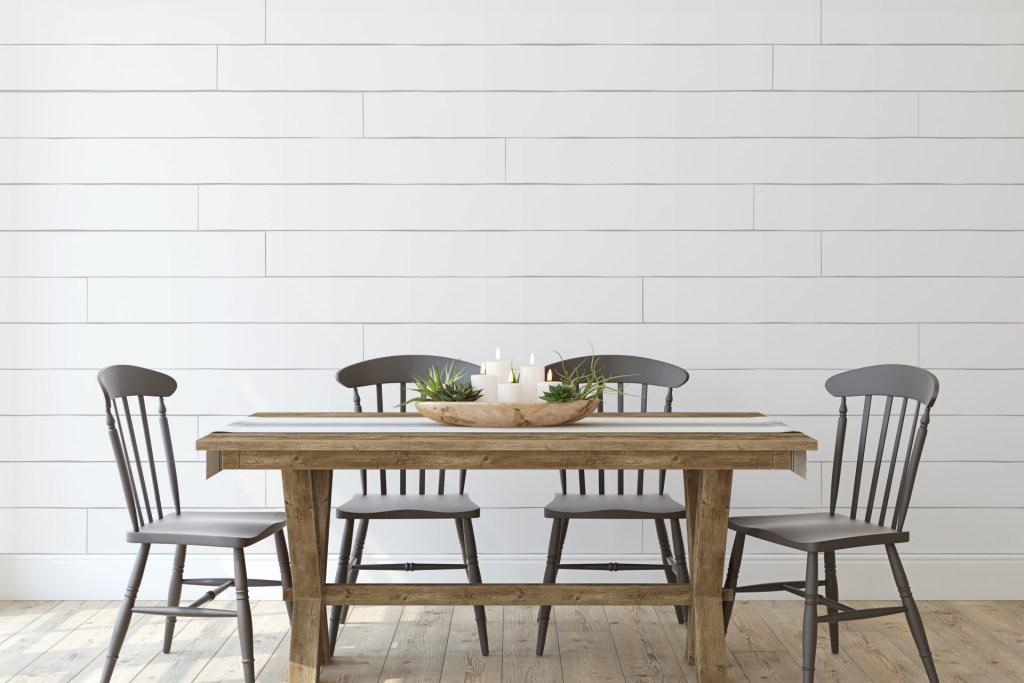 Keep it simple
When it comes to drapes and windows, minimal is key. If privacy is not an issue and your windows have attractive trim, consider not using any at all. If you want to hang curtains, opt for light, breezy panels. To give the appearance of bigger windows and to not block out natural light, hang them on a rod on the sides of the window. If you need something to provide privacy, consider shutters on the lower half of the window or lightweight cloth blinds.
Rugs for under the table should be simple. Stay away from loud, fussy patterns or heavy colors. Instead, select tone-on-tone or soft neutrals that closely match the color of the flooring. This will anchor the dining area without weighing down the design.
When choosing accessories, be selective—a small room is no place for knick-knacks. To add interest to the walls, select appropriately sized art but try to keep it to one or two walls. Wall sconces with candles will give the room warmth, and hanging them eliminates cluttered surface space. A simple centerpiece of flower steams, or a plant is all you need. Most of all, remember, a small space needs room to breathe, so keep the accessories to a minimum.
Now that you know how to make a small dining room look bigger get ready for yours to be a place anyone would want to share a meal in.
Editors' Recommendations