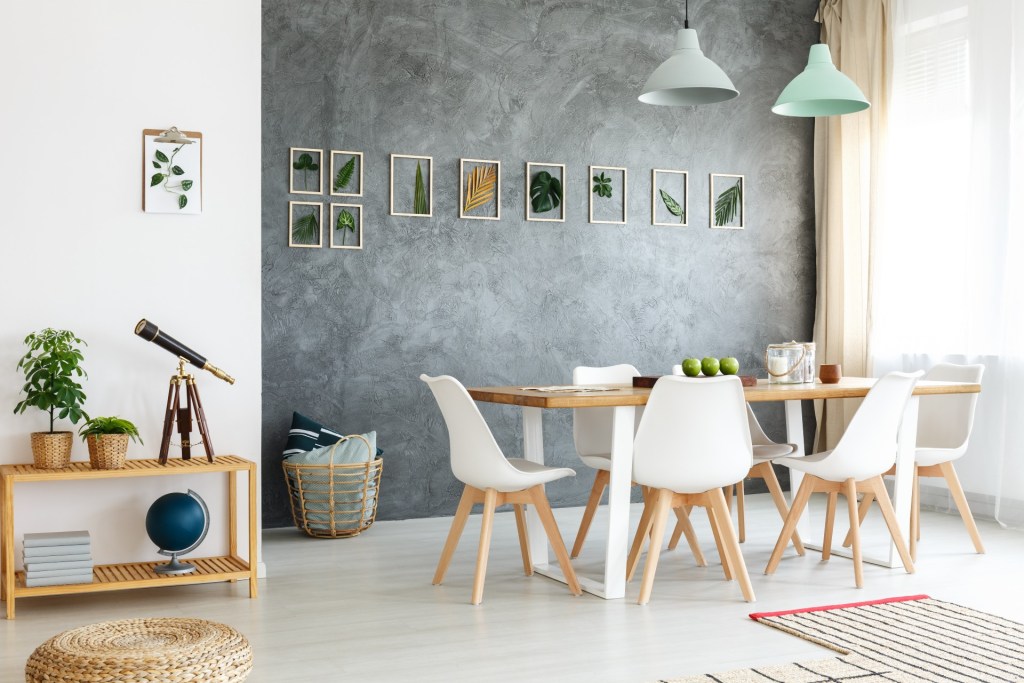 Dining rooms come in all shapes and sizes. A smaller footprint may present some design challenges, but it doesn't mean you need to sacrifice form or function. With a few simple design tricks, you can take full advantage of every inch and transform it into a room anyone would want to gather in. Here are some of our suggestions on how you can make a small dining room work for you.
Use light colors
Before you place a single piece of furniture in the room, think about color and how you can use it to open up the space. Painting the walls in soft neutral shades like white, light blue, and gray will reflect light and make the space feel larger. This is particularly important in a small room where creating an airy foundation will make it appear less cluttered once furniture and accessories are added.
Put up wallpaper
If you want to add more personality, wallpaper can give the illusion of more space – but only if you use it strategically. Wallpapering all the walls in a smaller room may make the design feel overwhelming so instead, use wallpaper on the largest wall in the room to create a feature.
As an added bonus, you can adapt the wallpaper to your home's style and your individual taste. Try a paper that looks as if the wall is clad in reclaimed wood for a rustic look. If traditional is more your aesthetic, crisp navy and white stripes are always a classic look. Another good choice for a petite room is one with a repeat design.
Choose furniture wisely
In a smaller space, selecting the right furniture is even more important. Find pieces that are both the correct scale and configuration. Think about the shape and the traffic flow of the room. Is it narrow? Perhaps a long, slim table is the best fit. Round tables work best if you have a square room. If, for example, you have a 10×10 dining room layout, a 48-inch round table would still allow for three feet of space on all sides.
When choosing chairs, look for ones with a trim frame and narrow legs. Benches are also a good fit since they are thin and have a low profile. They also give seating for more than one.
Instead of a bulky china cabinet or buffet, floating or open shelving will take up less floor space and have a more open overall feel. Just make sure you keep shelves clutter-free and only fill them with what is needed. A good way to give a cohesive appearance is to make sure all the items are one, or at the very most, two colors. Baskets also work well on shelves and are ideal for holding items such as extra napkins and placemats.
Consider built-ins
Built-ins are a great choice because they can be customized to meet the exact needs of the room. Unlike chairs, a built-in banquet or bench can be positioned against a wall or even a window. This means a table doesn't need to be placed in the center, and floor space can be freed up. Bring in personal touches by lining built-ins with attractive cushions and coordinating pillows to make it more comfortable.
Finishing touches
To infuse warmth into a design, add decorative accents and accessories. A rug placed below the dining table will help ground it. Ideally, your rug should be approximately four feet bigger than the table itself to ensure there is sufficient room for chairs. A pendant or chandelier hung above the table will designate it as the main event. Remember to keep scale appropriate—too large and it will overtake the space, too small and it will appear lost. Decorative wall art, candles, and botanicals will add warmth to the space and complete the look. Just keep in mind that one of the keys to a small space is not to let it get too cluttered, so don't overdo it.
Designing a small dining room takes some ingenuity, but it's not hard by any means. With some careful planning and the right pieces, it can be a space anyone would be delighted to share a meal in.
Editors' Recommendations