While redecorating your dining room on an occasion-by-occasion basis isn't exactly realistic, an easy way to transform your entertaining space to fit a mood or seasonal celebration is by designing a new centerpiece. When choosing centerpieces for your dining table, think about elements that will suit your preferred theme, style, and color palette and incorporate them onto the area. "Dining room centerpieces are such a fun way to add personality to your dining room or kitchen," Michelle Harrison-McAllister, founder of boutique design firm, Michelle Harrison Design, tells 21 Oak.
We asked some of the nation's top interior design experts for tips and tricks on how to create inspired centerpieces that make for the perfect dining room decor.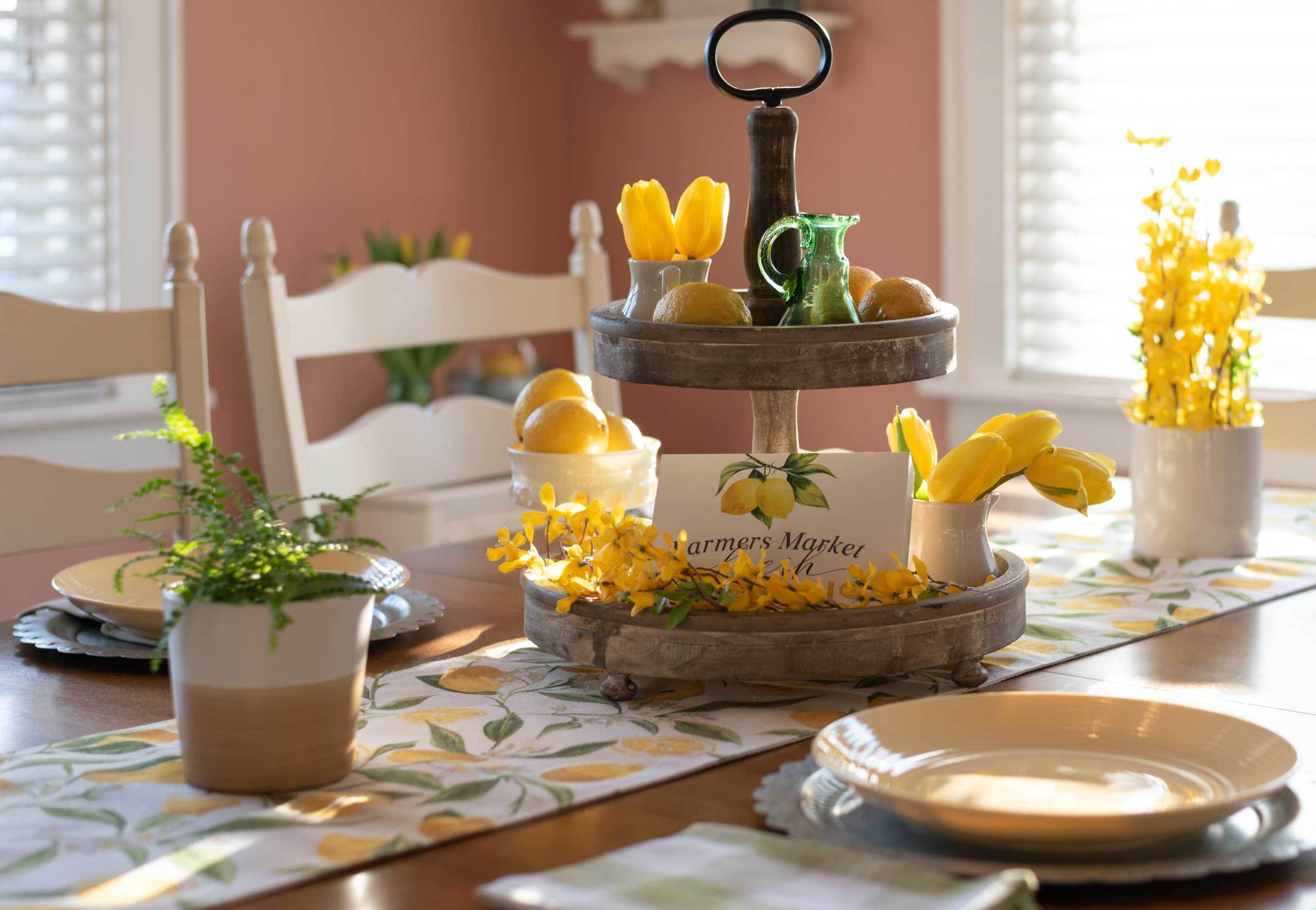 Create an architectural landscape
If you have a lot of vases on hand, you can put them to work. "Gather all of your vases and arrange them on your dining table," suggests Harrison-McAllister. "Once you are satisfied with the placement, adding greenery to every other vase adds an architectural landscape vibe."
This set of three white, distressed and rustic-feeling vases are perfect to create an architectural landscape. While they perfectly match one another, their various sizes will result in a skyline effect.
Go for gourds
"Seasonal centerpieces are always an easy way to provide some decor," says Harrison-McAllister. For example, take your leftover pumpkins from Halloween and mix them with gourds in varying shapes, sizes, and colors for a more organic approach.
Instead of using real gourds, this 12-gourd set makes for the perfect centerpiece addition for the entire fall season — and you can use them year after year.
Repurpose kitchen items
You don't have to buy new decor in order to create a masterpiece! Harrison-McAllister suggests repurposing your wood cutting board to personalize your centerpiece."
This round wood cutting board is perfect for chopping, serving, and even using for your dining room centerpiece.
Reimagine glass votives
Glass votives aren't just for candles. "Fill them with local greenery from your yard and top with a flameless votive," Harrison-McAllister suggests.
You can pick up a dozen of candle/greenery glass votive holders for a little more than $1 apiece.

Forage for greens
Instead of heading to the florist, set your table with foraged greens, suggests Joyce Downing Pickens of JDP Interiors. "Set the table with foraged greens and anything else you have on hand," she says. "Take a stroll around your neighborhood or your backyard for florals, greenery, and twigs. They make great centerpieces, cost nothing, and you don't have to venture far for them!"
If foraging isn't your thing, these gorgeous faux eucalyptus stems will also be a gorgeous addition to your centerpiece.
Branch out
Tiffany Leigh of Tiffany Leigh Design suggests filling a large glass jar with simple branches. "We love using a large vintage pickling jar with some branches clipped from the yard for fresh (and free) greenery all year!" she says. "Our favorite faux olive branches also work great."
These artificial olive branch stems are perfect for placing in your mason jar.
These refined mason jars will add a refined farmhouse feel to your centerpiece.
Do a dough bowl
Dough bowls are a no-brainer for a centerpiece, Liza Rollins, Joss & Main style editor explains. "Dough bowls are a versatile piece that can be filled with different things based on the season — e.g. ball ornaments for holiday, pinecones in the fall, citrus fruits in the spring and summer. We love the artisan, handmade feel that these bowls have."
These artificial lemons are perfect for filling up a dough bowl.
Go for garlands
Garlands are a great focal point — and look amazing layered with candles, says Rollins. "Try faux options so you can switch them out each season with ease," she suggests.
Fabulous florals
You can't go wrong with the classics! "For special occasions, nothing beats a simple floral arrangement," says Leigh. "We love a 'wild flower' vibe, as though the arrangement was freshly picked from a meadow with flowers like Gerber daisies and white geranium."
Peonies may be hard to find most of the year, but this faux arrangement will last you all year long.
Editors' Recommendations