Small living rooms don't have to feel cramped or cluttered. While there is a tendency to over-accessorize and under-accessorize these spaces, finding a balance between sparse and overwhelming is actually much easier than you think.
We'll be diving into some of the best tiny house accessories you can bring to your home to help open up your small living room. These are simple, practical changes that can be implemented in any space to help your house feel less cluttered and appear much larger!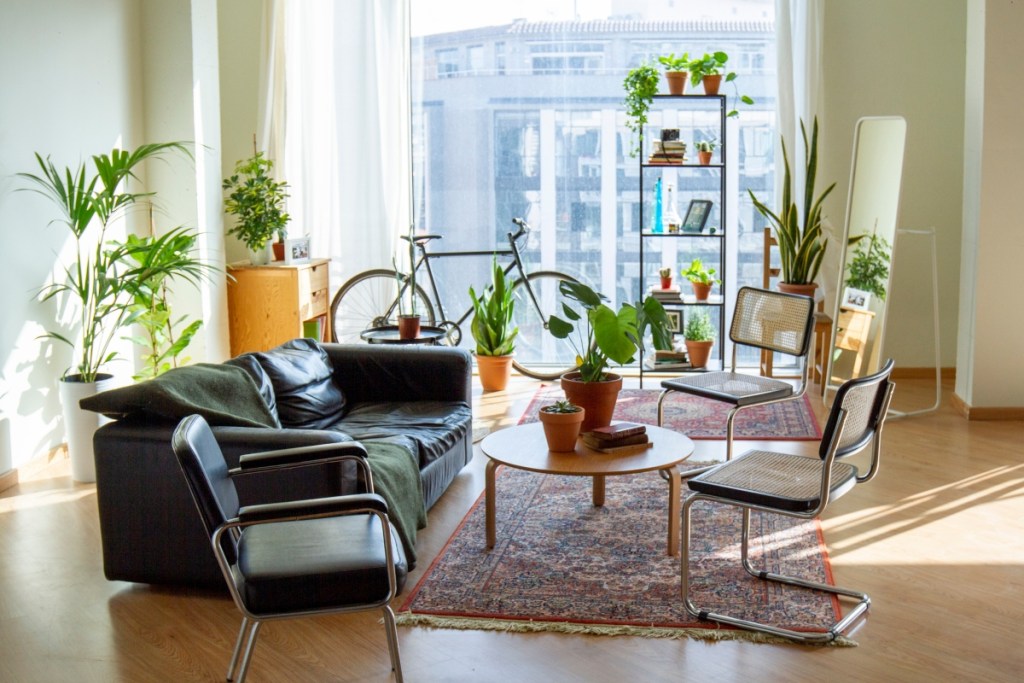 Showcase your floor
One of the best ways to make a space feel larger is to showcase the floor. Have you ever moved houses and walked into an empty room after all of the furniture has been taken out? Did you think to yourself, "Wow, I never knew the room was that big!" The reason for this is because now, you're made aware of the amount of floor space available.
Cluttered rooms or spaces where the floor is covered up can often feel smaller than they are. While this is considered cozy in some places, tiny homes should avoid hiding the floors at all costs.
Don't use oversized rugs
One of the easiest ways to enlarge the look of a small room is to avoid using oversized rugs. Large rugs can look massive in your space, and they cover up the stunning flooring found in your home. If you plan to use rugs, consider opting for carpeting instead. Or, use smaller rugs that don't take up too much floor space. Patterned rugs, in particular, can also cause your room to feel cramped. Consider opting for a more minimal design to avoid this.
Use furniture with legs
Box furniture and fixtures without legs sit low to the ground and hide your flooring. This creates a sense of closure in a space that can feel cramped, making a room appear visually smaller. A good trick instead is to use furniture with legs. For example, hairpin side tables, tv stands with legs, and coffee tables that seamlessly float above the floor can help make your room appear larger.
Utilize wall shelving
If you have a lot of items cluttering your floor, you might want to consider utilizing vertical storage. Instead of using a standard bookcase or cabinet, which can use up valuable space, opt for wall shelving that helps lift items off the floor and creates a visual appearance of additional space. Wall shelves are perfect storage solutions for small rooms, both in tricking the eye into thinking a space is larger and for maximizing the space available for your knick-knacks, decor, and essentials.
Use blinds instead of curtains
Curtains are a dominating feature in many spaces. In most cases, they scale the wall from floor to ceiling, creating a sense of separation from the outside world and the living room. Unfortunately, long curtains can make a tiny room appear even smaller. They can cover inches of flooring and have the ability to make your room feel closed in on itself.
Instead of using curtains on your windows, try including blinds in your design. While blinds can sometimes be cheap and poorly made, there are several fantastic options that invite more luxury into your space. Linen, wood, and paneling are amazing options for implementing a sophisticated detail into your design.
Don't neglect the use of mirrors
It's a well-known design trick that mirrors can open up a room and make it appear larger. If you're looking to decorate your living space's accessories, try including mirrors in your final design. Tall, full-length mirrors are great for reflecting the space and adding the appearance of additional square footage. Of course, a simple wall mirror or mirror collage can also work wonders in your tiny living room.
Additionally, reflective decor items and glass objects can give the feeling of a larger space. Their reflective nature bounces light, creating a brighter atmosphere that feels much grander than it is.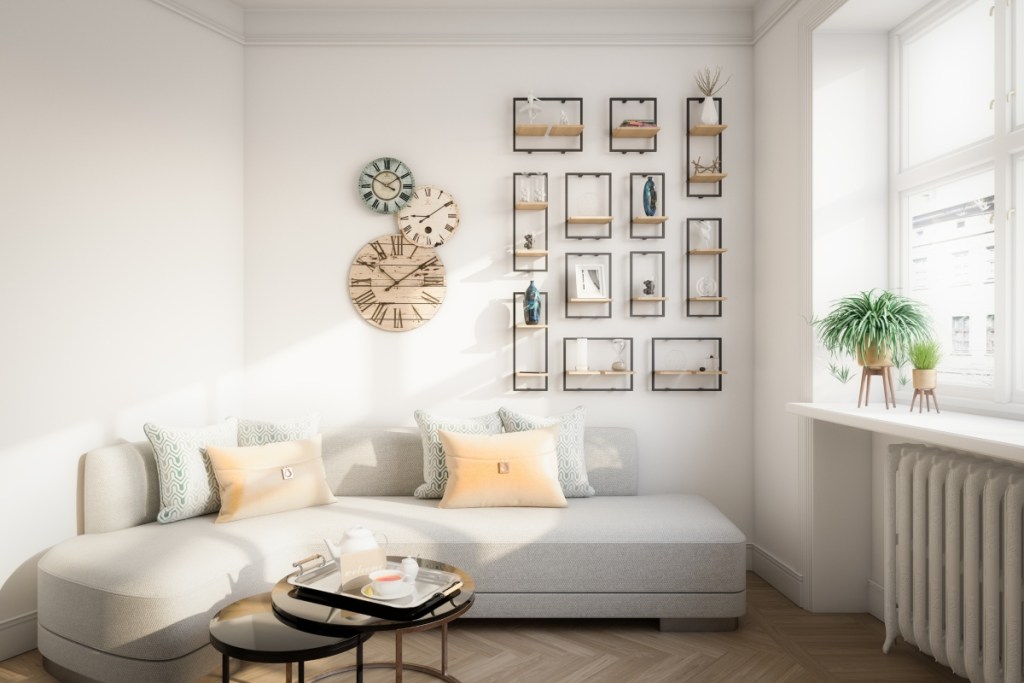 Keep the wall art minimal
If you want your space to appear large and bright, you'll want to avoid cluttering your walls with decor or artistic pieces. A few statement paintings, mirrors, shelves, and other displays can add character and sophistication to your space. However, try not to get carried away with the details. Too many items can cause your room to feel cramped and cluttered. Additionally, try to stick with only three to five colors in your palette to ensure the wall decor doesn't begin to clash with your overall design.
Accessorizing a small living room doesn't have to be challenging. You can avoid the barren look without making your space look too cluttered or cramped. The key is to keep the flooring visible and to utilize vertical space as much as possible. Additionally, avoid any gigantic pieces of decor or furniture that will make the room feel claustrophobic or underwhelming. With these tips, you should be able to decorate your tiny living room in a way that makes it feel expansive and inviting.
Editors' Recommendations