Furnishing an apartment or smaller space has its challenges. You need seating, so you start looking for sofas for small apartments, but there's also an argument for furnishing a small living room with a sectional. Then you see chaise or settee descriptions and find out "couch" and "sofa" may be interchangeable in conversation but may mean different things to salespeople. Understanding the terms and your space will help you make a smart decision.
What's in a name?
If you walk into a furniture store or go online and start looking at sofas, you begin seeing options that are about 84 inches long and have three or four cushions. You find out that an apartment-sized sofa is between 73 and 75 inches long, and a couch has either a half back or no back on it. You will also learn that a loveseat is only 42 inches long but usually functions as a stand-alone piece of furniture.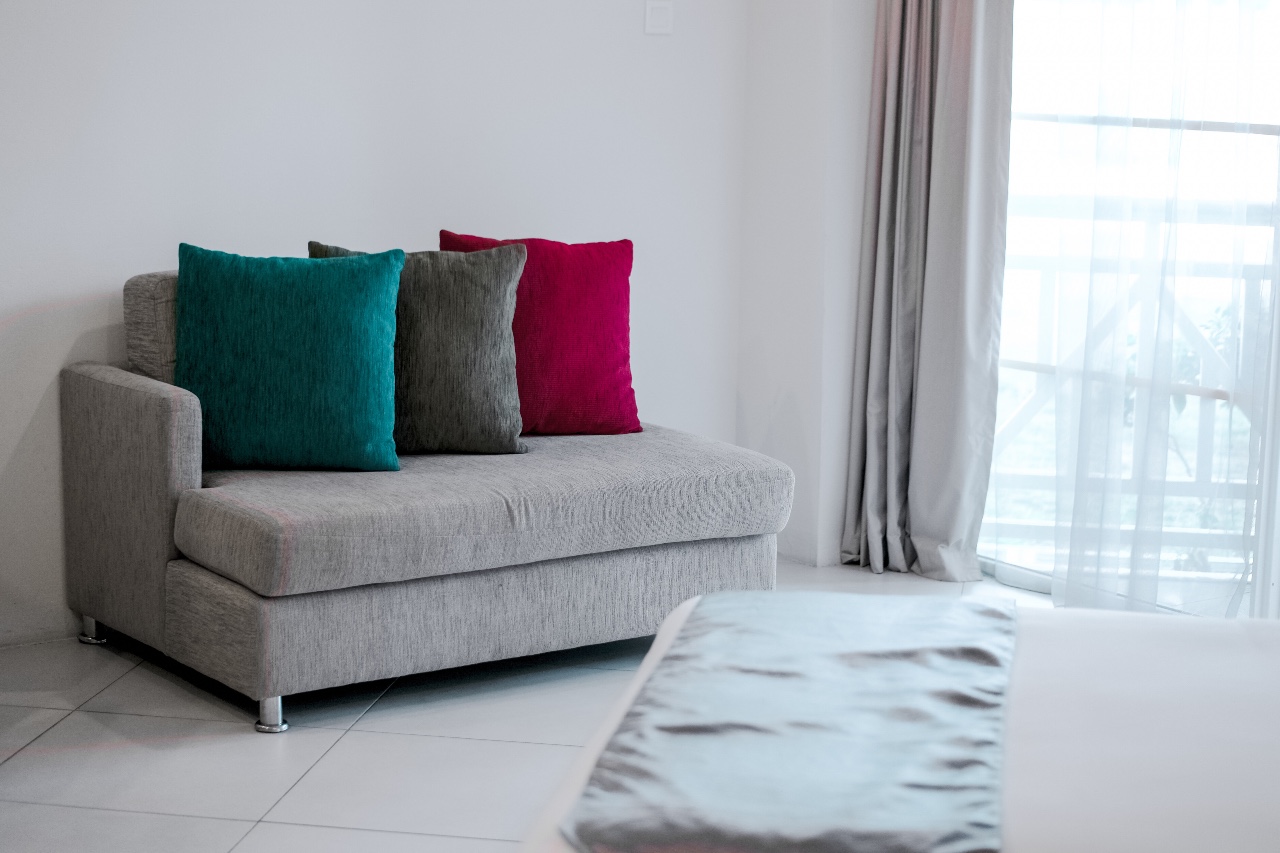 A settee has an upholstered seat versus cushions and has arms and a back. It can seat two or more people. A backless sofa is also sometimes referred to as a chaise lounge, but keep in mind that many people find sitting for long periods with no back or side support uncomfortable.
A sleeper sofa is always an option, but you need to get precise measurements to ensure you can unfold it into a bed and still have room to walk. With a sleeper sofa, you will also need to buy a set of bed linens and figure out a place to store them.
Choosing a couch
You want a functional couch for you and your guests that fits the room's size and looks nice. Since you will be using it more than anyone else, consider your specific needs. If you want something you can lay down on and you're taller than the average apartment sofa measurements, you will need to make allowances for that. If you like to sit up straight and watch television, read or use your laptop, then a couch styled for an apartment will work great.
A low-back sofa will help you give the illusion of space in an apartment or small space.
Lighter, airier colors that match the tone of your walls will give the illusion of space, so you will want to go for softer neutrals rather than deep browns, blacks, or greens.
If you inherit your sofa from family or friends, and are stuck with that color, consider getting slipcovers to keep that neutral palette. If the floor color is dark and you pick a dark sofa, the room will appear darker because a large, dark object will absorb light.
Matching the wall color will unify the room design.
If you are worried about your color scheme being too neutral, remember you can add color around the room with throws and pillows.
Neutral doesn't have to mean beige. It can be soft gray, taupe, or cream. Matte beige for a couch might sound plain, but if it has flecks of different colors and textures, it will still give you something interesting to look at.
Plan for your pick
Try not to position your couch flush against the wall. Floating it will make your space look bigger. Having at least three feet between the couch and other furniture is easier to maneuver around and is more visually appealing.
If you prefer a sectional, position it around the perimeter of the room and add a chair to break up the look.
Stand in the middle of the room and plan the look. Will a couch with a half back block the view where you want to put it? Will people sitting on it have a spectacular view of a closet door or the bathroom?
Sketch your floor scheme on the floor with painter's tape. If that still doesn't help you visualize the layout, get chairs or other objects that mimic height and size and pretend that's the couch.
If you are going to the store, take a floor plan, and remember to sketch where the windows and doors are (and the measurements of the width of the doors and windows, including moldings and jambs). Also, include floor registers, free-standing registers, and vents in your floorplan.
A couch is an investment that will last ten years if it's a quality piece of furniture, so consider color and space when you pick one. Form and function are important—especially for you since you will be sitting on it the most.
Editors' Recommendations