Every lifestyle account features an enviable "I woke up like this" post, with a stream of golden light highlighting a cheerful social influencer lounging on a slightly disheveled bed. Somehow the blanket is just the right amount of messy, and the pillows are tossed aside just so.
Sound familiar? We know these are all staged, but for some reason we still aspire to have that bed. Why? Because there's a science to it. Luckily, there are a few industry secrets to the perfect photo-shoot-ready bed you can learn today. These tips and tricks will help you achieve an Instagram-worthy bed arrangement even without that sun-flare filter.
Plump it up
What you need: Down comforter
Here's the deal: One common and key feature of the hotel-style bed is volume. Lots of it. When you see fluffy comforters and blankets in a product picture, the scene evokes warmth, relaxation, and most importantly, luxury. And luxury starts with a down comforter. A goose down comforter is a sure way to add volume in a bed arrangement, which is why it's popular across hotels and social influencers' homes.
Professional home stylists advise buying a size up from your actual bed size to give an illusion of added plush. A comforter for a twin size bed is 68 inches by 90 inches; a comforter for a full size bed ranges from 78 inches by 86 inches up to 86 inches by 86 inches; a comforter for a queen size bed ranges from 86 inches by 86 inches up to 86 inches by 94 inches; and one for a king size bed ranges from 102 inches by 86 inches up to 102 inches by 94 inches.
Hint: This Siberian goose down comforter is a good place to start your search. Any goose down comforter will be good quality, but something like this in particular is sensible. Besides making your bed look good, it also works in both warm and cold seasons. A comforter sets the tone for the room.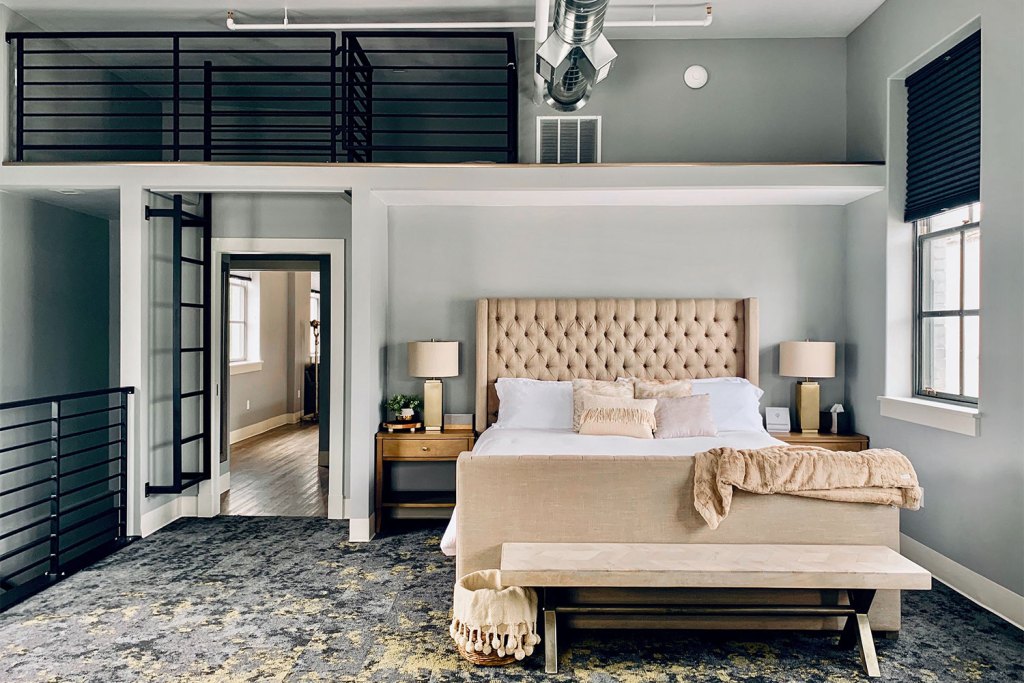 Blend different textures together
What you need: Pillow shams, comforter set, bed throw
Here's the deal: You might be tempted to buy a monochromatic bedsheet, blanket, comforter, and pillow set, but don't be afraid of other colors and textures. Even if you do end up with an all-white starting set, you can incorporate texture in other ways. Pillow shams, for example, are a must for added volume and texture. These smaller pillows are purely decorative, but they can pack an aesthetic punch.
For instance, this pillow sham featuring watercolor flowers from East Urban Home makes a tasteful bed accent. Consider quilted shams or ruffled shams to mix up your design completely. If your pillows remain uncovered and blank, your bed will feel like it's lacking something. Keep in mind that shams are available in three common sizes: Standard (26 inches by 20 inches), Euro (26 inches by 26 inches), and King (36 inches by 20 inches).
Hint: To add another layer of volume and texture, carefully cover the foot of your bed with a bed runner or throw. Many bed runners like this one from Mengersi are recommended for hotels. They tend to feel a little formal, so unless you're redecorating the guest room, choose a bright throw blanket instead. This is an opportune place to add color, like with this Bohemian flannel throw in flattering blues and oranges.
Arrange strategically
What you need: Accent pillows, standard pillows, European pillows
Here's the deal: When it comes to professional bed arrangements, you need to choose the right pillows and lay them out accordingly. There are three basic types of pillows — standard pillows, European pillows, and accent pillows. Euro pillows are the large square pillows you place behind the actual pillows (standard pillows) you sleep on. They're usually meant for decorative purposes like adding a pop of color and of course, more volume.
Accent pillows are smaller and often referred to as a "sham" pillow, though technically a European pillow is also considered a sham — confusing, we know, but good to keep in mind. Accent pillows are the focal point of the pillow arrangement and are placed right in front of the standard pillows. A common arrangement for a queen bed is two Euro pillows in the back, two standard pillows in the middle, and one accent pillow in the front. If you want to keep your bed clear, choose four standard pillows and just one accent pillow. Try these Euro pillows (26 inches by 26 inches) for a quick upgrade, and remember to grab an interesting pillow cover.
Hint: Your pillows don't have to have the same exact designs — mismatched prints help intensify that effortless feel we're going for.
If you have a twin/full size bed, it's best to have one of each pillow to retain the same voluminous effect without crowding your bed. If your accent or Euro pillow have patterned or colored covers, then even better. These bring fun into an otherwise bland presentation.
Curate your bedside tables
Here's the deal: Just like a living room isn't complete with only a sofa and cushions, a bedroom isn't complete with just a carefully curated bed. Giving your bedside table(s) some love will make a huge difference in your bed's final look. A lamp is another great opportunity to add color and personality to your room. This bright orange table lamp is available in four other colors, which will help liven up your nightstand. If you can incorporate personal items into your bedside table, go for it.
Other ideas include a curious golden vase topped with fresh flowers, or your favorite candles in unique containers like this geometric candle holder that's both eye-catching and modern. A more artistic aesthetic might include a framed vintage poster and an enchanting agate sculpture.
Hint: If you're out of ideas, a classic combination is a stack of books and a modern alarm clock. This high-tech stereo alarm clock is disguised as a natural block of wood. We're not advising you to keep electronics in bed, but waking up to a fully charged phone and your favorite song sets a productive tone for the rest of the day — just as much as a comfortable, picture-perfect bed does.
Editors' Recommendations