There are so many options when it comes to your kitchen tile backsplash, but spring is the time of rebirth, so why not do that with your kitchen? If you're looking to change your existing backsplash or are designing a new kitchen and feel a bit overwhelmed with all the kitchen tile backsplash options available, there are some trends happening that you may want to consider.
Depending on your individual style and what your kitchen looks like already when it comes to cabinetry, countertops, and appliances, there are tons of options from marble to ceramic to glazed and more. It can feel overwhelming, but it doesn't have to be. There are pros and cons to each kitchen tile backsplash idea, and depending on your budget, there are a ton of textures, colors, and designs to bring your boring kitchen into springtime.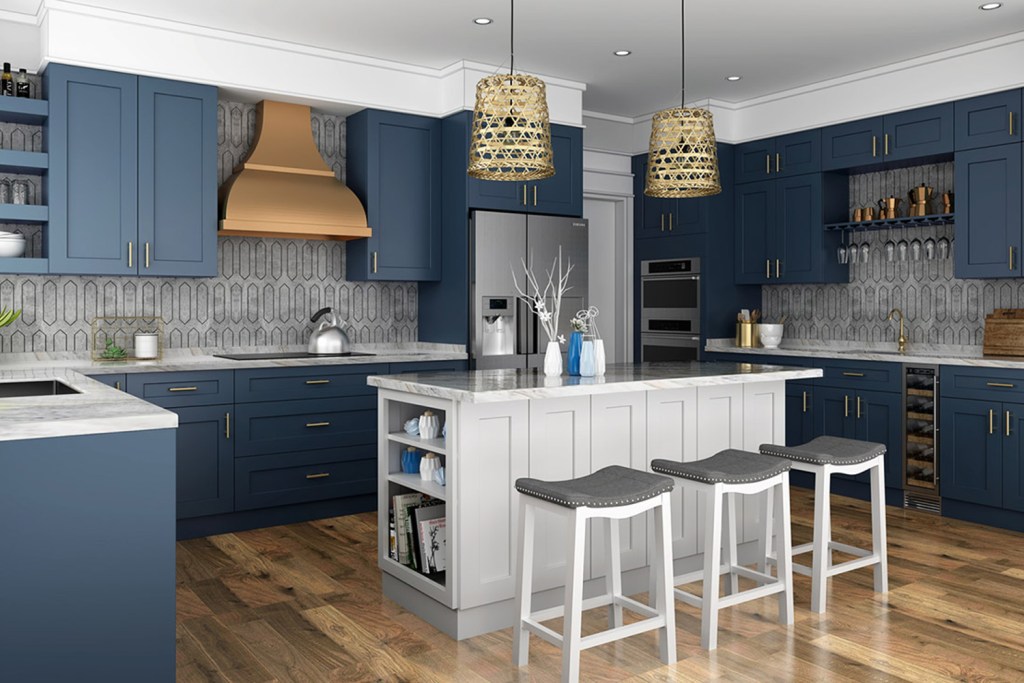 Design backsplash
If you want to highlight your kitchen tile backsplash and really pack a punch for spring, there are fun patterns you can use as inspiration. When you think of springtime, it's hard not to think about flowers, which is why we love this mural matte porcelain tile from TileBar. The pattern against dark wood cabinets would look stunning in a kitchen big enough to pull it off.
If you want something a little more subdued but still light and fresh, check out this from The Tile Shop. Its more delicate design would complement any sized kitchen and can pair nicely with colored cabinets and a white veined countertop in quartz or marble.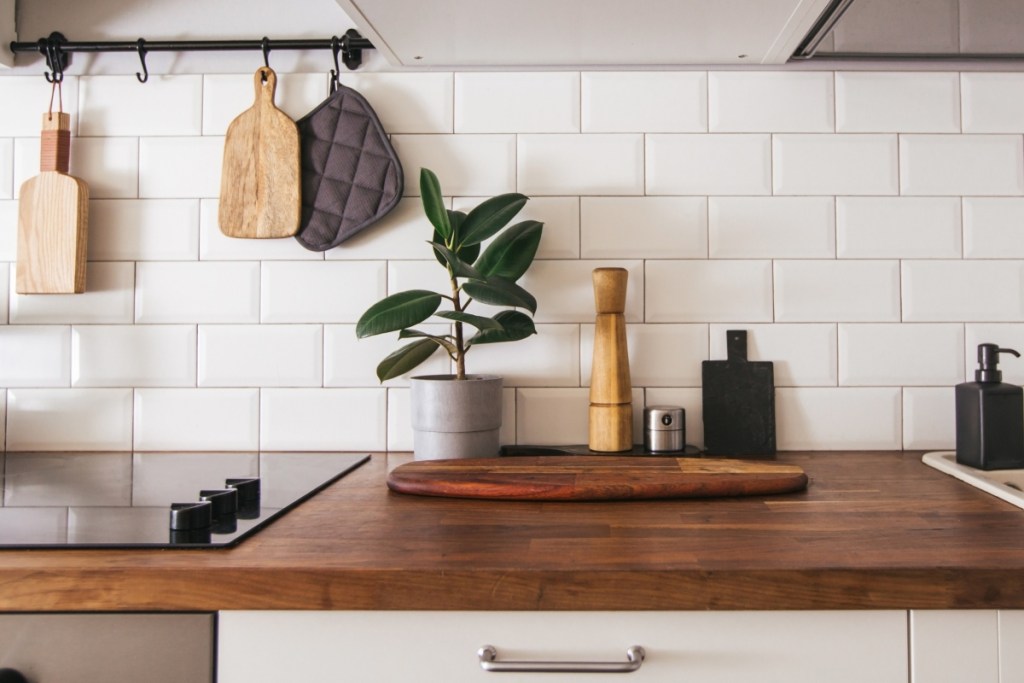 Glazed tile backsplash
Glazed tile is a big trend when it comes to the kitchen, and it's easy to clean in such high-traffic areas. You don't typically think about black when you think spring, but we love this glazed tile from Wayfair. It would pair perfectly with a lighter kitchen decorated with pops of color in the decor surrounding it. We also really enjoy the fact that it has an almost handmade vintage feel.
Another glazed tile that would work with colored cabinets and give a bit of dimension to your kitchen is the ceramic wall tile from The Tile Shop. We have a special liking for it because of the chevron pattern, which would fit nicely in a kitchen with deep rich brown cabinets.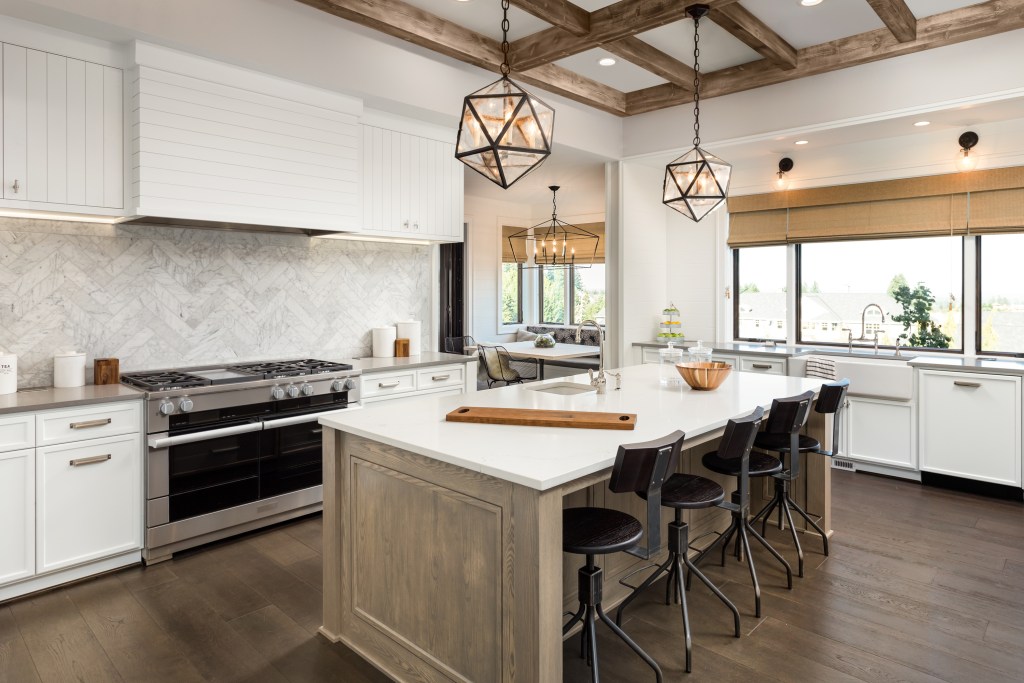 Marble kitchen backsplash
If you're going for a more formal, upscale look to your kitchen, marble is where it's at. If you have high walls or a large kitchen that can pull off 12-by-24-inch tiles, this 12-by-24 polished porcelain tile from TileBar would completely transform a kitchen. The gold marbling could come out with similar hardware and a kitchen faucet.
Another option with a bit more design but still subdued colors is the wall tile, made from an "elegant combination of white onyx, Calacatta, and white Thasso marble." There are tons of colors and patterns to choose from, and it's hard to go wrong with such an elegant choice.
Matte is where it's at
While we loved glazed tile, we are smitten with its opposite — matte. Matte is ideal for a farmhouse or rustic kitchen design, and it's hard to argue with its simple beauty. This matte cross terracotta look porcelain tile from TileBar comes in a variety of colors and is simple enough to pair with more daring colors while still holding its own when it comes to design.
If you want to bring the natural beauty of spring inside, check out this wood-look tile. We love its vertical pattern, and it could easily fit into an all-white kitchen or one with subtle shades of blue, green, or dark wood cabinets.
If you want to feel spring come through in color, we adore this porcelain hexagon tile. The blue color pops and would look good next to white cabinetry and gold or brass hardware and appliances.
We love all the ideas above, and each would be a unique choice as a kitchen backsplash. The nice part about almost any of these is they come in a variety of colors, so you can play around with what would look good in your space. You'll be surprised how changing out your kitchen tile backsplash will make a big difference. It's not an inexpensive change, but it's a lot more reasonable than, say, replacing all of your kitchen cabinets or installing new flooring. The ideas above all come in different price points, so you can find one that works for you.
The kitchen is one of the most used rooms in the home for entertaining, cooking, working, and general hanging out, so it's worth the investment to keep it looking fresh. These tile backsplash ideas will do just that, and you'll be enjoying your new kitchen come springtime.
Editors' Recommendations