The grandmillennial design aesthetic breathes new life into decor that some people believe to be stuffy or outdated. Frilly lace materials, vintage-floral wallpaper, antique furniture, table skirts, and needlepoint pillows are all examples of decor you can find in a grandmillennial space. While most grandmillennial decor is thrifted, found at estate sales, or handed down from family, there are some pieces you may already own that can make a grand statement and help elevate the design.
Today, we're sharing one of the best additions to any grandmillennial-style room that can help you create an elegant look. And the best part is, you probably already have this fantastic decor nearby.
Why blue and white porcelain is so great
One of the best elements you can include in your grandmillennial decor is blue and white porcelain. Whether through plates, jars, or vases, adding blue and white porcelain can be a great way to pay homage to the past while sprucing up your home.
Blue and white porcelain pieces were a popular household decor addition to many 1940s and 1950s homes. However, the style truly dates back much further, originating in China before it became popularized worldwide in the 16th and 17th centuries. Still, due to its popularity in the mid-20th century, this decor was often a staple in homes many years later, making it the perfect addition to a grandmillennial design.
The reasons blue and white porcelain pieces were so popular are their elegance, their ability to seamlessly blend with existing decor, and the luxury that was associated with them. For centuries, blue and white porcelain was viewed as a luxury item, and while mass production changed the ease with which people could obtain this stunning dishware, its association with luxury and elegance remained.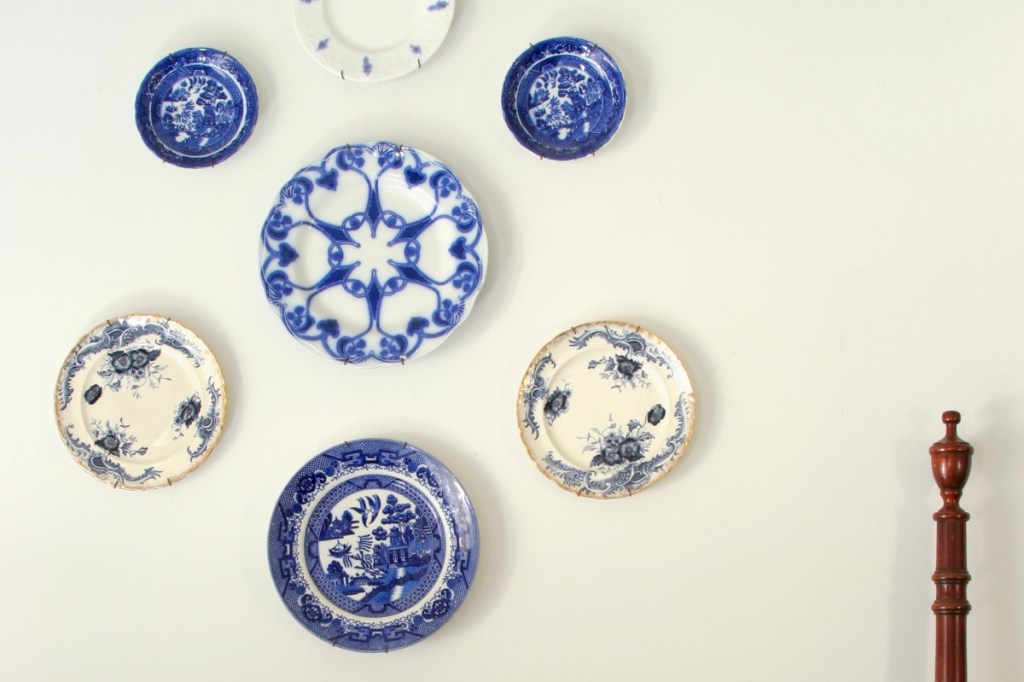 Different types of blue and white ceramics
There are several different types of blue and white ceramics, thanks to the popularization of this dishware aesthetic during the 16th and 17th centuries. To better understand the different types available to you today, read on to learn about examples of blue and white ceramics that you could add to your space.
Classic Chinese-style pieces
Blue and white porcelain is thought to have originated in China, where artisans blended the smooth and translucent porcelain pieces with cobalt oxide to create gorgeous blue-hued designs. Today, Chinese-inspired blue and white porcelain pieces depict stunning blue nature themes with flying birds, waterfowl, and plenty of plants in an intricate and detailed pattern.
French earthenware
Once blue and white ceramics gained popularity in the Western world, design aesthetics like Chinoiserie were born. Other cultures began creating their own Chinese-inspired pieces to join in this blue and white ceramic trend.
French earthenware, or faience, is a type of blue and white ceramics. The French styles are more simplistic, with plenty of flowers, still images of people, animals, and often repeating patterns. These ceramics are sometimes more floral in shape, as artisans attempted to diverge from the form of traditional plates and jars.
American spongeware
Evoking a humble laborer feel, American spongeware was a popular ceramics choice for people during the 18th century. American spongeware is created by dipping a cloth in cobalt oxide and "sponging" it on a piece of pottery. This simple technique yields a patterned and organic look that feels earthy and eclectic.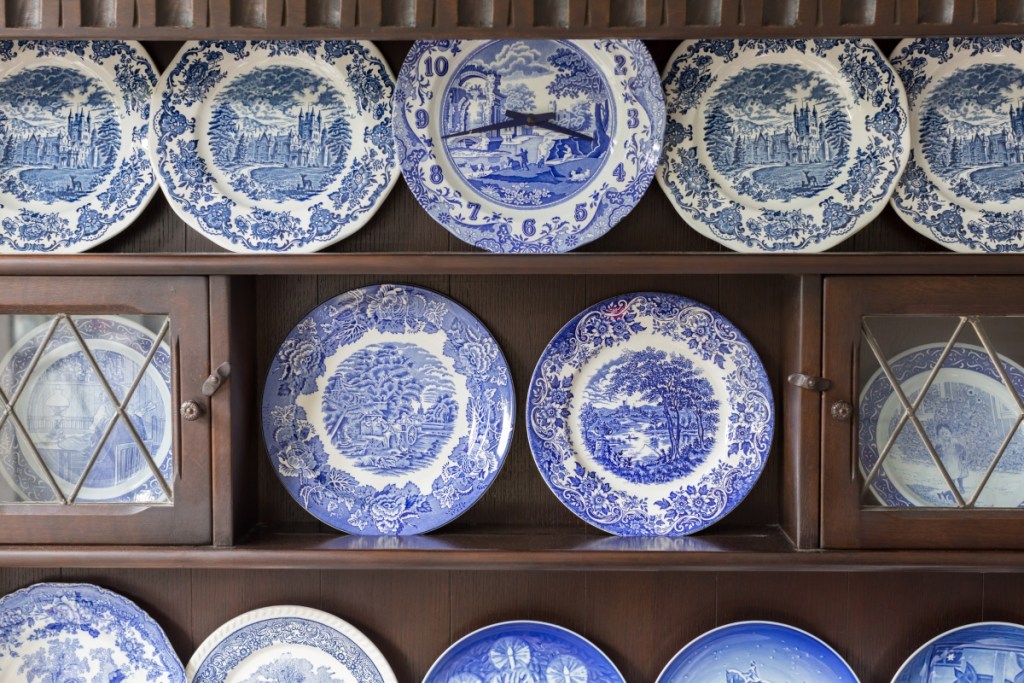 How to decorate with antique blue and white china
No matter which style of blue and white ceramics you prefer, there are plenty of ways to style these lovely pieces to create the perfect grandmillennial statement in your home. Below are some of our favorite ideas.
Show it off in a china cabinet
One of the easiest and most popular ways to display your blue and white porcelain dishware is to show it off in a china cabinet. China cabinets are a staple of grandmillennial decor. So, if you have one with beautiful glass doors, perfect for protecting your delicate decor, you can show off your collection by displaying your dishware! Prop up blue and white plates beside tea sets and jars for an elegant look. And be sure to add other decorations like plants, books, or other knickknacks to add variety to the space.
Decorate your tabletops
Another classic way to decorate your grandmillennial home with blue and white ceramics is to place them on tabletops. Add a tea set to a side table, or place a tray down on the coffee table with your blue and white porcelain pieces on top. This will help create the perfect centerpiece or decor addition to any empty tables in your space while also showing off your precious dishware.
Adorn your walls
Another way you can show off your blue and white porcelain pieces is to hang them on the walls. Install plate holders to the wall and hang up your favorite plates in an asymmetrical pattern to create a grandmillennial gallery wall. Or stack your ceramics on shelves alongside knickknacks and books for a subtle yet refined touch.
Grandmillennial decor is all about including vintage period pieces that may seem a bit outdated by modern standards into the design to create an elegant and time-honoring look. Blue and white porcelain is a fantastic way to participate in the grandmillennial trend since its popularity makes finding the perfect blue and white ceramic set easy and affordable. And you may already have these ceramics in your home, so they can be a fantastic, hassle-free way to decorate your space.
Editors' Recommendations