The kitchen is the natural gathering place in most homes as the spot for hosting meals, game nights, homework, long talks, and school projects. With all the time spent in that space, you start to notice the small things like paint peeling, counters looking dull, and dated appliances. If you're noticing all of these features, it's time for a remodel.
No two renovations are exactly the same, and a lot of factors determine whether the project will take two weeks or two months. When setting your timeline, you have to consider budget, aesthetics, and functionality. Can you be out of the house for the course of the renovation, or do you need to use the kitchen throughout the day? Are there any DIY-able upgrades or will you hire professionals for all of them? To answer these questions and more, keep reading to learn more about just how long your kitchen renovation may take.
Planning is crucial
The kitchen is one of the most complicated rooms in a house to remodel, and the length of time it takes to complete is directly correlated to the amount of planning you do. Since time also equals money, planning will help you budget appropriately and stick to it, even when unplanned costs arise. By keeping a plan (and multiple backup plans) you can efficiently navigate any unexpected bumps in the road.
Part of the planning process is deciding on a long-term or short-term renovation. Obviously, including all of your dream features will extend the process. To cut down on time, consider hiring professionals and choosing a time when you can be out of the house, or at least out of the kitchen, so the construction doesn't have to align with your daily schedule.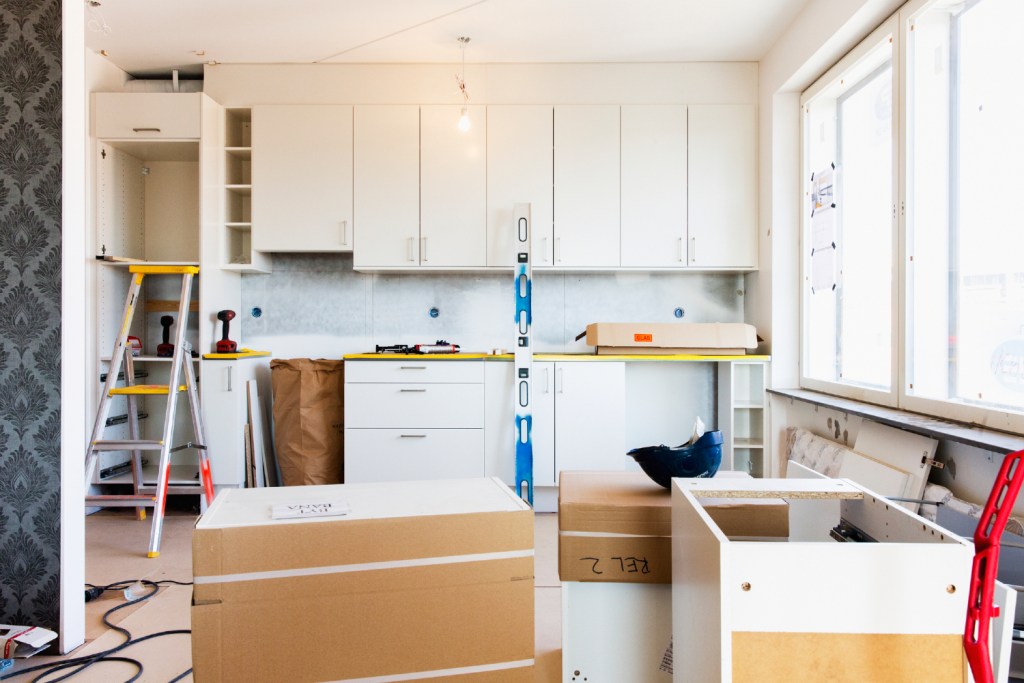 To island or not island?
Kitchen islands can provide extra storage, increase workspace, and give your kitchen one more wow factor. In order to install a functional island, you need to have at least 36 inches of clearance around the entire perimeter (42 inches is better, and 48 inches is ideal). Keep in mind that you might need even more space if you choose to include additional features like an extra-large drawer for small appliances or a large butcher block surface for preparing ingredients.
Check your local codes and regulations
In addition to the details mentioned above, islands can be particularly tricky because they often require at least one electrical outlet to remain up to code. Unfortunately, even if you decide against installing an island, you're still likely to run into code requirements. If you hire professionals to do the work for you, you don't have to worry about this as long as your contractors are aware of the regulations in your area.
If you're doing the work yourself, look into the rules regarding things like a 20-amp appliance and lighting circuits, GFCI outlets, and the spacing between outlets. These codes and regulations may vary slightly depending on where you live, so check and double-check them before breaking ground. Installing electrical work incorrectly can ultimately slow down your project, and fixing it later will cost you more money in the long run.
If you intend to change your floor plan, don't assume you can just remove or add walls wherever you want. Some structural or load-bearing walls are immovable, so speak to a professional contractor before you start demolishing any walls. Also, many people assume that the sink, fridge, and range have to stay where they are, but this is not always the case. Plumbing and ventilation systems may be expensive and time-intensive to relocate, but it's a worthwhile cost to achieve your dream kitchen.
Speaking of ventilation, if you're thinking about moving your stove, be sure to take ventilation into account. Most codes don't require that your range hood be ducted to the outside, but most kitchen experts recommend it. To save on materials and labor, run the duct as short and straight as possible, and consider where the vent should exit on the home's exterior.
When it comes time to pick out new cabinets, flooring, appliances, countertops, fixtures, etc., there are quite a lot of decisions to make. Obviously, cost and appearance are big ones but don't forget to consider the less exciting things like how to best achieve level cabinets. The material you choose for your floors is another crucial choice. Hardwood is a lovely floor material that can increase a home's value, but if you have kids and pets that may scratch it quickly. In that case, consider something more durable, like vinyl plank flooring.
For the big, central appliances like the refrigerator, stove, and oven, resale value is one of the largest considerations, especially if you plan to move within the next few years. Pick timeless, well-like materials like stainless steel to make your kitchen attractive to prospective buyers. If you're creating a forever home, however, feel free to pick your favorite funky pieces that make your kitchen entirely your own.
Renovations are a choose your own adventure, and all of the decisions you make will play into the timeline of the remodel. Adding features and taking on projects yourself is likely to result in a lengthy install, whereas a small, professional facelift will be much quicker. As with any project, there will be unforeseen circumstances that arise so build a lot of flex time into your plan — you'll thank us later.
Editors' Recommendations