Designing a small bedroom presents several problems that can seem near impossible to overcome. If you're a homeowner grappling with a small bedroom design, then you know arranging the furniture to suit your design and add to the functionality of the space can be a nightmare. Luckily, there are a few sneaky ways designers achieve a gorgeous look in a small room. So, if you want to know how to arrange furniture in a small bedroom by mimicking some of the best tips designers have to share, then you're in the right place!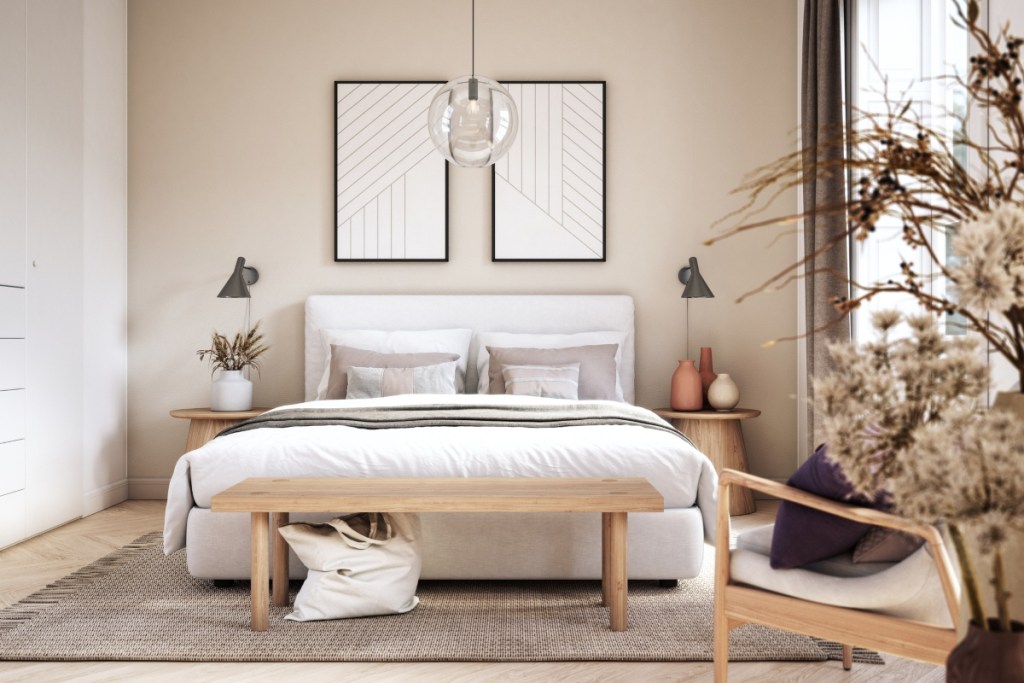 Keep symmetry in mind
Anna Franklin, interior designer and founder of Stone House Collective, generously offers some of the best tips for arranging a small bedroom. Of these tips, symmetry is a high priority.
"Symmetrical bedrooms with easy access to both sides of the bed will make a bedroom feel more spacious," she said. While it may be tempting to push the bed into the corner, Franklin urges homeowners to center the bed in the room and focus on creating symmetry within the design.
When decorating either side of your bed, maintaining a balance within your decor is essential for pulling off a successful small-bedroom look.
Lose the bedside tables
Another suggestion that Franklin recommends is nixing the bedside tables. Bedside tables can take up valuable space within the room, and while storage is important, there are much more practical solutions available. Franklin said, "Instead of bedside tables, opt for an overhead shelf for the items you want closest to your bed."
Overhead shelving above the bed or smaller shelving solutions on either side will not only allow space for storage, but will also create a symmetrical design within the room.
Additionally, using shelving in place of bedside tables provides homeowners more floor space and room for mobility. When space is limited, it's best to keep the floor clear to avoid a cluttered look while also creating easy access to both sides of the bed.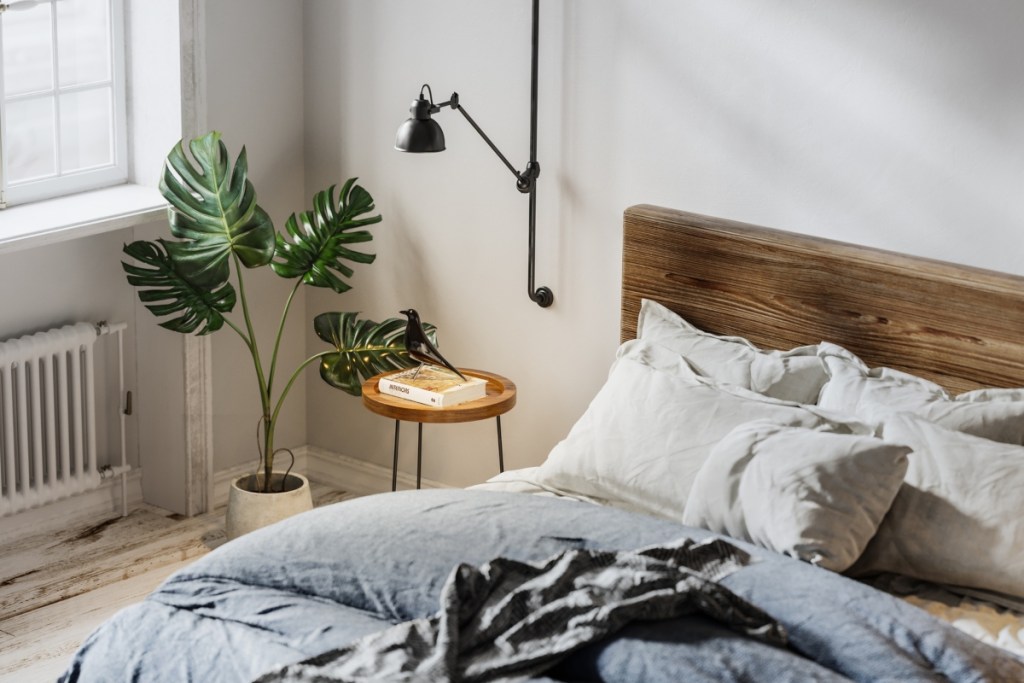 Get a platform bed with built-in storage
In a small bedroom, finding a functional and stylish storage solution can become a headache. Clunky dressers and side tables won't suit the room and too much shelving can look overwhelming and cluttered. To resolve this issue, designers like Franklin suggest using built-in storage beneath the bed to take advantage of the space available to you.
"Since a bed is already taking up space," Franklin said, "having built-in storage can provide a smart, more functional solution in a small bedroom."
Homeowners can assemble a platform bed for built-in storage that is effective and stunning to behold. Adding built-ins to an existing bed is a great option for homeowners looking to create more personalization in their space for a more custom solution.
Skip the dresser for closet built-ins
Another way homeowners can save space in a small bedroom is by skipping the dresser for closet built-ins. Whether you opt for premade shelving or design your own custom closet organizational unit, built-ins are a great way to enhance your space. For larger closets, this is the perfect solution for storing your clothing and other bedroom essentials without using a clunky dresser. And if you're a homeowner with a smaller closet space, built-ins can help you gain more control over how you utilize the room available. With built-in shelving, you can maximize the use of your space and create a cohesive and organized unit that transforms your small room.
Use the wall space
As with any small space, many designers recommend using your walls to decorate vertically to increase the functionality of your room. For example, Franklin advises homeowners to "wall-mount a TV instead of placing it on a console, or […] hang a full-length mirror on the wall or a closet door instead of placing it on the floor."
Additional shelving, wall-mounted lamps, and hung art can add value to your space by eliminating floor clutter. When more of the floor is left visible, a small room appears larger. Additionally, hanging items allow you to increase the functionality of your space without sacrificing your design.
Use mirrors as part of your decor
As mentioned above, hanging a full-length mirror on your wall or closet door can help you gain more floor space. Additionally, using mirrors in your design gives your space the illusion of being larger than it is. Get crafty with your mirrors and hang them in places where the room could use a bit more expansiveness. A mirror above the bed or on the wall as decor can be an elegant touch.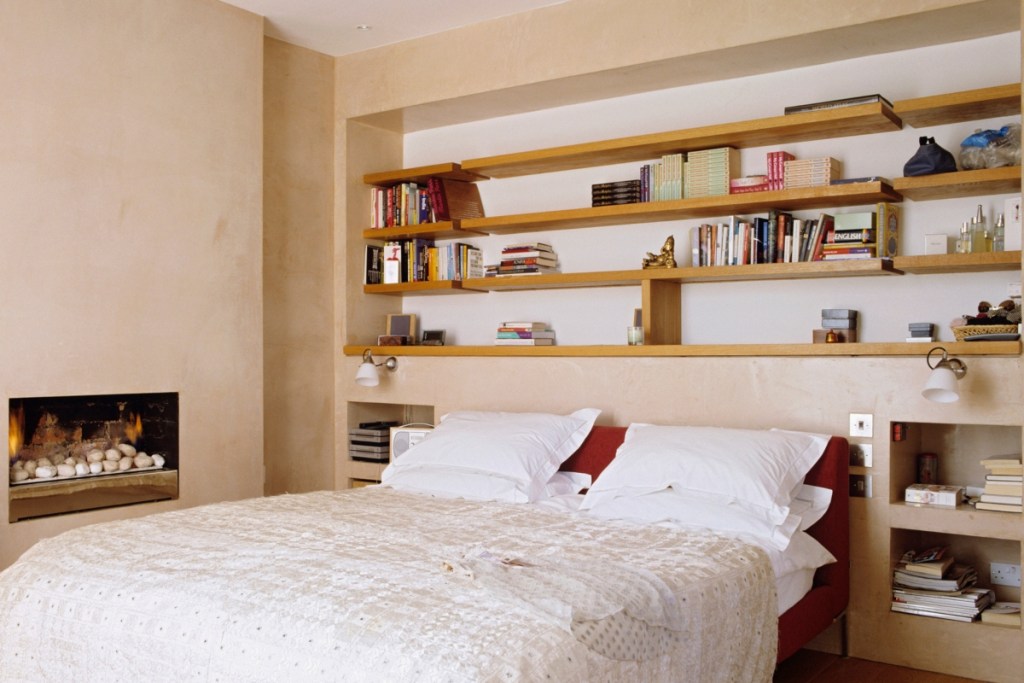 Highlight the design details
Finishing touches are an essential step to pulling off a successful small bedroom design. Franklin suggests homeowners "add in a bit of color and texture with a few accessories that make sense for the bedroom, such as pillows and throws for the bed, or a colorful area rug on the floor."
Adding color, texture, and pattern to the space will make the room feel more cohesive and inviting. When using throw pillows, try not to go overboard, as too many could make the room feel cluttered. Instead, seek to find a balance within the simplicity and highlight the finer details within your design.
Designing a small bedroom is about focusing on intentionality and functionality without sacrificing your design. Pay attention to how you utilize your storage solutions and take advantage of any available wall space. With a little bit of creativity, you'll be left with a beautiful small bedroom design that suits your needs.
Editors' Recommendations