Knowing how to lay out furniture in a living room can be difficult, but it doesn't have to be a daunting task. We'll walk you through the whole process of living room furniture arrangement – from grouping or laying out a sitting area, to decorating it, and even creating one in your master bedroom if you prefer.
The Decorologist shared an interesting technique on how to figure out whether or not your furniture arrangement is wrong. She suggests finding your focal point, taking two photos of the room, and analyzing them from there.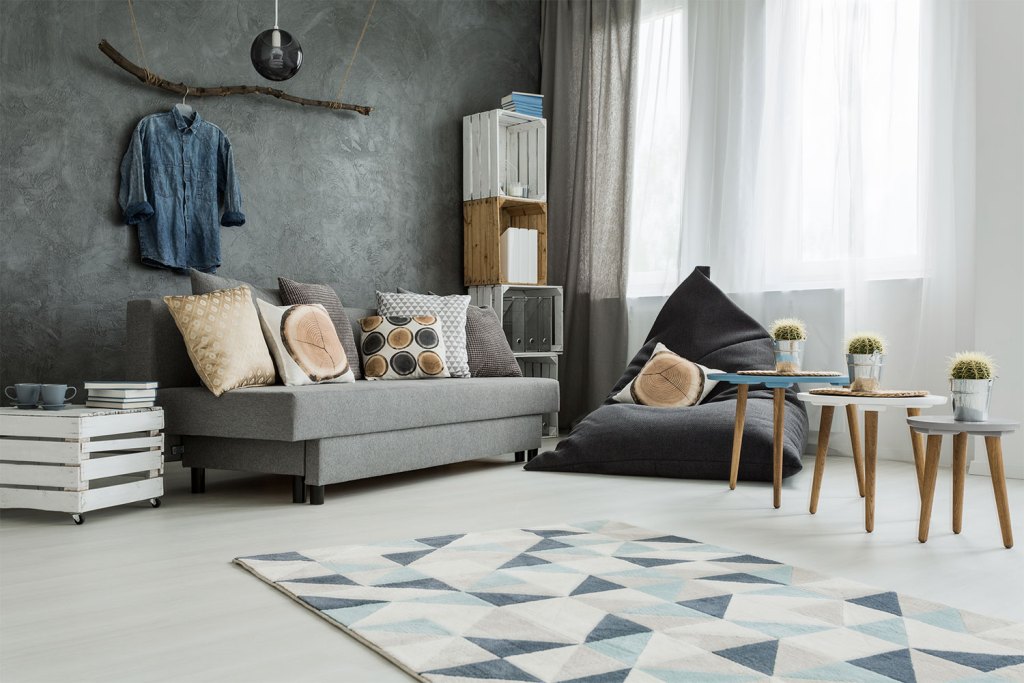 Is it seating area or sitting area?
Technically, the term "seating" refers to how your furniture is laid out. Is it arranged in a circle? Is it tucked away in the corner boxed off by some room dividers? On the other hand, "sitting arrangement" refers to how you or guests will be sitting. For instance, the sitting arrangement might be on stools, on some floor cushions, or on a large L-shaped couch.
Hopefully this clears things up a bit; really, the terms are interchangeable in the design world and beyond. You'll frequently hear the term sitting room instead of the living room, and seating arrangement instead of sofas and chairs.
How do I arrange a small sitting area?
A small living room means you want to prioritize functional furniture. Designers tout the powers of sectional sofas with extra storage underneath. They leave you more free space by eliminating clutter that might otherwise get in your way. Sectional sofas are also great for families–they are still comfortable and they allow everyone to sit together without feeling cramped.
Pair the sectional with a multifunctional ottoman for extra seating that doubles as a table. Instead of a clunky coffee table, opt for a small end table placed next to your sectional, and use it for a lamp or holding personal belongings. Keep a rug underneath the furniture especially if you have young children who spent ample time in the sitting room.
Placing a couch right against a wall is the default layout, but creating a "floating" arrangement where there's space between your furniture and the wall actually widens the room. Modsy thinks this is a great idea and advises their blog readers to do the same. You can place the sofa up against a dinner table if you have a dining room and sitting room combo. This breaks up the space into two distinct areas.
How can I decorate my sitting area?
One big part of your sitting area is the flooring. Go for a big rug that covers nearly the entire room to make your sitting area feel more spacious. A multicolor rug allows you to create a color palette around the room, giving you plenty of choices for cushion throws, vases, lampshades, and curtains.
Pick a centerpiece for your room, whether it's a prominent artwork piece on the wall, an eye-catching curtain pattern, or a commanding arched floor lamp. In lieu of a floor lamp, you might also consider hanging lights or ceiling track lights to conserve floor space.
If you have low ceilings, select seating and tables that are closer to the floor, giving the room more vertical space. Mount framed artwork a little closer to the ceiling to give the illusion of higher ceilings, and in turn, a more spacious room, says Martha Stewart. Choose a neutral wall and ceiling color if you're invested in brighter furniture and decor.
How do you add a sitting area to the master bedroom?
Even if your master bedroom isn't exactly vast, you can still upgrade the space with a sitting area. For smaller rooms, choose a single piece like a reading chair with a foot rest, a storage bench, or a wicker side chair. Place a lamp in each sitting area and a small accent table so you can use it for different purposes like reading, putting on clothes, lounging, or even extra storage.
If you have more room for a larger seating arrangement, consider a loveseat placed on top of a throw rug and paired with an ottoman. You might also bring in two cushy armchairs by the window as a place for you and your loved one to chat and unwind. Place an ottoman in front of one or both chairs.
If it's extra table space you're after, consider a long, narrow desk against the wall. You can store a small bench or stool underneath to save space. Decorate the table with two accent pieces like a planter and a photograph, and then use it as a bookstand, mini office desk, or hobby station.
We hope this guide has sparked some design ideas for you. Remember: the room doesn't have to be perfect on the first day. The best rooms take shape little by little, one piece at a time.

In addition, we've pulled together the best industrial furniture options, you may want to check them.
Editors' Recommendations