A good part of every day of your life is spent in your bedroom. It's the first place you see when you open your eyes in the morning, and the last place you are before drifting off to sleep each night. When decorating this oasis, you've likely already purchased the best mattress, chosen soothing paint colors to enhance the serenity and calm, and selected furnishings that reflect your individual style. But transforming your room into a warm and cozy retreat still takes a little bit more effort.
There are a few simple tips and ideas that will make your room the warm, and cozy retreat that you deserve — and, it doesn't need to cost you a fortune. Your bedroom should be your sanctuary. Here's how to make it cozy.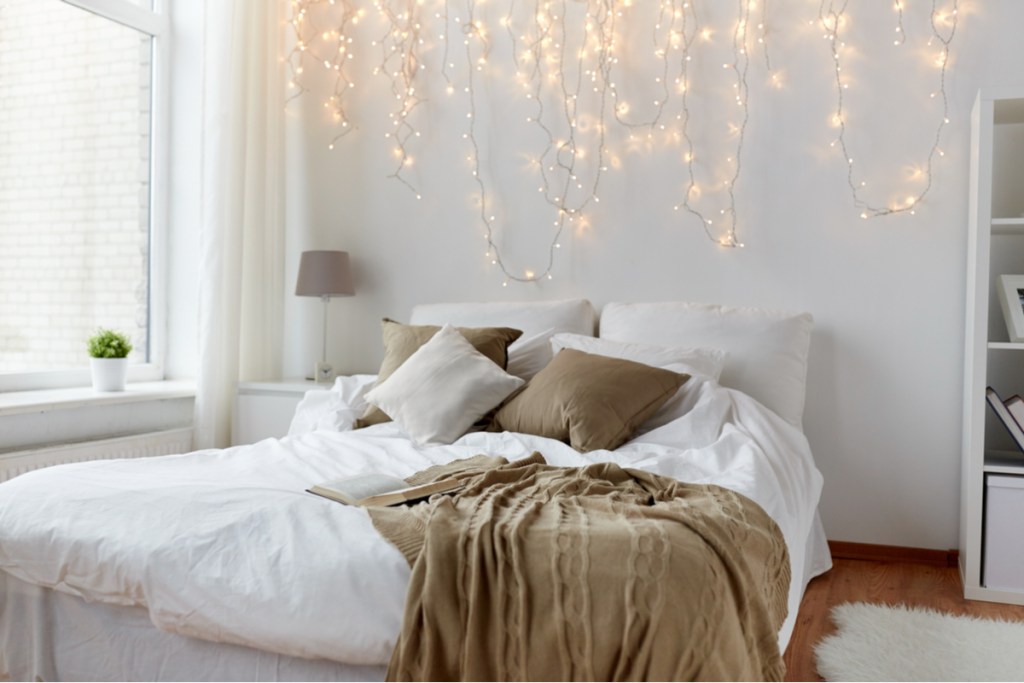 How to make your room cozier
Whether you're in a sprawling master or a small studio, any room, regardless of its size, can be a cozy oasis.
The bed
High-quality linens are one of the best investments you can make for your room and the quality of your sleep. When choosing bedding, look for soft natural fabrics with high thread counts.

Layer on some throw blankets — the more the better. Drape one at the foot of your bed for easy access on a chilly night and keep a few others in decorative baskets.
Toss on a few fluffy pillows in different shapes, sizes, colors, and textures. They'll encourage lazy mornings of lounging with a good book, and they also add a little more depth to the layout.
Add a canopy of ethereal white fabric to cocoon your bed in all-out romance.
The room
Opt for floor-to-ceiling curtains in a neutral hue that will always complement your room, no matter how many times you might choose to redecorate. Thick, luxurious fabric will keep the morning sun from disturbing your sleep and wrap your room like a warm and cozy hug. However, a lighter, brighter curtain is better for rooms without as much natural light.
Even if your room is already carpeted, you can still layer up on area rugs. Having a plush rug next to the bed gives you something extra soft to step onto when you get out of bed. Choose different colors and textures for extra comfort, style, and warmth.

Flowers add instant warmth to a room, so use them liberally. Incorporate the pattern in bedding, throw pillows, and wallpaper, or go with the real thing and include a bouquet in a vase next to the bedside.

Arrange the furniture in a way that feels warm. Think about adding a special reading nook for curling up with a good book or a bean bag for friends to relax on. Place a soft, upholstered chair in a quiet corner of the room next to a small accent table holding a lamp. Finish it off with a soft, fluffy throw draped over the arm.
Banish electronics. Even if you enjoy binge-watching Netflix from the comfort of your bed, having visible electronics around the room kills any cozy vibe you're trying to establish. Browse thrift shops or Facebook Marketplace for an armoire that can house your TV and keep it hidden behind doors when not in use.
Get creative with lighting
There's a reason for the term "mood lighting." Lighting can literally change the feeling of your space, and having the right lighting in your bedroom can inspire rest and relaxation. When adding warmth to your bedroom, avoid overhead lighting in favor of smaller table lamps with low-wattage bulbs. If that's not possible, consider installing a dimmer switch for your overhead lighting, and keep the light set low. Fairy lights offer a twinkling ambiance to your room, and they aren't just for kids. For a more mature and sophisticated use, bunch up some copper wire fairy lights into a mason jar or any other clear vessel for instant DIY lighting.
Burning candles is always risky, particularly in a bedroom where you could fall asleep and forget to blow out the candles. But, candles do add an undeniable touch of warmth and romance. To keep yourself and your belongings safe, always keep candles in a glass container, particularly hurricane candleholders. You can also add a few scented votives or tea lights for small touches of candlelight and subtle fragrance.
Whatever size your room might be and whatever style you like best, you can give your bedroom a cozy makeover with these simple tips and suggestions. From bigger ideas like a new piece of furniture to simple touches like adding flickering candlelight, any room can be a little bit cozier and a whole lot more relaxing.
Editors' Recommendations