The holiday season is officially upon us, which means it's time to start thinking about gifts. Gift wrapping can be a tedious task, but you can make quick work of the job if you have the correct method. If you're already a gift wrapping pro, you may be seeking some ways to elevate your wrapping game, and you've come to the right place. If you've been searching for new gift wrapping ideas, we have some ways to add a touch of elegance to your offerings that will delight the recipients. Check out our favorite gift-wrapping ideas below. They'll look fantastic under your Christmas tree.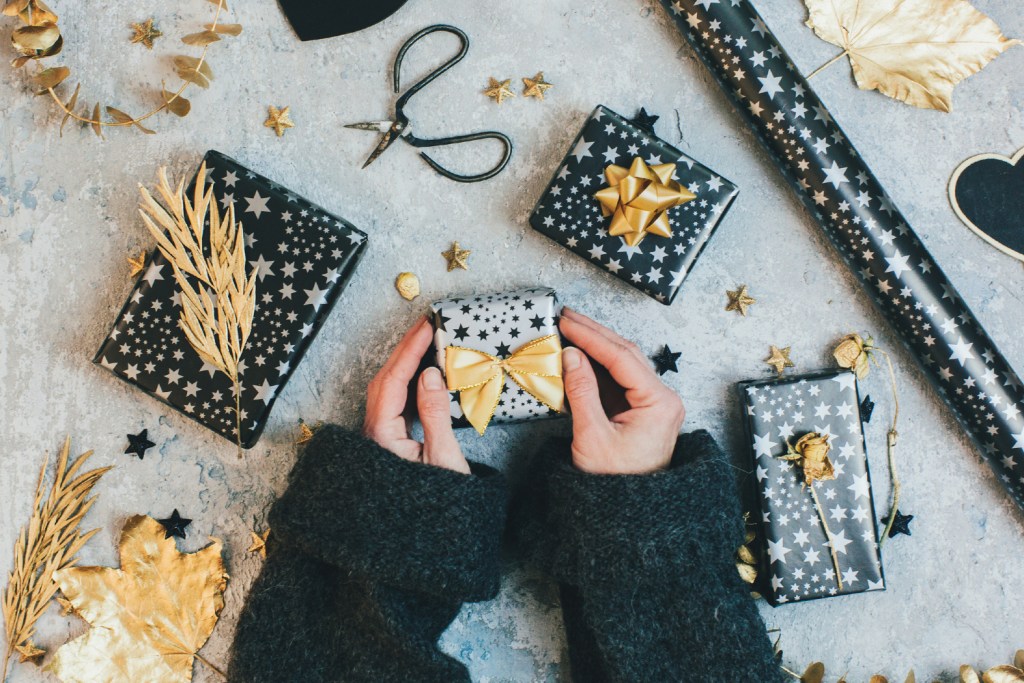 How to properly wrap a gift
First, do yourself a favor and put your gift in a square or rectangular box — wrapping an oddly shaped gift is way more complicated. As a general rule regarding wrapping paper, thicker is better since it won't rip easily when you attempt to get tight and sharp corners. It's also helpful to buy wrapping paper with a grid pattern on the backside since it helps you keep your lines straight.
Place the box face down on the wrapping paper. Leaving the paper attached to the roll, use scissors to cut along one side, making a wide enough piece to cover both sides of the box.

While standing on the same side of the table as the roll, pull the paper up and over the far end of the box. Be sure the paper is taut, tape the paper to the box, and crease the paper along the box's edge.

Unroll the paper and bring it to meet the already wrapped end. Cut the paper from the roll, leaving an inch or so of overhang. Fold that inch under and crease along the fold before taping down.

Push the sides of the paper inward on the open sides, creating four 45-degree angle flaps and crease along the flaps.

Fold down the top flap and crease along the top of the box. Crease again where the paper meets the bottom edge of the box. Cut the paper along the bottom crease and adhere the paper to the box.

Fold any excess paper on the bottom flap under so that it lines up with the top of the box. Then, adhere the bottom flap by folding it over the top flap.

Repeat steps four through six on the other open end of the box. Finish by running your pinched thumb and forefinger along all of the edges to create sharp lines.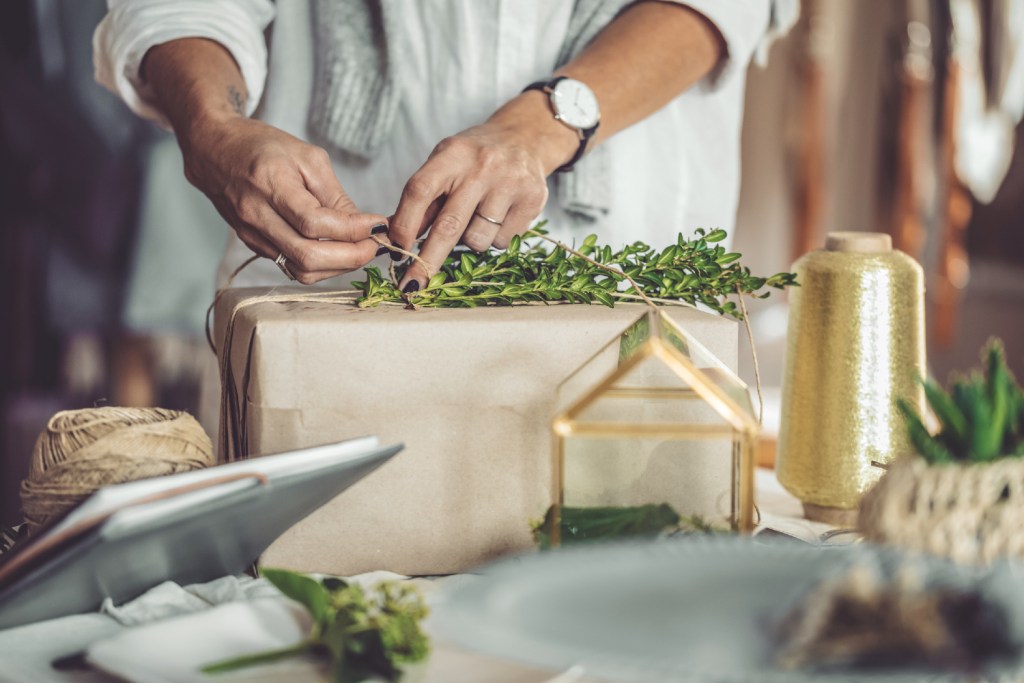 Finishing touches
Now comes the part where you get to use some creativity to add elegance to your freshly wrapped gifts.
Go natural
Kraft paper and baker's twine is a classic look that everyone loves, but if you want to go above and beyond, Christmas is the perfect holiday for that. Natural pieces like pine branches, pine cones, cinnamon sticks, and holly berries are excellent finishing touches for holiday gifts. You can even jazz up gifts in paper bags with a few sage or rosemary leaves and butcher's twine.
Add a metallic touch
Another good idea (and a way to get the kids involved) is to gather some leaves from the yard and spray them with metallic spray paint. Once dried, you can add them to your wrapped gifts for an extra piece of flare. Once you wrap your present in ribbon, adding a small ornament or candy cane is a great way to heighten the presentation of your gift — and whatever you choose to adorn your gift with turns into a bonus gift.
Get creative with ribbons and bows
Don't feel like you have to stick with traditional ways to tie ribbons and bows to your gifts; crisscrossing a package with baker's twine will create an organic look that you can then accent with pine cones, little elves, tiny bulbs, and other ornaments.
The holidays are fast approaching, and if you haven't started shopping yet, it's time to get going. Once all of your gifts are bought, don't forget to pick up wrapping paper, ribbon, bows, gift tags, and any other small items you want to adorn your gifts with. You can pick up bags of small bulbs, ornaments, gold stars, or little toys at most craft shops and use them to add some flare to your finished product.
If you don't want to spend any more money or want a more natural look, scavenging for pine cones, leaves, sticks, and pine branches is a great way to add some festive finishing touches to your gifts. Be creative and use your imagination, and with a bit of trial and error, your gifts will look like a professional wrapped them.
Editors' Recommendations