All trends evolve, which is why cottagecore is beginning to transform a bit. The cottagecore aesthetic is inspired by a romantic interpretation of the simple, rural life and highlights living in harmony with nature. A cottagecore house will often be decorated with greenery, floral prints, and straw hats to give off a countryside vibe. Moving into 2022, cottagecore is evolving into more of a modern-country feel due to consumers' continued craving for getting back to what's simple. Look for more contemporary checks and block pastels and less shabby chic in the cottagecore decor of tomorrow. For some ideas on how to pull off this modern pastoral look, check out what we've found below.
While cottagecore remains rustic, people are now incorporating more modern elements into the decor trend. Modern cabinetry paired with vintage handles or contemporary furniture in a room with old-style floral wallpaper will be more on-trend as we move into the new year and beyond. Many people have modern aspects to their home decor and don't necessarily want to remodel their entire home, which is why incorporating cottagecore elements into an existing design is becoming more popular.
Wallpaper
Using wallpaper is a great way to incorporate the cottagecore aesthetic into your home. Applying a vintage-style floral printed wallpaper into your decor is an excellent way to refresh a room without a total remodel. Since cottagecore aims to bring the outdoors inside at every possible opportunity, a lovely floral wallpaper will do just that. Choose a print that matches or complements your existing furniture to pull off a seamless transition. Since wallpaper can be expensive and a floral print can be overwhelming, consider choosing one wall and turning it into an accent wall to liven up the room. This works great in living rooms, dining rooms, and even bathrooms.
Chalk-painted surfaces
Chalk paint is a matte, chalky finish that works well in the cottagecore design space. If you have some worn-out-looking furniture that needs a refresher, a coat of chalk paint will do the trick and help you pull off a cottagecore look. Chalk paint is excellent for DIY projects since it requires no sanding or priming, and it applies nicely to most surfaces like wood, metal, plastic, and even brick. One way to refinish a room using chalk paint is to paint the brick surrounding your fireplace. If you don't have a fireplace, don't worry; you can paint old cabinetry, chairs, closet doors, or wooden legs of couches. The possibilities with chalk paint are endless and will help give your furniture that old-world feel. And don't forget, pastels will be in for 2022, which are perfect colors for chalk paint.
Different patterns
One key feature of cottagecore is lots of vintage-style fabrics and upholstery mixed with old-world detailing like ruffles. While gingham and checkered fabrics dominated 2021, look for more contemporary-style checks as we move into the new year. This slight adjustment makes perfect sense since the whole cottagecore movement is evolving to incorporate more modern elements while remaining old-style. Something as simple as a checkered table cloth can bring the look into your dining room without a whole redo of the room. And don't be afraid to mix and match patterns and prints.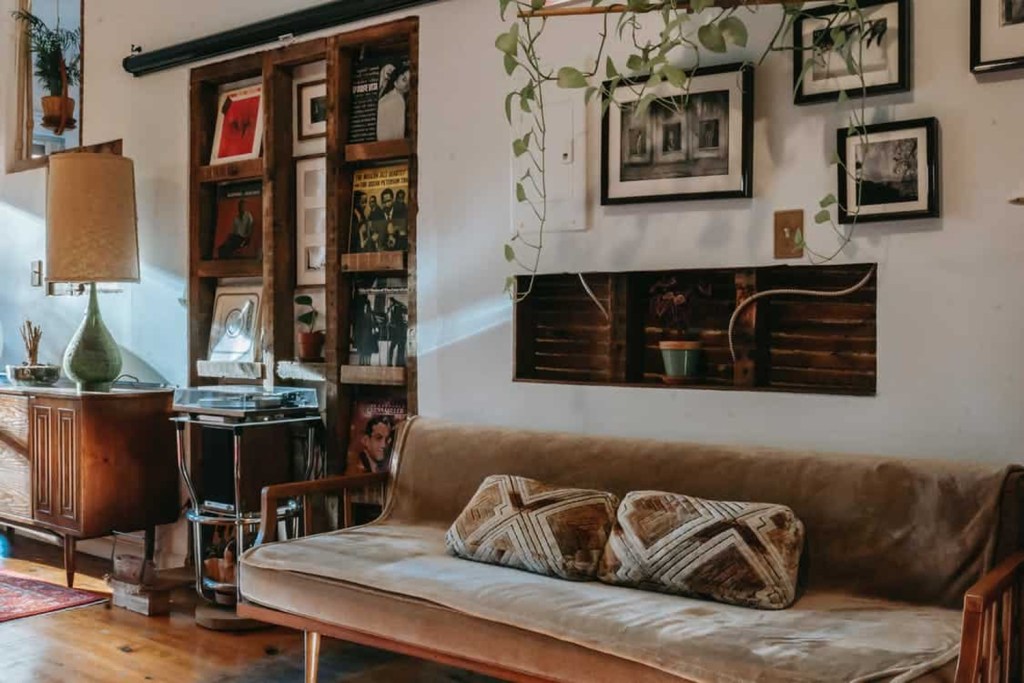 Mix in modern elements
While much of cottagecore decor is about getting back to the land and self-sufficiency, it is still the 21st century, so modern elements are essential too. To avoid turning your home into your Great Grandma's, you'll want to keep or add some current element into the mix. While focusing on vintage or upcycled furnishing is key to this look, you don't have to get rid of your modern sofa or lamps. The best way to achieve this look is to mix delicate, muted-tone florals, wicker, soft textiles, and vintage art into your existing modern decor. Again, something as simple as replacing the modern pulls and handles in your kitchen with vintage-style ones will help you begin the process. Some other good ideas are to add vintage vases or dishware to your modern mantel or hang some old landscape art above the couch.
Cottagecore decor is one of the most searched terms of 2021, and it's evident in the home decor and fashion styles we've seen throughout the year. Things as simple as embracing sustainability and returning to skills such as foraging and baking at home have made their way into decorating our homes. Bringing the outdoors inside is also a crucial element of this popular decorating style, which means landscape art and lots of plants. The great thing about cottagecore is that the main factor is comfort — whatever makes you feel comfortable and at home works with this aesthetic. Since most of us have modern elements in our homes already, adding a few cottagecore pieces or touches will quickly get you there when it comes to the new cottagecore of 2022.
Editors' Recommendations