A brick fireplace is a particularly stunning and elegant accent in any home. A fireplace adds big value to your home since many prospective homeowners are willing to pay more for a house with one. That's why it's important for your brick fireplace to be an asset to the room instead of an eyesore. If that old brick is looking sad, worn, or dated, you'll be happy to know that you can paint brick successfully.
The problem with painting brick is that the material is extremely porous, so a coat of paint won't look great if the process isn't followed properly. Here, we outline how to paint a brick fireplace so it looks gorgeous.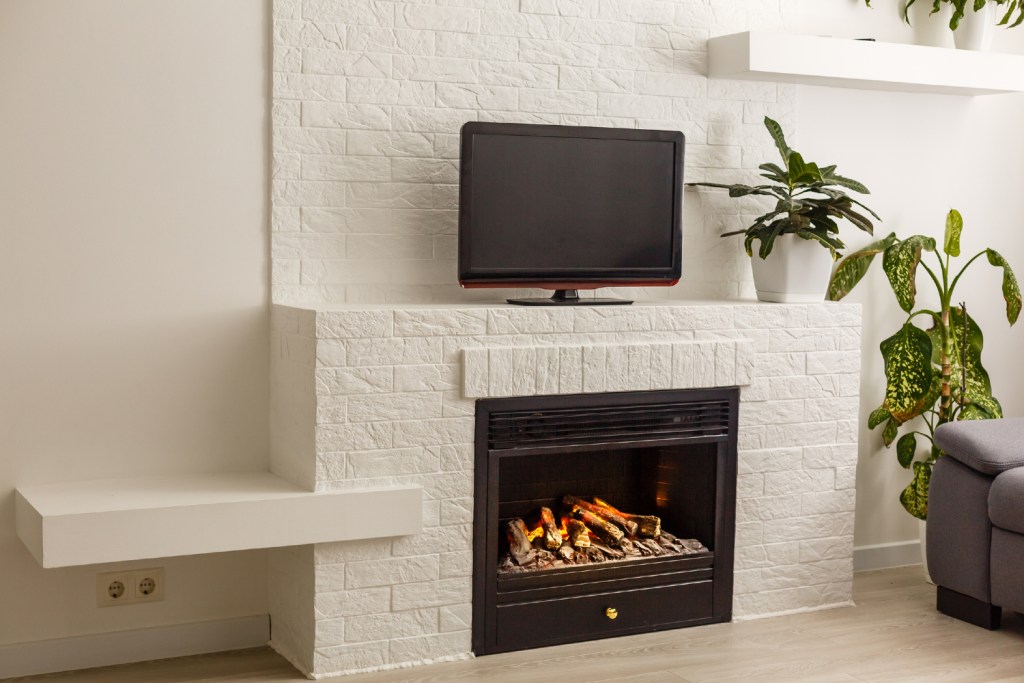 What type of paint should you use to paint a brick fireplace?
While painting porous brick can be tricky, the key to success isn't just the type of paint you use but also the type of primer. If you use a primer that's not designed to be used on brick, it will soak into the brick along with the paint, and your newly painted fireplace will not have that glossy, painted finish you're looking for.
When selecting both a primer and a paint for your brick fireplace, be sure they're:
High quality
Heat-resistant
Moisture-resistant
Recommended for use on brick
Your fireplace isn't just porous; it's also exposed to high levels of heat as well as moisture from the flue. A paint that's not heat- or moisture-resistant may start to peel or flake sooner. If you're painting the inside of the firebox as well, you'll need paint that is even more heat-resistant. This will avoid not only flaking but also chemicals being released into the air when a less-resistant paint is exposed to the intense heat.
How to paint a brick fireplace
Now that you've picked out your primer and your paint, it's time to actually paint your fireplace. Be sure you collect all the supplies you need to protect the room from paint spills and splashes as well as to paint the fireplace.
What you'll need to clean your fireplace (if it's really grimy)
Wire brush
Vacuum
Sponge
Cleaning solution (i.e., baking soda, cream of tartar, dish soap)
What you'll need to paint your fireplace
Drop cloths
Painter's tape
1-inch stiff-bristled paintbrushes
6-inch high-nap paint rollers (for rough surfaces)
Primer
Paint
Protect the walls and floor
The first thing you'll need to do is protect the rest of the room from paint drips and spills. Lay drop cloths down on the floor, and keep them in place with painter's tape. Then, tape off the threshold around the fireplace where the brick meets the walls and the floor.
Clean the brick
Next, the brick will need to be thoroughly cleaned so that the primer and paint adhere properly. If your fireplace doesn't get much use and is already fairly clean, you may be able to just wipe it down with a rag or use a vacuum attachment to pull up dust, debris, and cobwebs.
If it's particularly grimy:
Use a wire brush to loosen debris and vacuum it up.
Create a cleaning paste with water and either baking soda, cream of tartar, or dish soap. Use the paste and a sponge to lift the grime off.
Rinse the brick clean, and let it dry thoroughly before moving forward.
Prime the brick
Use a small, stiff-bristled paintbrush to first apply primer in the mortar crevices of the brick.
Once all of the mortar has been covered with primer, use a paint roller to apply primer to the surface of the brick.
Let the first coat of primer dry and then check to see if the one coat seems to be enough.
If needed, apply a second coat of primer in the same fashion as before, and let it dry completely.
Paint the brick
You'll apply the first coat of paint in the same way you applied the primer. If you're using the same small, stiff-bristled brush you used to prime the brick, be sure it's thoroughly cleaned and free of primer. Apply a coat of paint to the mortar crevices.
Use a new paint roller to apply a coat of paint to the surface of the brick.
Let the first coat of paint dry thoroughly before applying a second coat.
A brick fireplace is a gorgeous, elegant focal point in the room. While you want your fireplace to continue giving the room that antique, classic undertone, you also want it to have a new and modern appearance. When it starts to seem old or dated, painting your fireplace is a great way to give the whole room a face-lift while keeping the elegance and charm it was built with. With our guide, your paint job will look like it was done by the pros.
Editors' Recommendations