Thanksgiving is a holiday that is filled with food and family-time fun. If you're looking to start some new traditions this year, why not try some family-friendly board games? It can feel good to peel yourself away from the screens that dominate our lives and sit around a table with your loved ones.
Catan Family Edition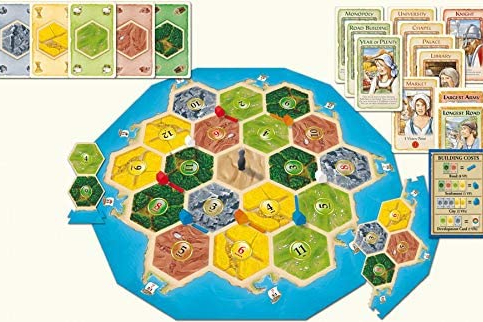 Catan Family Edition is a classic strategy game that requires trading skills and a bit of luck. The goal is to begin a quest to settle the island of Catan by guiding your settlers to victory. Players use wool, grain, lumber, ore, and brick to build roads, cities, and settlements. Resources are gained by rolling the dice or trading with other players. Trading and development are utilized to expand your territory and ultimately win the game. But players beware, robbers can strike and take away your hard-earned goods, or other players can block your way to victory.
The game's set-up is quick, and it only takes about 15 minutes for new players to learn how to play. Once everyone knows the rules and how to play, a typical game lasts 60 to 90 minutes. Catan Family Edition features a game board with modular reversible pieces so you can reconfigure the board each time you play. This game is recommended for players ages 10 and up.
Azul
Azul is a game about laying beautiful tiles for the Portuguese royal palace per the king's request. Players compete for the highest score by building the most complete and aesthetically pleasing square of colorful tiles. Players compete for tiles from a shared pool and place them on the board (or save them for future rounds) based on the rules for laying them, which makes for a satisfying puzzle that's easy to learn, but hard to master. The game plays well (and differently) at its full range of two to four players in just about half an hour. If you're looking for something different that the whole family will love, Azul is the game for you.
Azul is played with two to four people and is suitable for ages 8 and up. The playtime is a short 30 to 45 minutes, making it an excellent way to start the game session. Or play in rounds, so everyone gets a chance to play. This game is also perfect for everyone, from beginners to experts, as it requires some skill but a lot of luck.
Escape Room in a Box
Escape Room in a Box comes in three different versions: Werewolf Experiment, The Walking Dead, and Flashback, which means you can pick the version of the game that best suits your family's tastes. This game will get everyone in the family off the couch and into immersive gameplay. Your goal is to work as a team to solve 19 different 2D and 3D puzzles in under an hour to beat the game and, thus, "escape" the room. The game comes with one locked jar, two locked boxes, paper and non-paper puzzles, a hint book, an answer book, and more. One of the coolest features of this game is that it is Amazon Alexa compatible, which means that Alexa can track your time, give hints, and play a soundtrack while enjoying the game.
Jenga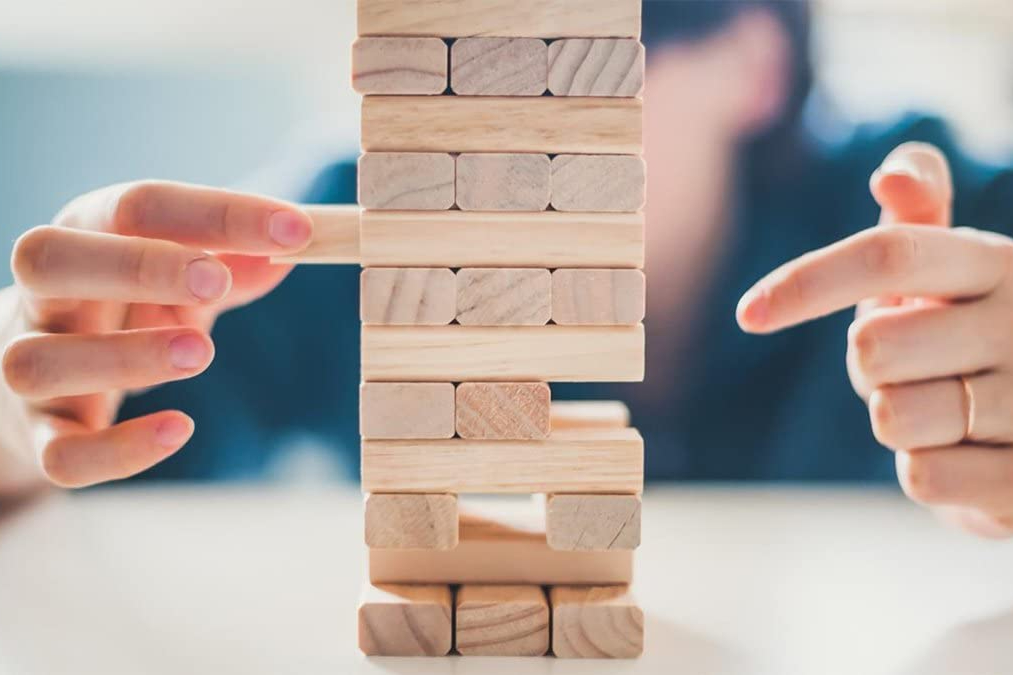 Jenga is a strategy game for one or more players that almost everyone has played over the years. It is a classic game, but sometimes the classics can't be beaten. This game is great for Thanksgiving because it can accommodate any number of players that you have. If everyone wants to play, great no problem. If a few people want to sit out, no worries, as it won't mess up teams or give you a number of players that don't work with the game. During play, players carefully select wooden pieces from the stack and replace them to see how high they can get the tower before it tumbles. The loser is the person who causes it all to come crashing down. This game is recommended for players ages 6 and up and is interactive fun for the whole family.
Even if you regularly play games with your family on Thanksgiving, you may be looking for some new ones to spice it up a bit. We've found four family-approved board games that will keep the whole family entertained while they wait for the turkey on Thanksgiving Day.
Editors' Recommendations