Whether you just bought a home with a finished basement or you put in the work yourself and created some more living space in your home below ground, you know that basements get incredibly cold. Any heat in your home rises, so that leaves your basement at unbearably chilly temperatures. To get the most out of this extra space for a home office, kids rec room, or a gaming and movie space, you need to make the conditions livable. So, how do you heat a cold basement? We're going to discuss all the different basement heating options available, so you can pick the one that's best for your home.
What is the most efficient way to heat a basement?
The best heating system for your basement is one that heats it well without taking up a bunch of space and without racking up huge energy bills. Before you decide on a heating option for your basement, you need to decide what works best for your space as well as your pocketbook. Some options will cost more upfront but will heat the space more efficiently. Other options will be cheaper all around but won't do as great of a job heating up the area. As you consider all of the heating methods, think about:
How big of a space you need to heat
How much space you have for heating equipment
Your budget for installation
Your monthly energy budget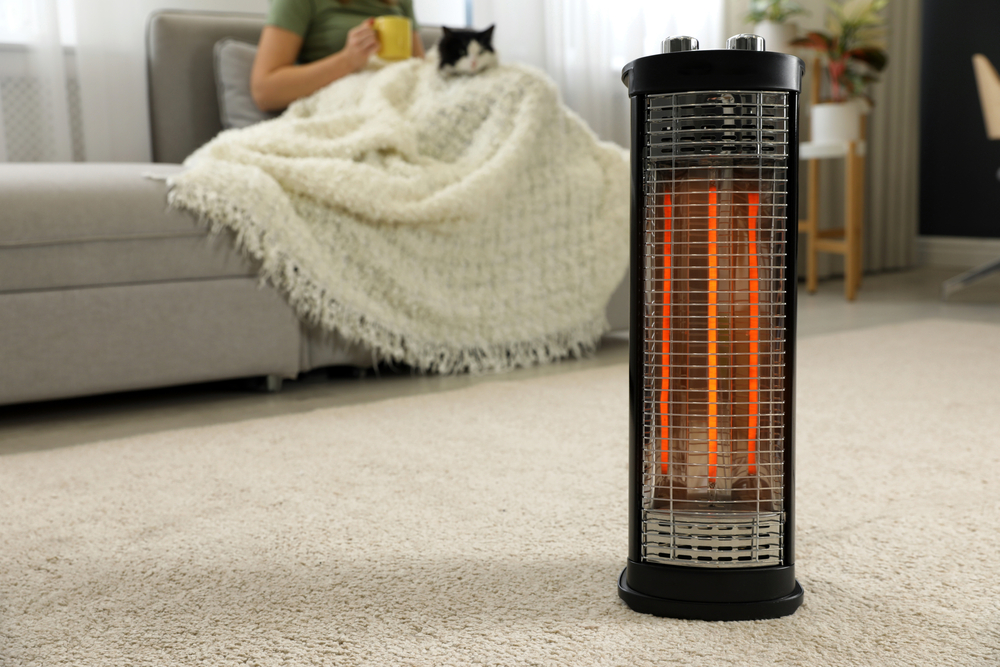 Your basement heating options
Once you've got some ballpark figures in mind with regard to your basement space and cost allowance, you can decide which of the following basement heating methods is right for you.
Space heaters
While many space heaters you've seen probably seem like a joke when you think about using one to heat your basement, there are actually some heavy-duty options out there that can efficiently heat an entire room. This is the cheapest option for heating your basement, but it's ideal for smaller spaces. Some people are also wary of space heaters, particularly if there are small children in the house. Many areas on the heater get incredibly hot and can easily burn the skin if touched.
Pros:
Affordable
Portable
Easy set up with no professional installation
Cons:
Only heat smaller spaces
Pose burn risks
Wood pellet stove
For a log cabin feel in your finished basement, a wood pellet stove is both efficient and inexpensive. It burns manufactured wood pellets and circulates warmed air throughout the room, but it's ideal for small-to-medium-size spaces. While the unit can be plugged right into a standard outlet, it does require venting since it produces carbon monoxide as the pellets burn.
Pros:
Inexpensive to install
Doesn't use a lot of electricity
Cons:
Requires the installation of venting
Pellets need to be replenished
Doesn't match all styles of decor
Baseboard heaters
For medium-size basements, baseboard heaters may be the most efficient and cost-saving way to heat your basement. While they aren't the most aesthetically pleasing option, they do a better job at heating average-size basement rooms than space heaters or wood pellet stoves. These units are installed along the baseboard of the wall and, while they run on electricity, they do require a 20-amp, 240-volt circuit. This means that you will likely need to hire an electrician to update the wiring in your basement.
Pros:
Heat medium-size spaces efficiently
Don't require venting or ductwork
Mid-range installation cost
Cons:
Require updated electrical wiring
Use more electricity than space heaters and pellet stoves
Not an attractive addition to the room
Ductless mini-split unit
The good thing about mini-split units is that most have dual functions and can be used as A/C units in the summer. These units do require extensive installation, but they do a great job heating or cooling a larger space like a basement. While they don't require any ductwork, the units do need to connect to an outdoor compressing unit, so the cost of installing this heating option is on the pricier side.
Pros:
Doubles as an A/C unit
Heats larger spaces efficiently
No ductwork required
Cons:
Professional installation likely required
Higher costs overall
Extend ductwork
While it's the most expensive option for heating your basement, extending your ductwork to include your basement space ensures that the area is always as warm as you'd like it to be. An HVAC professional can likely extend your home's existing ducts to heat your finished basement as well as cool it if you already have central air. This simplifies controlling the temperature in the renovated space, since it will be connected to the thermostat for the rest of the home.
Pros:
Most effective option for heating the basement
Easy day-to-day operation
Cons:
Requires professional installation and renovation
Most expensive option overall
If you recently finished your basement, you've already put a lot of time and energy into making the space livable. It only makes sense that you would also make it comfortable. Unfortunately, there's no getting around the need for heating this below-ground area. The best basement heating option for your home, though, depends on the size of your basement space, how much you're willing to affect the aesthetics in the space, and your budget for both installation and monthly energy costs.
Editors' Recommendations