Bathrooms are often the first place we go to in the morning and the last place we stop before bed. Why not make yours a sanctuary? The best place to start—a luxurious bathroom vanity. This touchstone to every bathroom design is the one object in the space that conveys the most about your personal taste and style. As the main storage piece in the room, it also has to function well.
Finding the right vanity can be challenging, so we are here to help. We scoured Wayfair to find a beautiful vanity for every taste.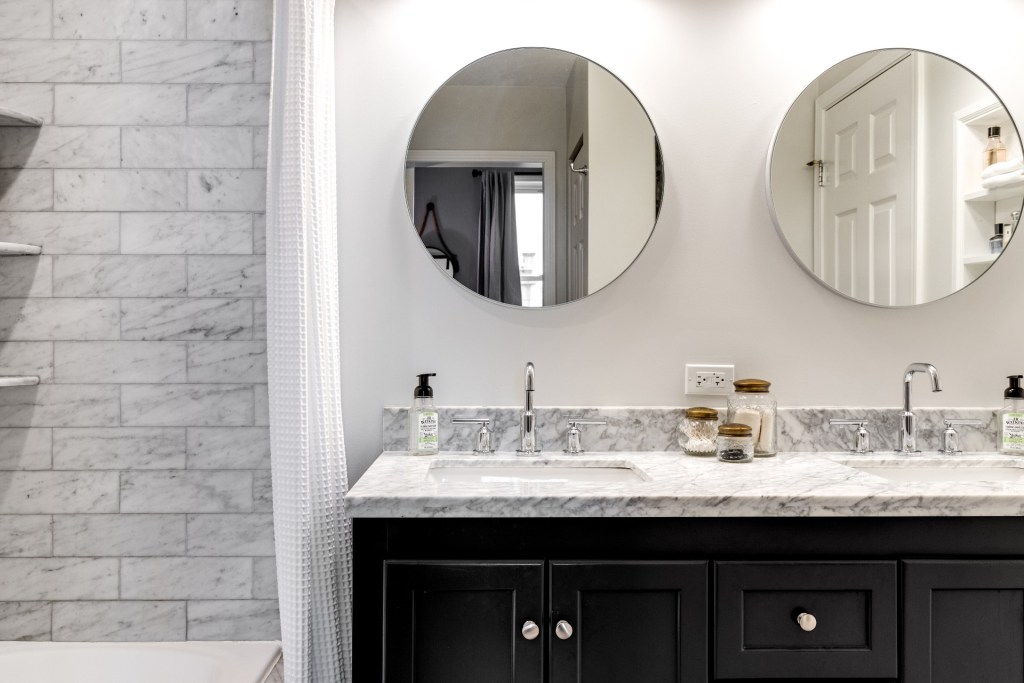 Longshore Tides Coffield Vanity Set
Does your taste lean towards a traditional look? The Coffield Vanity has classic lines that are reminiscent of a fine furniture piece. It comes in three finishes, and has multiple drawers and doors that you can access using elegant chrome or brass knobs. A luxurious Carrara marble counter tops it off.
What we love
We love the white, navy, and gray finish options; this vanity looks great in almost every bathroom, which is a bonus. The marble counter is luxurious, yet simple, in a way that elevates the bathroom without making it feel fussy.
What we don't love
The vanity's wood finish feels a little rough in some places, which adds a nice worn touch to the piece but can be tough to clean.
Altenburg Wall-Mounted Vanity
If a contemporary modern look is more your vibe, the Altenburg Wall-Mounted Vanity is a statement piece your bathroom needs. Its wood-grain façade comes in two finishes, and it features hardware-free, flat-paneled doors for a sleek look.
What we love
Floating vanities are trending right now, and we love how the colors and design meld classic and modern design elements. We also love the thick countertop, which is both durable and aesthetically pleasing. Its elevated position makes it feel almost like an art piece, and its crisp white counter contrasts nicely with the wood tones.
What we don't love
This vanity is incredibly heavy, and so may require a bit more physical prowess to install.
Casandra Vanity Set
If you like a traditional style but still enjoy a modern flair, the transitional-style Casandra Vanity Set is perfect for you. Its double doors feature a unique trim pattern, and long, elegant hardware pulls. It comes in gray and brown and features a clean white top.
What we love
This vanity has a simple and elegant silhouette we love, and comes fully set-up with soft-close doors. This means very minimal installation, and less hassle getting the vanity into place.
What we don't love
The vanity's narrow silhouette is incredibly versatile, but could be challenging if more than one person requires ample counter space or under-sink storage.
Morris Marble Bathroom Vanity
Who says rustic can't be luxurious? The Morris Marble Bathroom Vanity's aged wood façade and mortise and tenon detailing makes it a showstopper. This vanity also features ample storage, perfect for skincare products, towels, and all the toiletries your heart desires.
What we love
The bathroom is the one room where we feel we never have enough storage, but the Morris vanity's storage space is plentiful enough to make organizing easy.
What we don't love
The grey-white countertop can seem a bit off-color in some lights, and the single-sink setup may make multitasking in the morning difficult.
Goleta Vanity
The elegant curved front of the Goleta Vanity and the brass pulls sit upon the drawers make this vanity look like it could easily be at home in a living room. It's only fitting that it's topped off with a luxurious Carrara marble counter.
What we love
The vanity's beautiful finishes aside, the drawers provide ample – and often-coveted – bathroom storage. The porcelain under-mount sink is another beautiful addition to an already-stunning piece.
What we don't love
The vanity doesn't come with sink and drain stopper hardware, which could present a challenge when seeking an exact match.
When choosing a vanity, it is important to think about your personal style. The lines, materials, finishes, and counters all tell a story. No matter if you have an expensive bathroom or not, if the space doesn't represent you, it will never truly feel like your personal oasis. By pairing your personal style preferences with a vanity that fits your needs, you'll be able to create a beautiful bathroom that is not only a functional space, but also an everyday experience.
Editors' Recommendations