You spend a lot of time in your bathroom. It's a place to get ready in the morning, prepare for a good night's sleep, and unwind after a long day. While it can be tempting to spend time picking vanities and lighting and textiles for your bathroom, one important piece that often gets overlooked is the paint color. The color palette you choose will play a major role in the overall mood of your bathroom. Bright, neutral colors will be more cheerful, while dark, ominous tones will set a more relaxing mood. In a small bathroom, colors become even more of a consideration to ensure you aren't closing in an already tiny space even further.
We've asked some industry experts to weigh in on what trending colors are making a splash and how to use bathroom paint colors to give your space the atmosphere, attitude, and space you're hoping to achieve.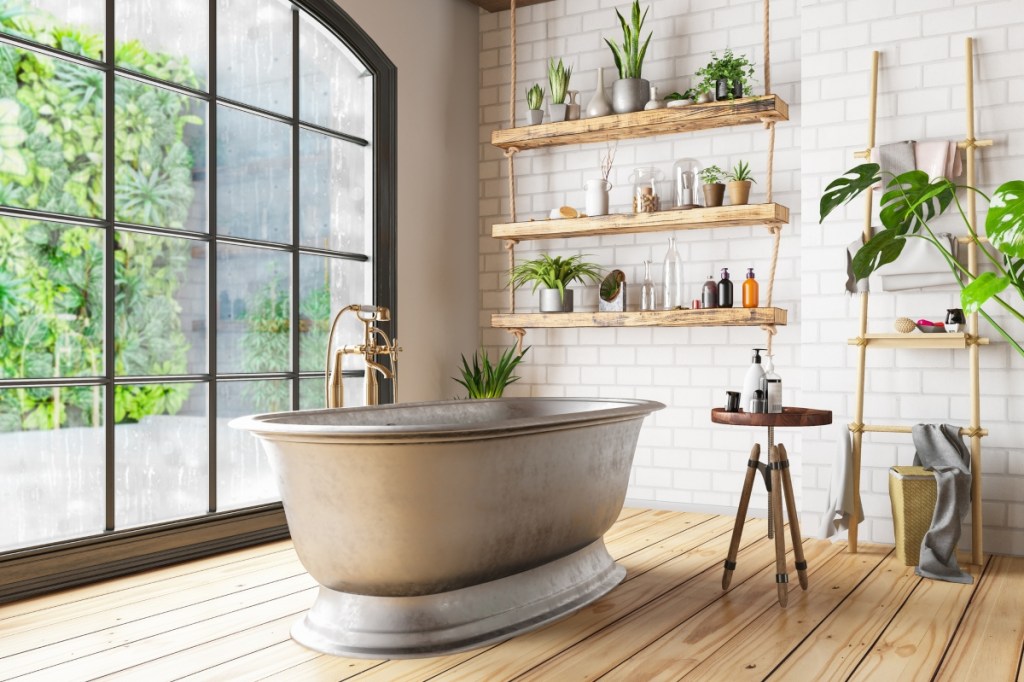 Paint colors for small bathrooms
According to Bailey Carson, Home Care Expert at Angi, soothing colors are the way to go in a small bathroom. This means shades of blue, gray, and white offer a neutral palette and reflect as much light as possible to keep the room feeling open.
Blue
"Blue invokes a sense of calmness and serenity," she said. "Blue in the bathroom will immediately make your bathroom feel like a tranquil sanctuary."
Green
Soft shades of green are another good option. "The outdoors have been a huge inspiration for interior paint colors this past year," Carson added. "Shades of green allow us to feel tranquility and peace, which is the perfect vibe for your bathroom."
White
Warm whites will never go out of style and will always be a decorating tip for small spaces. Carson said, with the right decor, white walls can make your bathroom a soothing environment. "When it comes to decorating your bathroom for white walls, think textural touches like plush towels," she said.
Gray
Finally, if you are looking for a relaxed bathroom vibe, gray remains a popular choice. "If you're looking for something sophisticated," Carson added, "gray is the way to go."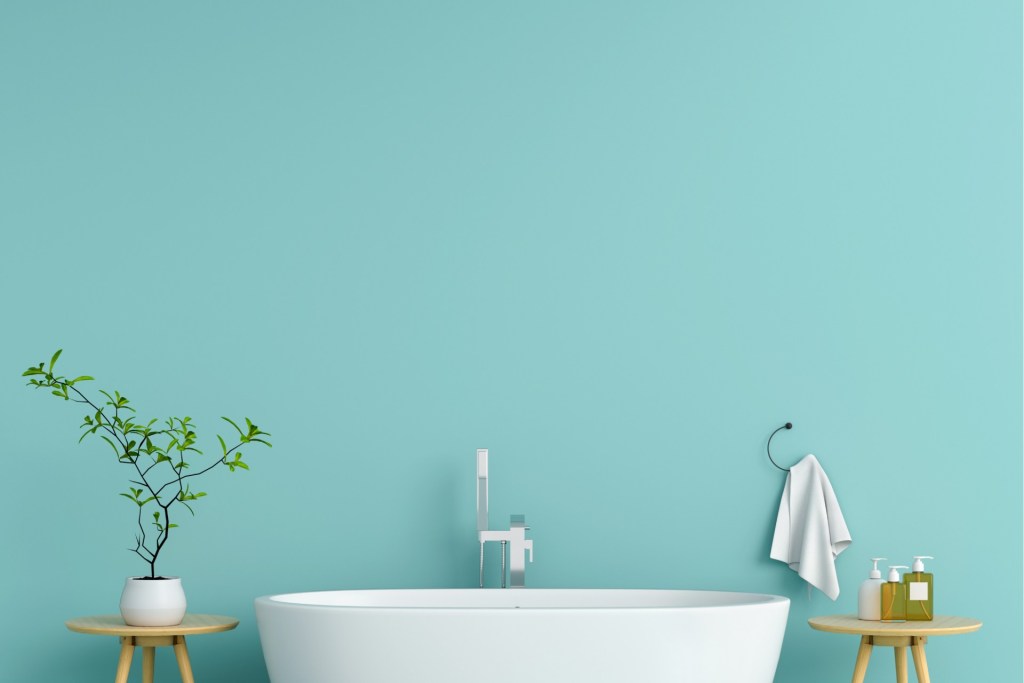 Popular tiny bathroom trends
Beyond paint, small bathrooms can benefit from decor to help make the space feel bigger.
Add more mirrors
"Mirrors always give the illusion of more space," said Carson. "If you put two mirrors across from one another, your bathroom will immediately look larger. And if you place a mirror directly across from a window, it can even make it look like you have two windows." This will also help reflect your paint color top to bottom.
Lose the shower curtain
Another idea to create the illusion of more space? "Ditch your shower curtains," Carson advised. "Instead of having shower curtains, try installing shower doors. If this doesn't fit your budget, you can also recreate the look with a clear shower curtain. If you go with a clear curtain, remember to clean it regularly to keep the space looking fresh and open."
Trending bathroom colors
Regardless of size, "As people are spending more time at home, they're looking to their paint colors to help them relax," Carson said. "Many colors that are trending also happen to be colors that create a calm atmosphere in your home."
As Carson noted above, we love cool blue colors like Benjamin Moore's Skyscraper. For the warm white recommendation, we are obsessed with Stoneware, also from Benjamin Moore. We love this shade with dark wood accents like a walnut vanity or hanging shelves. Add in muted gold metallics in your hardware and faucets, and you will immediately transform your small bathroom into a necessary oasis.
Small bathrooms need a lot of light to keep them from feeling closed in. Besides paint, add as much natural light as possible. If adding new, larger windows is out of the budget, bring in more overhead lighting above the vanity and shower to reflect off the paint color and brighten up the room. Also, take out any unnecessary clutter to reduce unused space and to avoid drawing your eye on one larger piece. Instead, opt for items that draw your eye up and out like a feature wall in complementary paint color to one above or a patterned wallpaper that is well-reviewed for bathroom use.
You can't underestimate finding the right shade of paint for a small bathroom. Just make sure it's easy to clean and doesn't show water marks or stains from humidity (i.e., avoid flat paint). You want to keep it looking fresh and bright, so do a little experimentation and find the shade that speaks to you.
Editors' Recommendations