Over the past few years, people have been rethinking their relationship with their houses. The home is becoming less of just a place to sleep and thought of more as a safe haven, a place that offers respite from the rest of the world. And thanks to new home technology, it's easier than ever to make your entire home — even your bathroom — feel luxurious and relaxing. Whether you're planning a full renovation or just want to make a few simple changes, there are plenty of areas where you can integrate new tech. Here are a few of the most exciting luxury bathroom upgrades you should consider adding to your home this year.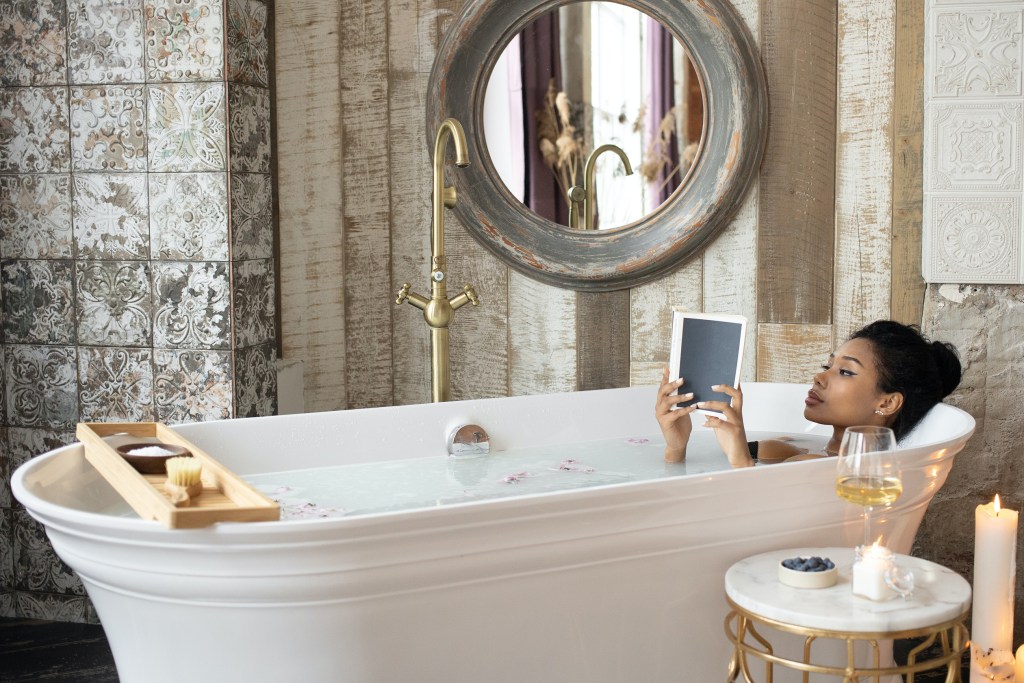 Make bathing a spa-like experience
There's nothing more relaxing than taking a long, hot bath at the end of a tough day. Now, with new advancements in technology, you can transform your bathtub into a tranquil oasis. Kohler is leading the way with its new smart bath tech, which debuted this January at CES 2022 (Consumer Electronics Show). One of its most exciting new products is PerfectFill, a bath control hub that allows users to use voice controls to automatically fill bathtubs without needing to supervise or worry about it overfilling. For those who want to bathe in the utmost luxury, the Kohler Stillness Bath is a must-see. The modern bathtub uses ambient lighting and fog to help you chill out. The more advanced version features a hinoki wood base with water that flows over the edge to give bathers the feel of sitting in a Japanese hot spring — right in their own homes.
Go touchless
Thanks to the pandemic, many people are reevaluating their homes to prioritize cleanliness and health. One way to prevent the spread of germs in the house is with touchless faucets and smart sinks. This is an affordable upgrade that can make a massive difference in the bathroom. With just a wave of the hand, you can turn on or off the faucet. Kohler recently introduced a new line of residential touchless faucets with auto shut-off, temperature controls, and easy installation. For a complete smart sink, check out the Moen Smart Faucet with Motion Control. The handle-free faucet can be controlled using voice commands or hand gestures. Plus, the device integrates with other smart water products and Moen's Smart Water Network, an ecosystem that can monitor water flow and notify you of any issues.
Optimize your self-care routine with a smart mirror
Step into the future with a smart mirror for your bathroom. This dual-function device looks and operates like a traditional mirror but has a digital display, too. Smart mirrors are available in a wide range of functionality. Some of these WiFi-enabled devices show basics like the time, date, and weather. However, more luxurious models come with built-in speakers and voice control, allowing users to stream music, play videos, and easily adjust the mirror's numerous intelligent features. Many smart mirrors also come equipped with LED lighting and anti-fogging tech to make getting ready in the morning a breeze.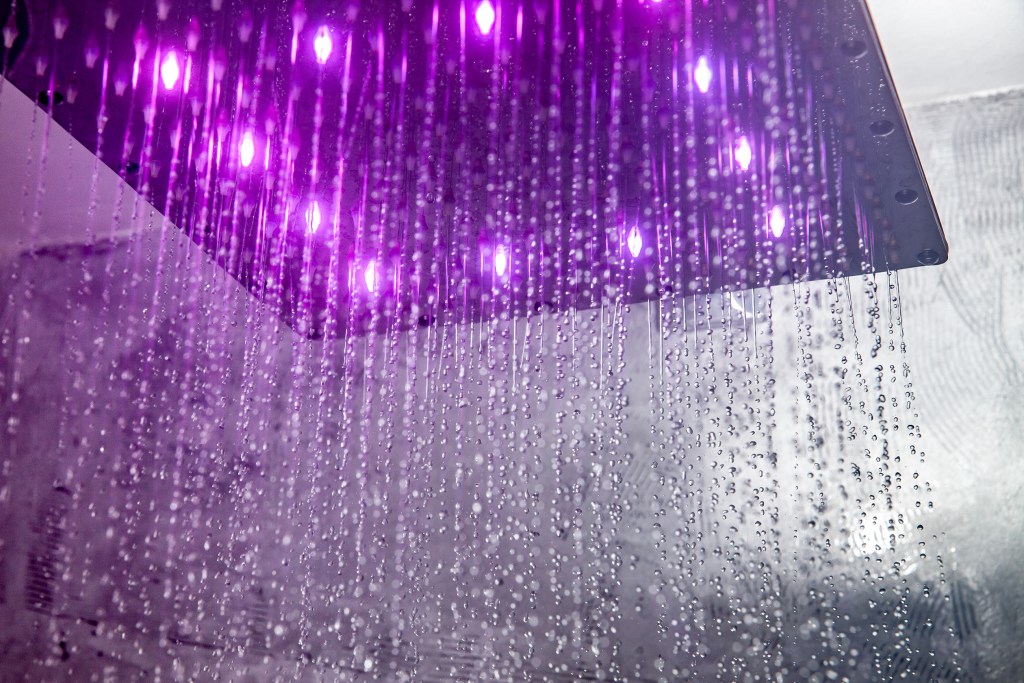 Try chromotherapy and other features in your shower
There are a variety of smart upgrades you can make to your shower to create a more relaxing and luxe environment. From steam kits to remote controls, small changes can make a huge difference to your daily bathing routine. But one of our favorite upgrades harnesses the benefits of chromotherapy. Chromotherapy uses color to improve mental, physical, and emotional health. These showerheads come equipped with LED lights of different hues, each producing a unique feeling. For even more indulgence, choose a rainfall showerhead like the affordable Hiendure Rainfall 3-Color LED Shower Head.
Upgrade your toilet
Not even the toilet is forgotten when it comes to smart tech making bathrooms more hygienic and functional. You can add seat warmers, self-cleaning ability, touch-free lids, auto-flush, lights, and more. Many smart toilets are more streamlined than traditional ones, taking up less space in the bathroom while offering more usability. One such feature increasing in popularity is the bidet, a significant focus of TOTO at this year's CES (which it participated in virtually). Toto showcased the newly redesigned Washlet C2 and C5 models of bidet, both of which offer simplified designs with the same great usability.
Innovative home technology offers more than just doorbell cameras and voice-controlled lights; there are countless ways you can incorporate new tech into your home to create an upscale and serene vibe. Whether you want to redo your whole bathroom with a spa-like bathtub and chromotherapy shower, or you're thinking about a simpler project like installing a smart mirror and touchless faucet, there are so many cool bathroom gadgets to consider. No matter which new tech you choose, you'll feel the difference immediately.
Editors' Recommendations