Finding soft, comfortable, and durable bathroom rugs is the key to a cozy bathroom. Bathroom floors can be cold and hard, and that's the last thing you want to feel when you're trying to get ready in the morning or destress as you head to bed. When looking for a rug, make sure you find one that isn't just soft and fashionable. It also needs to hold up to all the humidity, spills, and other wear and tear it will experience in this oft-tread area.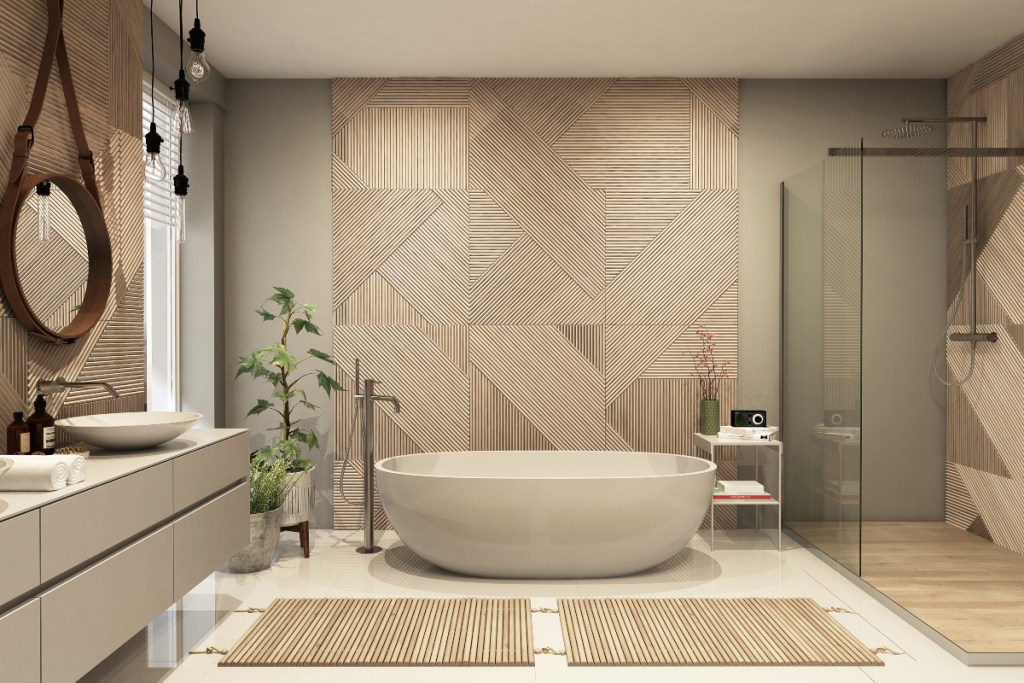 Privet House Portuguese Cotton Bath Mat
While this option doesn't have a non-slip backing, we love this $75 mat from Privet House because it washes like a dream. This has a simple, classic design that would look stunning in a rustic or traditional bathroom — just don't forget to add a rug pad underneath.
The diamond pattern adds a little texture to the space
Composed of 100% cotton and easy to wash
Pristine, white color keeps bathrooms looking clean and bright
Frontgate Resort Bath Mat
This Resort bath mat from Frontgate takes the cake as the coziest rug we've seen yet. It's soft and absorbent so your cold feet will thank you for the purchase. Here's why we love it:
Available in 23 colors including neutral shades and bolder hues
Made with 100% long-staple Turkish cotton for "supreme plushness and absorbency"
Machine-washable
Peacock Alley Tiffany Cloud Rug
If you want to really treat yourself, check out this rug from Peacock Alley. It's pricier than the other options on this list, but once you step foot on it, you'll no longer question the cost. Plus, it's always a good idea to spoil yourself every once in a while.
The removable high-density memory foam insert allows for the perfect step every time
Water-repellent
Naturally antimicrobial
MAYSHINE Round Bath Mat
Round rugs add a youthful aspect to any space, and this Chenille shaggy one is a fan favorite. Available in 11 colors, this rug has over 1000 5-star ratings on Amazon so you know your money will be well spent. Some of the perks of this piece include:
Machine-washable
Skid-proof
Water absorbent chenille
Anthropologie Monsieur & Madame Bath Mats
If you have a double vanity and want to mark your territory, check out these playful Madame and Monsieur black-and-white mats from Anthropologie. The set of two is just $72 and it would be adorable in the main bathroom, a jack-and-jill bathroom, or as a gift for newlyweds. The Mr. and Mrs. in your life are sure to love them!
Cotton/rayon blend makes for easy washing
The script font adds a touch of elegance
The classic black-and-white palette fits any design style
Whether you spend hours or minutes in the bathroom getting ready in the morning or preparing to tuck in at night, you should have a bathroom rug that feels dreamy underfoot and holds up against all the water, humidity, and foot traffic. The options above range in price from reasonable to splurge-worthy, so you can find one that fits your budget.
Winter is the perfect time to cozy up in a bath, turn on some soft music, and light some candles, and melt the cold temperatures away. Your bath mat may not be the focal point of your bathroom, but a well-chosen one can add a much-needed burst of personality and softness to the space. All that's left to do is add one to your cart and say goodbye to cold bathroom floors for good.
Editors' Recommendations