Wallpaper is back in a big way. What better place to showcase it off than in your living room? After years of interiors filled with subtle grays, consumers are gravitating toward design that allows for more personalization of spaces. There is no better way to do this than by adding wallpaper. With so many styles and designs, it is the perfect way to add your own unique touch to the design. Today's papers have been updated to include prints and dimensions that make them feel current. You can also find easy-to-install — and remove — options that make it an option for anyone to add. Here, we take a look at some of the most inspired ways to add trendy wallpaper designs to your living room.
Focus on the fireplace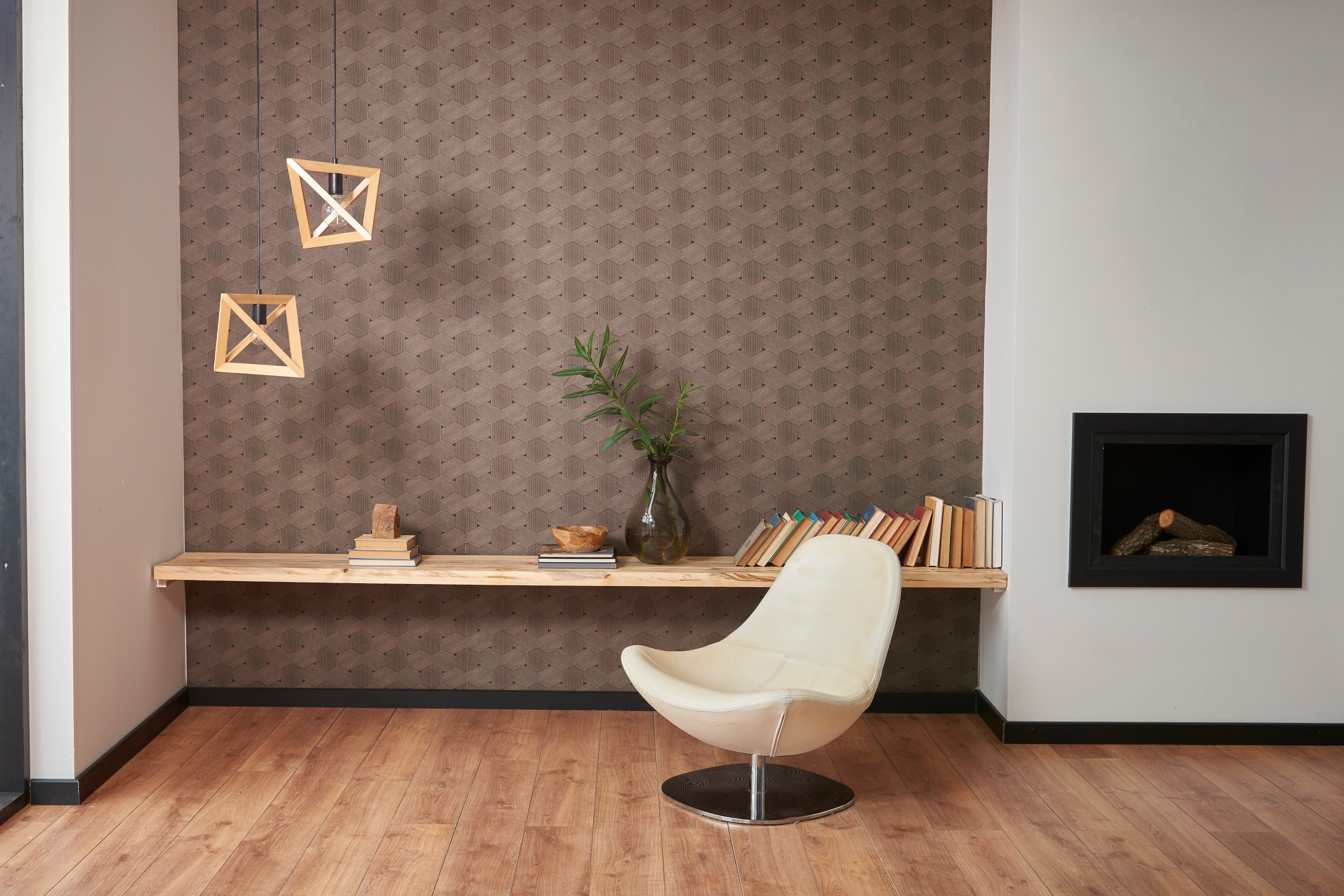 Fireplaces are the focal point of many living rooms with seating areas centered around them. Why not give the hearth more impact? Flanking each side of the fireplace with wallpaper will cement it as the main feature. If your fireplace is stone or brick, this is a good opportunity to find paper that complements those tones. If the chimney breast is painted, find paper with shades that work with each other. Keeping the paper tonally similar allows the scheme to work.
Murals
Looking to make a statement in your living room? Murals are having a moment, and why not? Without very much effort, they can dramatically change the aesthetic of the entire space. Easy on the budget, they give the look of a high-end painted wall mural. They also offer endless possibilities from landscapes to floral designs and abstract to architectural. Scenic atmospheric panoramas let the walls themselves become the art. Murals can be done throughout the space, but if you are just doing one wall, make sure to select the one that makes sense with the design. It should be placed on the most predominant wall — in other words, the one your eyes naturally gravitate to. Once installed, the mural is now the focal point, so select other elements that will work with it and not take attention away from it.

Line bookcases and built-ins
Bookshelves and built-ins may have a practical use in the space, but that doesn't mean they have to be boring. Wallpapering the back can add interest or a pop of color. This can be done as a statement on its own or with a paper that coordinates with one already in the space. It is the ideal time to try something more daring than what you would do in an entire room. Keeping the rest of the piece neutral will ensure balance — for example, a bright, clean, white shelf lined with a bold geometric print offers a striking contrast. Alternatively painting shelves a jewel tone and using black and white paper can also have a strong visual impact.
Textured neutral
Grasscloth papers add unmistakable warmth and texture to any space. They work in any design and provide a neutral backdrop. Keep in mind that they are a natural product, so there may be some variations in color. It may be worth hiring a professional who has experience working with the product. Although most popular in neutrals, it is possible to get grasscloth in rich colors like navy and emerald. As opposed to a flat-painted wall, they have an unmistakable ability to add depth without being too busy. In this way, they allow for more freedom with other elements like rugs, pillows, and upholstery.
Botanical-inspired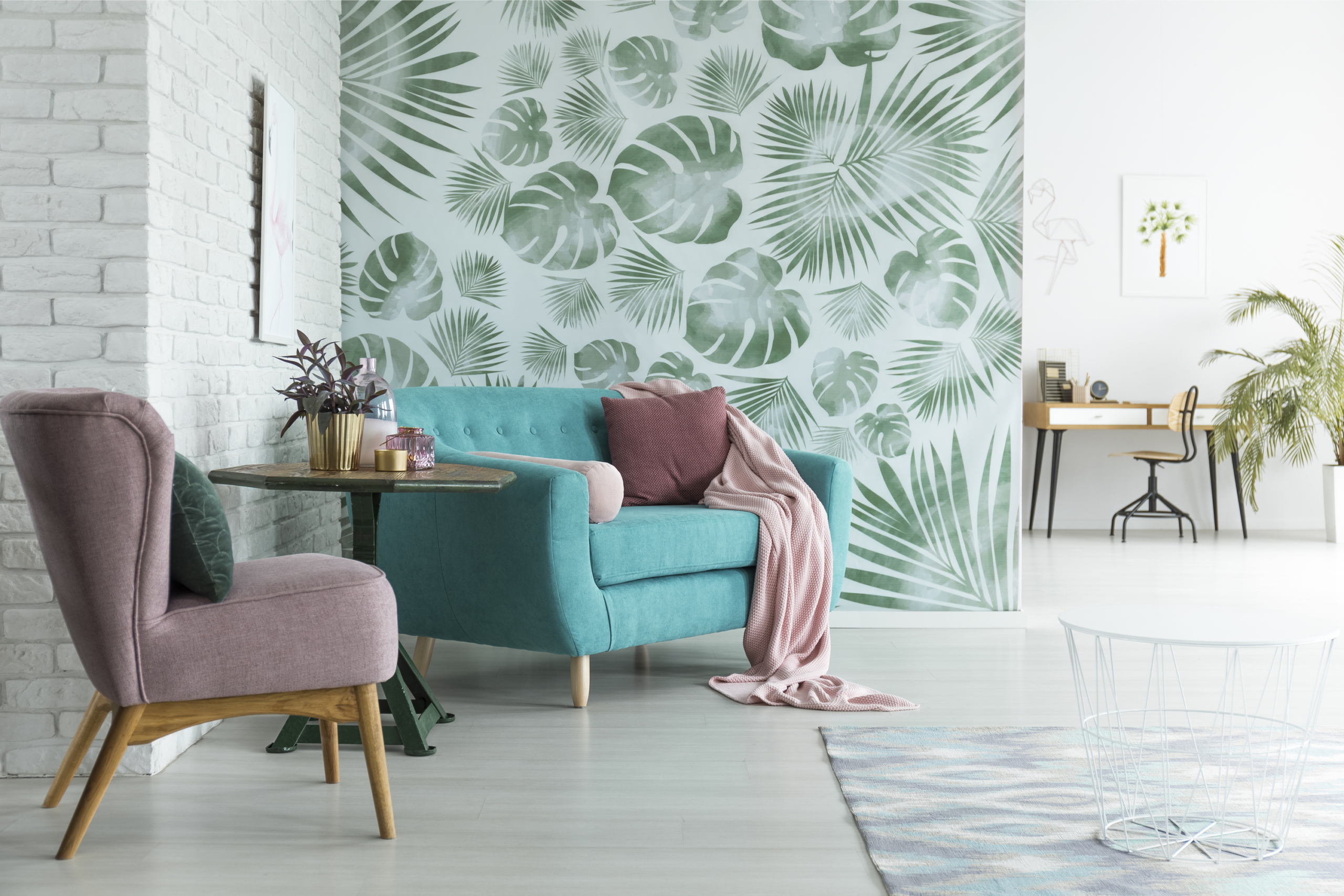 There is a big push in design to bring the outdoors in. The feeling is that this continuing trend offers a sense of calm. Think wallpapers with floral designs and bold tropical prints. These are not your grandmother's papers — designs have been updated to offer a nod to the past but with a modern aesthetic.
Warm color
Looking to add a little spice to your space? The cool grays of a few years ago are being replaced with warmer tones. In other words, get ready for interiors filled with corals, sage greens, saffron, and reds. Wallpapers reflect this trend and offer a wide array of options in rich, earthy tones. Bold, printed patterns have gotten an update, and tone-on-tone papers allow the hue to shine yet still offer more depth than paint. Both lend themselves well to interiors with wooden furniture.
Editors' Recommendations