Pumpkins in the entryway, plaid touches added to the living room, and leaves, leaves, leaves — these classic fall decorations never get old. However, if you're looking to freshen up your seasonal decor, especially in the kitchen, you've come to the right place. We've found four of the trendiest kitchen designs that will brighten up your space this season. Scouring the internet for design inspiration can be overwhelming, and while Pinterest and Instagram are full of unique designs, you could spend hours scrolling before you find something you really like. To help, we've narrowed it down and picked four of our favorite décor trends that we're sure you'll be obsessed with.
Earth tones
Nature-inspired colors like orange, yellow, and red are the typical fall colors, but this year, designers suggest other natural hues to create a more refined fall look. Deep greens, blues, and browns will add a layer of sophistication to your current kitchen fall decor without overpowering it. Colors like sandstone or amber glow will blend well with the existing fall colors, but they'll certainly look great all year round. The key here is to not use too many dark colors so the kitchen remains bright and welcoming yet still feels cozy. You should use a few, however, just to add a little balance. Try lining your dining room table with a dark green or dark blue runner to set off the traditional oranges, yellows, and reds.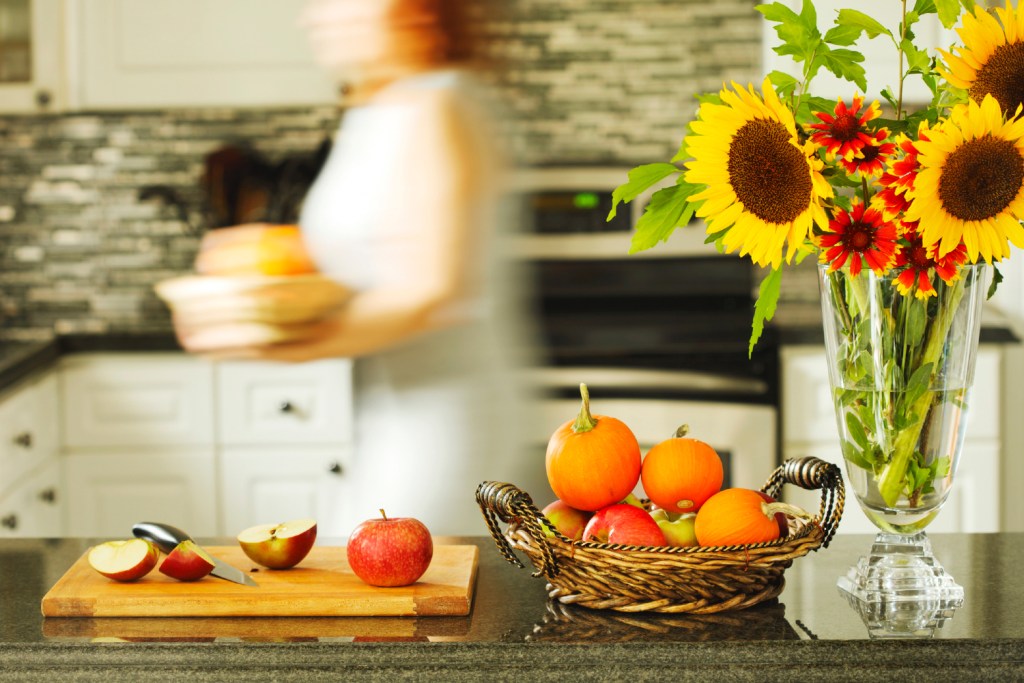 Vintage touches
Vintage and repurposed items are definitely on trend for fall 2021, but they aren't just for decoration. Any item you add to your kitchen should be functional as well as fashionable, and vintage touches are more than capable of doing just that. Also, fall is a time for comfort, and recovered items like your grandma's old dishes from the '30s will evoke feelings of familiarity and comfort. An old watering pail can quickly become a vintage vase for your sunflowers, while your great aunt's vintage vase can hold gooseberries on the buffet table. You can also add old candlesticks, vases, and picture frames to your current kitchen fall decor without disrupting your kitchen's functionality or taking up too much space.
It is very on-trend to mix a few antique items with more modern ones, so that spaced doesn't look too dated. You don't need to fill the space with stainless steel if that doesn't fit the scheme. Even simple, single-toned items can do the trick.
Textured fabrics
As the weather gets colder, warm, cozy materials become a necessity, and the texture of these linens is the key to nailing this trend. Instead of traditional cotton blends look for table runners, placemats, and even seat covers or cushions made out of flannel or even wicker. If you are fortunate enough to have ample seating in your kitchen and dining room, consider adding knitted blankets and decorative pillows to chairs, benches, or a large window sill. Faux fur, cashmere, flannel, and velvet, are all cozy and on-trend, and if you have a family member that is always knitting, this is a great way to put those handmade items to good use.
Though technically not fabrics, natural materials like stone and wood can help you round out your fall kitchen decor as well. A stone cutting board or planter will help visually break up all of the softness you've achieved with your textured fabrics, making for a more varied design. If you want to use stone, use it sparingly since too much stone gives off a cold vibe, which is the opposite of the cozy energy you want.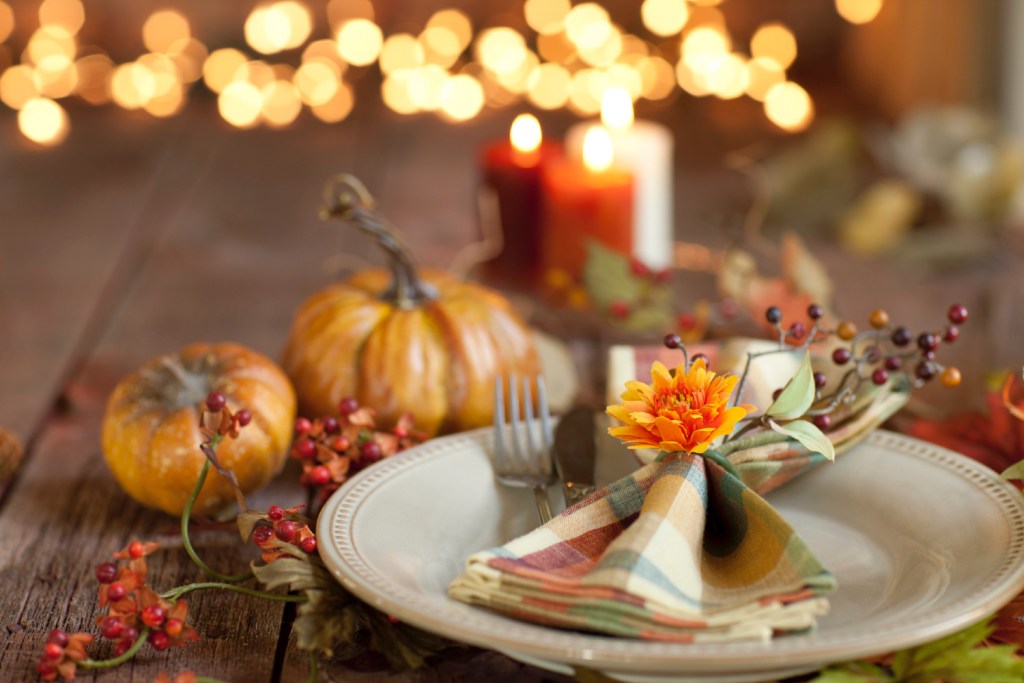 Brass
Using brass in the kitchen is an organic way to move away from the traditional colors of fall without doing anything too drastic. As the days get shorter and natural light outside lessens, having touches of brass in the kitchen will brighten the kitchen quite a bit with its touch of shininess and reflectivity. If your kitchen's fixtures need a bit of a refresher, consider replacing old knobs, handles, and pulls with new brass ones. If you're not looking to replace anything, just add a few brass candlesticks or vases to the existing decor.
Fall is finally here, and the changing colors outside mean it's time to change some of the colors inside too. Decorating for autumn demands certain classics, but that doesn't mean you can't give in to a fun trend here and there. If you're looking to freshen up your fall kitchen decor, we think you'll love at least one of the ideas above. We're pretty much obsessed with all of them.
Editors' Recommendations