You spend a lot of time in your home office whether you're working, paying bills, online shopping, eating a quick lunch, or just talking to friends. It should be a space that encourages productivity, but it should also bring you joy and spark creativity. To stay positive during the workday and beyond, don't overlook the room's design and decor. Fall is the perfect time to jazz up your office with some autumn decor that will keep you inspired throughout the season.
Capture the gorgeous color palette, cozy scents, and overall feeling of comfort this season with a few fun decorative items that will make your office an enjoyable place to spend the day whether you're working hard or hardly working.
For your desk
No fall scheme is complete without pumpkins, and we love these handwoven rattan ones from Pottery Barn. They are subtle enough to not pose a distraction, but they still bring in the fun of the season.
If you want something a little brighter to look at on your next conference call, check out these cozy pumpkin pillows. You could get a small decorative one for your desk and a larger one to lean on (or lay your head when you need a five-minute nap).
Finally, place a scented candle on your desk to infuse the room with aromas of apple crisp, pumpkin spice, sandalwood, or any of your other favorite fall themes. We love the three-wick candles from Bath and BodyWorks, especially the Sweater Weather scent.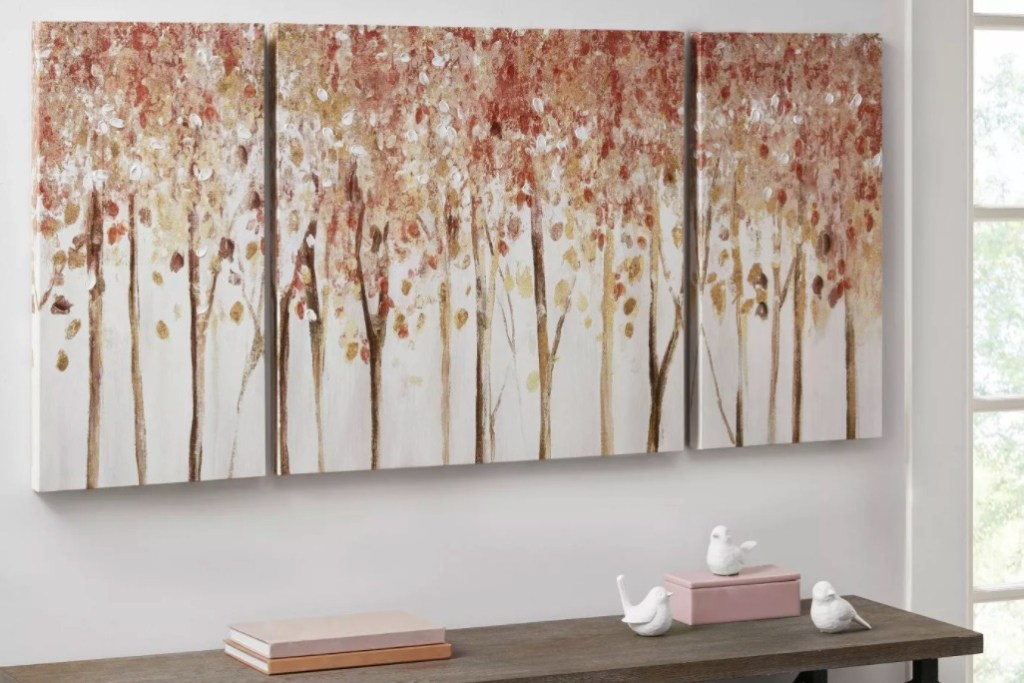 For the walls
Bare walls are a surefire way to make your office feel more like a stale cubicle than a homey space. Add some excitement with this Autumn Harvest metal wall plaque from Kirkland's for its farmhouse feel. We recommend adding it behind the desk to add a subtle but festive background for your Zoom calls. While you're there, take some time to check out this Autumn wall art for a more minimalist option of fall-themed word art. For a more expansive space, you'll need something a little bigger on the walls. Target is up to the task with this colorful set of three wall canvases depicting the changing leaves of the season.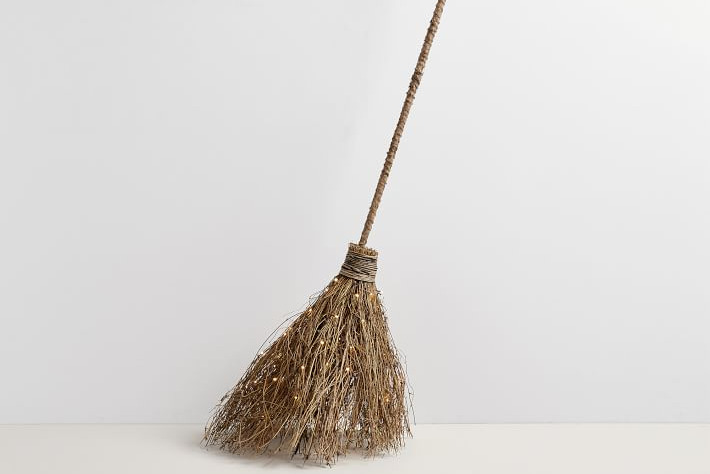 Subtle decor
If you need items that aren't distracting but still show your love of the season, check out this light-up broom from Pottery Barn that can you can rest against a wall or place in a corner nook. While it's reminiscent of Halloween decor, the broom is just simple and rustic enough to pass as a fun piece for autumn.
We also recommend leaning an antique ladder up against the wall and placing a fall-friendly throw blanket on it. We adore this polka dot pom throw from Anthropologie because it looks like it has tiny pumpkins all over it. When fall is over, you can replace it with a wintry-themed one in a breeze.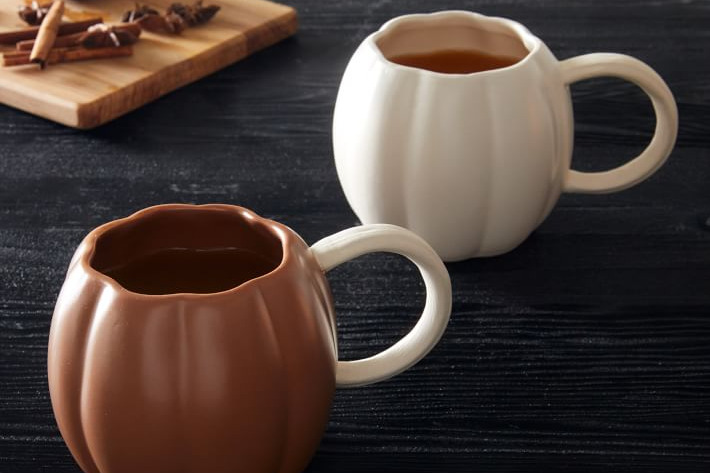 Spoil yourself
While you're typing away throughout the day, make sure you're staying properly caffeinated and hydrated. With festive coffee mugs and cups, you can bring a touch of the season into your office, and anyone on your conference call will love a quick look at these adorable pumpkin mugs from West Elm. If you're a lover of all things Halloween, you certainly need this dancing skeleton mug with "Bad to the Bone" written inside. Don't forget to hydrate yourself throughout the day with this All Hallow's Eve water bottle. All three are a nod to the season and will let you have a tiny piece of fall by your side while you're working away.
When the air gets crisp and the leaves start falling off their branches, open your office window and let that fresh air inside. If you get chilly, grab that fall throw and put it on your lap, or put on some super-soft slippers. You'll be cozy and warm inside but still benefit from the fresh air that fall brings. Now all you need is some hot coffee or tea and pumpkin bread, and you're set for the working day!
The aesthetics of your space can have a huge impact on your mood and productivity. A bare, boring room certainly won't inspire creativity or remind you to enjoy the little things throughout the day. If you'll be spending hours upon hours in this room, it's crucial that you decorate it in a way that excites you and reminds you that there's much to celebrate.
Editors' Recommendations