Redecorating every fall season is a fun way to add a little excitement to your home and put everyone in the mood for autumn. But buying new fall yard decorations every time can get expensive. If you're running out of decor options and don't want to break the bank by adding new pieces, you can still create an ode to the season with a few DIY decorating projects that don't cost a fortune. And fall DIY decorating is also a way to show off your personality. From finding the best deals on all things fall (think pumpkins, corn, hay bales) to repurposing previous decorative pieces, here are our easiest ways to bring in the fall season on a budget.
Reuse summer garden items
Why spend money purchasing new items when you can use what you already have? Those tools and fixtures that helped your summer garden grow can now help adorn your yard for the call.
Try repurposing old tomato cages by putting them on your front porch and filling them with baby pumpkins, winter squash, and decorative gourds. Whether it's full of decor or not, you can also wrap string lights or decorative leaves around the cages to make for a fun, seasonal statement piece.
When your summer blooms die or hibernate when the weather cools, don't get rid of those naked window boxes just yet. Instead, fill them with pinecones, berry garland, leaves, branches, mini pumpkins, and other fall-inspired items from around your yard or a local farmer's market.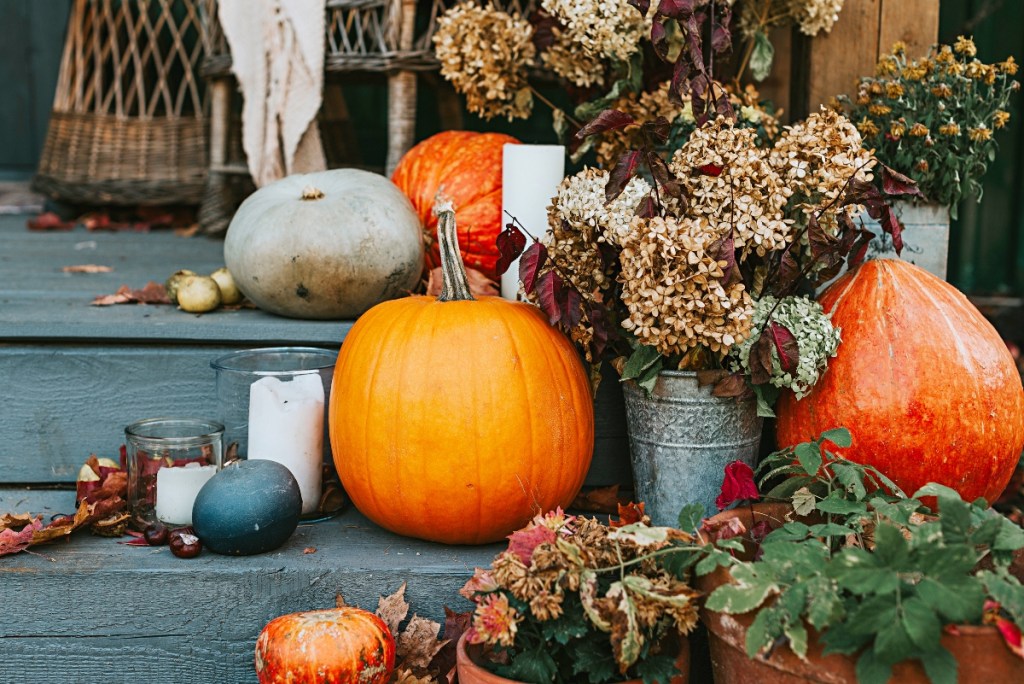 Shop around
Pumpkins and hay bales are seasonal icons, but filling your yard or patio with them can get pretty expensive. Pumpkins can run anywhere from $15-25 depending on their size and weight, and small hay bales can cost you over $25. Budget superstore Aldi has some of the best deals on pumpkins. Walmart and other local grocery stores also tend to run sales and specials throughout the season, so check their websites for weekly promotions as well. While picking your own pumpkin from an orchard is the perfect fall activity, you'll have to pay a little more for the experience, so steer clear if you're looking for more bang for your buck.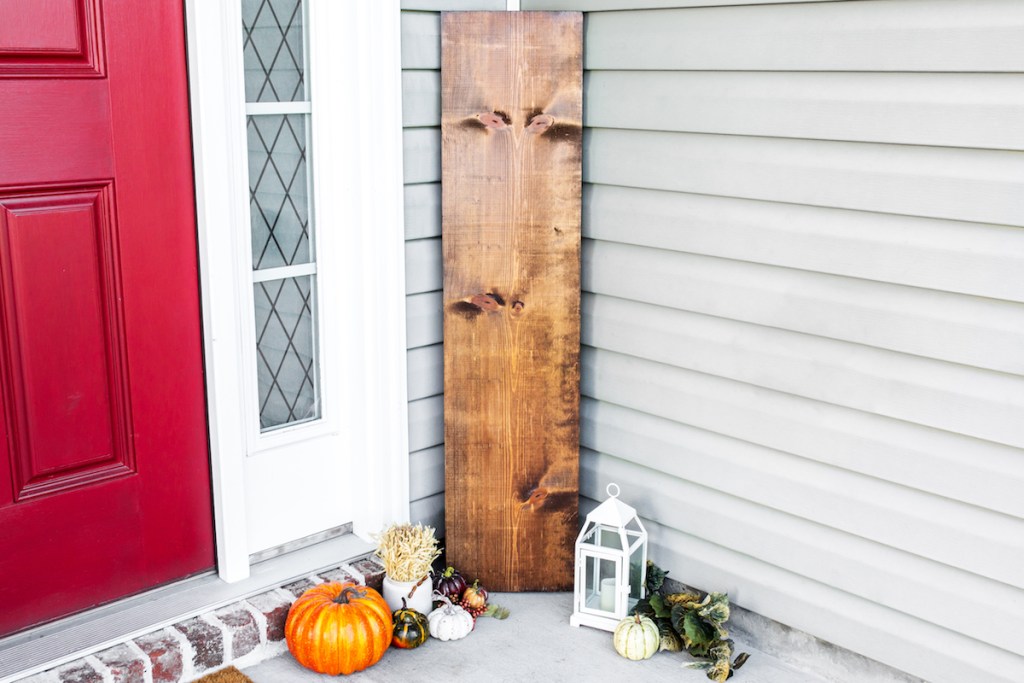 DIY wood signs
DIY wood signs give you the opportunity to personalize your decor without paying a company for pricey customization. With just a plank of wood, some paint, and your imagination, you can welcome guests with a charming, rustic sign. Consider keeping it simple by painting "Happy Fall" or "Welcome" on the piece, or try something more elaborate by creating makeshift street signs by affixing the wooden planks to a two-by-four. Then, you can write your own street names like "Sleepy Hollow Way" or "Boo Street." For a piece that you can use any time of year, apply chalkboard paint to the planks so you can change the names with the seasons.
Banner up
You can purchase a relatively inexpensive banner and hang it between two wood posts or make your own using cut-out weather-resistant materials and string. Like the wood signs, you can take this opportunity to display whatever message you decide, whether it's a note of welcome or a spooky warning. Banners are festive and fun and thy give your front yard just the fall boost it needs.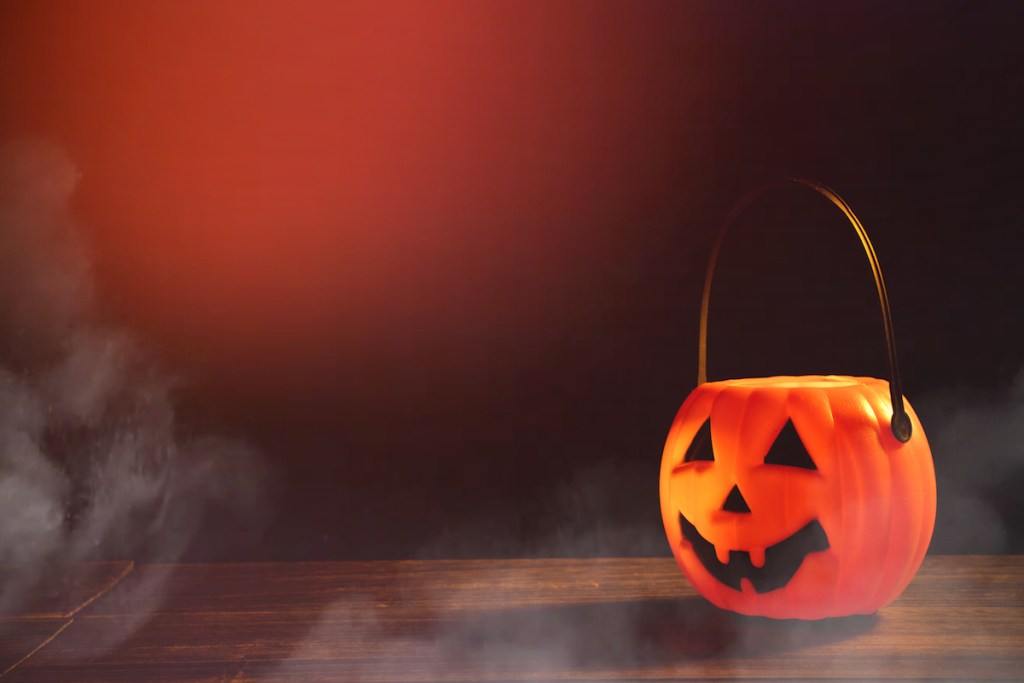 Spruce up plastic pumpkins
For generations, trick-or-treaters turned to the classic plastic orange pumpkins to hold their candy as they traveled from house to house on Halloween night. Embrace the nostalgia and pick one up for $1 or less at a local Dollar Tree or grocery store. Spruce it up with some metallic, weatherproof spray paint, then fill it with chrysanthemums, wheat, or other fall flowers and produce. Place a few of these along your front walkway for a throwback piece of decor that is sure to delight guests of all ages.
Remodeling your home can be fun and exciting with an unlimited budget, but it can be a little stressful when you're trying to cut costs. These fun and easy DIY projects prove that you can create a front yard worthy of the autumn season without breaking the bank. While repurposing items you currently own is definitely the most cost-effective solution, you can still buy new items and stick to your budget. Shop around for sales, visit secondhand shops, and ask friends and family if they have any pieces you can buy from them. It always pays to do your homework and shop around, especially if you're on a budget, so make sure you're getting the best price possible before adding something to your shopping cart.
Editors' Recommendations