Kitchen remodels are probably one of the most common home construction projects and they are also a huge deal — there are a ton of decisions to make, the work takes a long time, and it's expensive. One of the most significant decisions to make is cabinetry since, in most kitchens, the cabinets take up a good deal of space.
Even if you aren't totally remodeling your kitchen, you may still be considering either new kitchen cabinets or painting the ones you have. Whatever your kitchen's current cabinet situation, if you're going to replace or refinish them, consider blue kitchen cabinets. All types of blue kitchen cabinets are having their moment, and it's not just a passing trend.
Though blue is seemingly a color of the moment, it really isn't. Most shades of blue are considered timeless, and designers have favored blue hues for years. The good news is that if you want to plunge into blue cabinetry, you won't regret it years down the road. Bringing blue into the kitchen with cabinets is a great way to introduce color into the space while remaining classic. And the best part is, blue is extremely versatile, so no matter what look you're going for, you'll be able to find a shade of blue to pull it off. Check out how blue kitchen cabinets can work for you and your home.

Navy blue kitchen cabinets
Navy is a timeless shade of blue to use in the kitchen. Navy blue kitchen cabinets look great when paired with brass or copper hardware. The red and yellow tones in copper and brass both contrast and complement deep blue tones. Navy cabinets also pair well with white, off-white, and shades of cream — think countertops and backsplashes.
You can go dark with the floors, so don't worry if you had your heart set on dark hardwood. If you want a more natural vibe, pair navy blue kitchen cabinets with stained wood shelving, a natural wood island, or exposed wood beams. Throw in a couple of house plants and a few woven baskets and you'll be well on your way to a biophilic design.
Light blue kitchen cabinets
If you're going for a pretty, open, and soft look in your kitchen, light blue kitchen cabinets are the way to go. Light blue feels airy and pairs beautifully with silver or brass hardware and fixtures. You could also decorate with woven and natural materials for a coastal vibe.
If you've been dreaming of farmhouse blue kitchen cabinets, multiple shades of light blue will give you the look you're going for — sky blue, powder blue, and even robin's-egg blue will all work. Don't be afraid to contrast your light blue with darker shades of blue here and there or even other dark colors. It's important to have some contrast in your designs so everything doesn't feel monotone and boring.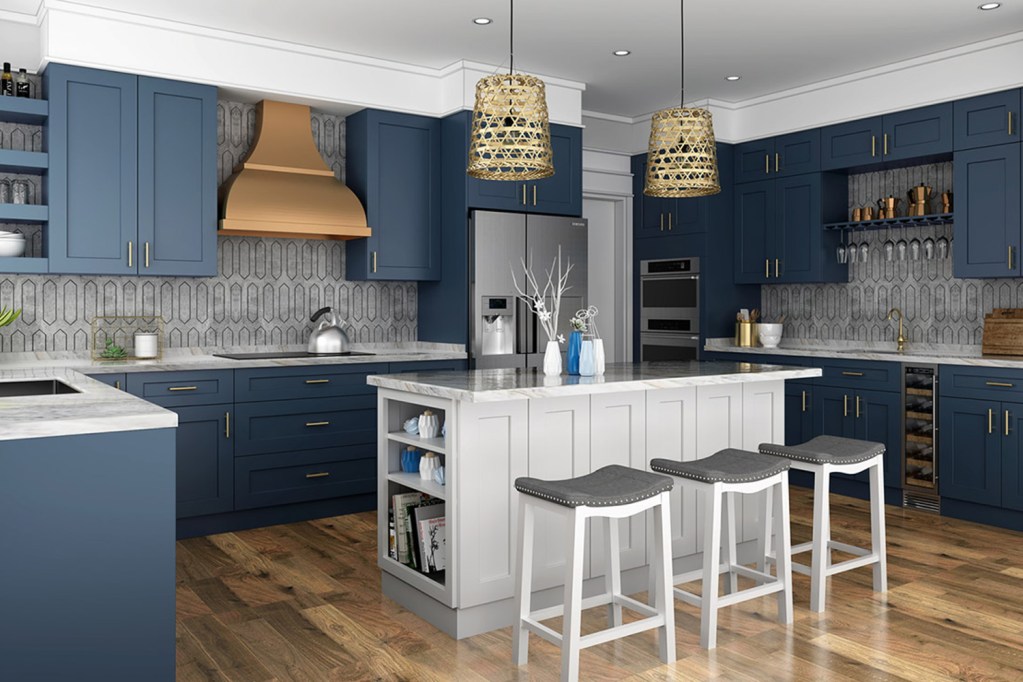 Dark blue kitchen cabinets
Dark blue hues don't have to stop at navy. You can achieve modern blue kitchen cabinets by choosing a color with gray undertones, like a dusty blue-gray, and pairing it with other earthy materials. Wooden furniture or flooring, concrete countertops, chrome hardware, fixtures, and bright lighting are just a few ways to pull off modern with blue kitchen cabinets.
Dark blue comes off as classy and high end, no matter what you pair it with, so the possibilities are endless when it comes to shades of dark blue on your kitchen cabinets. If you're going to go dark, make sure you pay attention to the lighting. If your kitchen is small or you don't have great natural light sources, be sure you have enough light fixtures to brighten up the space.
Investing in new kitchen cabinets is a big decision, whether you're replacing them entirely or giving them a facelift by painting or refinishing them. Blue cabinetry is popping up more and more these days, but it isn't just a passing trend. There are so many shades of blue, you can pull off almost any look that you're going for with the right choices. Don't be afraid to try a few different shades when you're shopping and think outside of your comfort zone. If you're considering trying blue cabinets in your kitchen, we say go for it — we think you'll be happy with your choice.
Editors' Recommendations