If you have a fireplace, you already know that the mantel is the focal point of the room, whether you like it or not. Even if you're stuck with a fireplace that doesn't work, you still have to decorate it (or at least make it blend in) so that it isn't an eyesore in the room. If you love your fireplace, this task won't be too tricky, but the bottom line is, the fireplace deserves to be decorated. If you're looking to update your current mantel display, white mantel decor is worth thinking about. All white mantel decor is classic, timeless, and classy and may just be the thing your fireplace needs.
As is the key with most all-white mantel decor, mostly all white is a better way to approach the design. If you have white walls and want to have an all-white mantel, some color may be necessary. Whether it be one vase, plant, or festive decoration, a pop of color may call attention to the display without overpowering it. Other times, a more subtle secondary color, like beige or light brown, may be needed to bring the look together.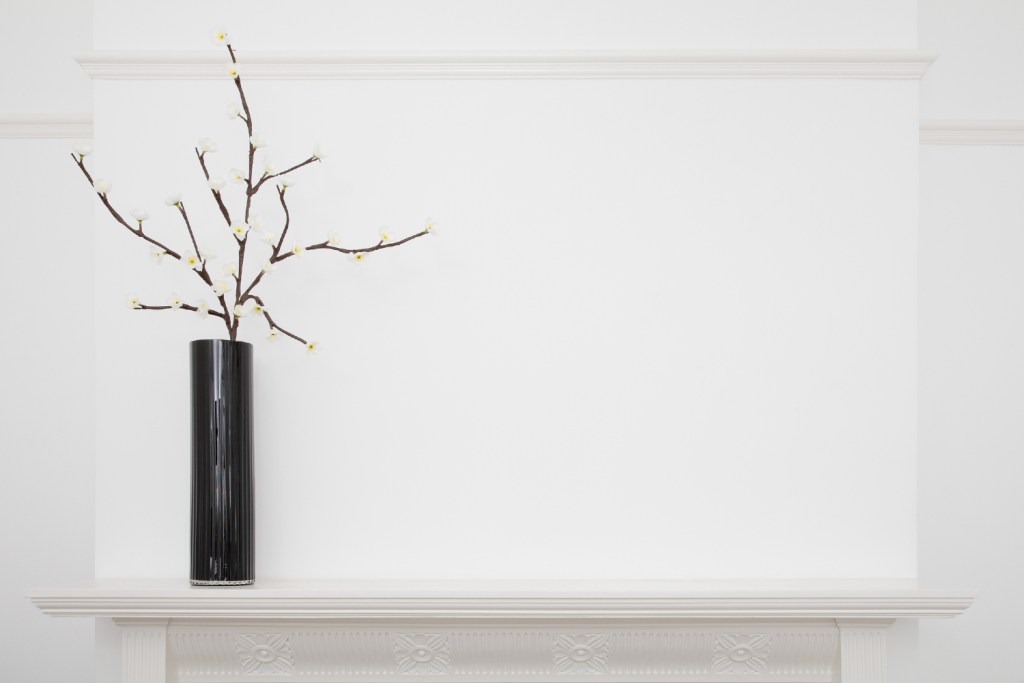 White windowpane
If you're going for a farmhouse vibe with your new mantel decor or looking for another piece to add to your existing mantel display, a white window panel could be the piece you're looking for. You can hang a white window panel directly on the wall above the fireplace and complement it with white candles on the mantel.
During the holidays, you can hang a wreath on the windowpane and add snow-covered plants to the mantel for a festive vibe. You can also lean the window pane up against the wall and add a country-style welcome sign or some dried pampas grass and a few white mason jars. There are a ton of windowpane possibilities if you want to go all white on your mantel.
White candles
One of the most traditional decorations for a mantel is candles. If you want a warm and classy vibe in your living room, a ton of all-white candles will do the trick. You can use white candlesticks or white votives if you want or a combination of the two, but you don't have to. Candles on their own, of all shapes and sizes, will do; just be sure they are all white.
If you don't like the idea of a bunch of flames burning in your living room unattended, there are fake candles on the market that look the part of the real deal — most of them even flicker like real candles. If you have a fireplace that doesn't work and aren't sure what to do with that huge hole, fill it with white candles and watch it warm up the room.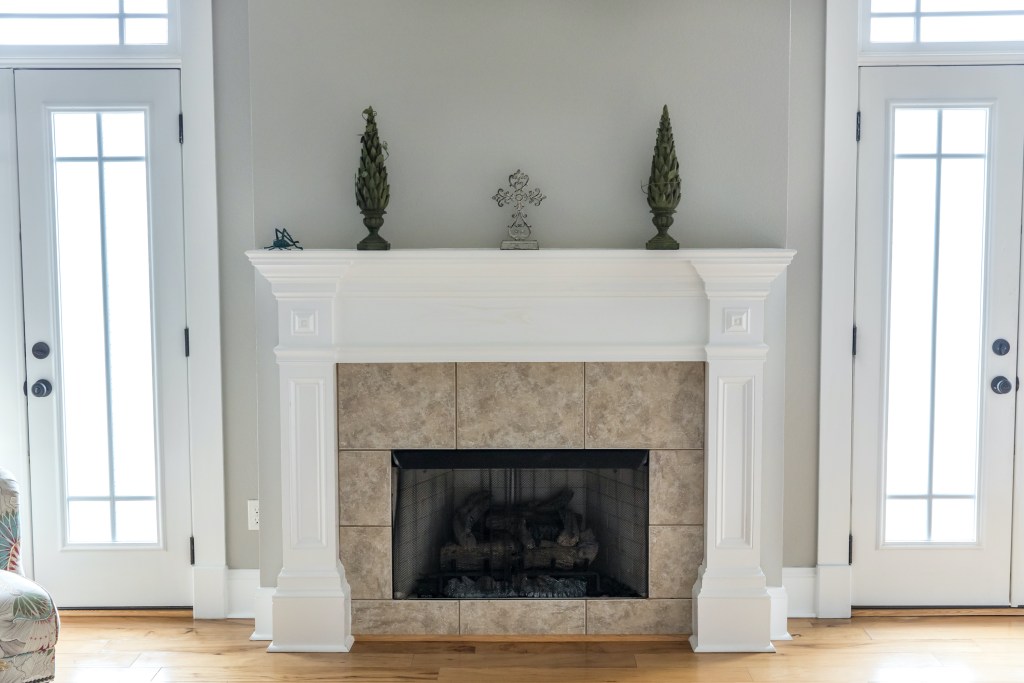 White paint
If your fireplace needs an entire makeover, consider painting it white. A fresh coat of white paint on the mantel surrounding a brick hearth is a classic look that nicely offsets the brick. A white mantel will brighten up the room and provide a blank canvas for displaying whatever you want. Alternatively, you can paint your brick fireplace white or use a mortar wash technique to tone down and distress an otherwise bright fireplace.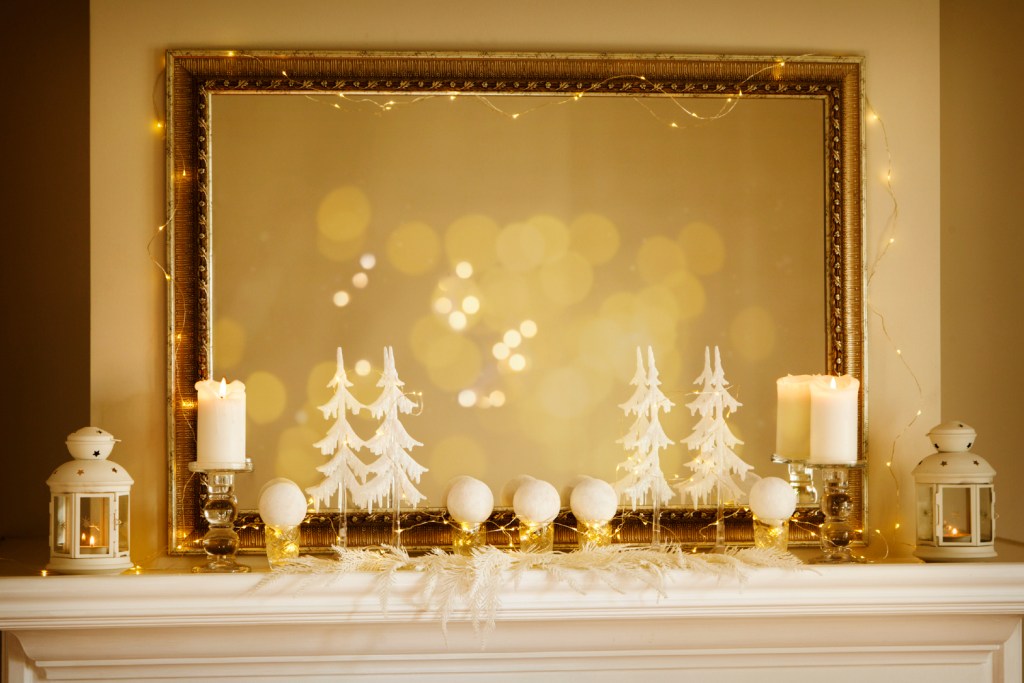 Mirrors, pottery, and more
Adding a mirror to your mantel is a great way to make the room appear bigger and increase natural light. Adding a mirror to an all-white mantel is one way to give the display a focal point. Less is more when decorating a mantel, and small items get lost, so adding a mirror can fill space without cluttering up the space.
Varying the heights of the things on your mantel is also a key decorating tip, which is where items like pottery and candlesticks come into play. All-white pottery can stand on its own, but if you insist on a pop of color, a few flowers or plants will do nicely here.
When decorating your mantel, use your imagination and commit to the style you choose. Once you start looking, you'll realize tons of white decorations will fit your style.
All white may not seem like the most creative way to go about decorating your mantel and fireplace, but with a bit of planning, you can achieve the look you're going for. From farmhouse to modern and even for the holidays, the options are pretty much limitless when it comes to all-white mantel decor. Whether you want a total fireplace redo or just a few new pieces to add to your current vibe, one of these all-white ideas should work out just fine.
Editors' Recommendations