If you work in a crowded office, space can be quite limited and an L-shaped desk is a fantastic way to use that limited space to its fullest. L-shaped desks can fit into corners and use that normally unusable space. They are also incredibly versatile since you can place the desk portion to the right or left depending on your preference.
There are many factors to consider when choosing the right desk including space, size, and materials. We know that choosing the perfect desk for your home or office is an important process, which is why we have gone ahead and done the digging for you for the best L-shaped desk available.
Walker Edison L-Shaped Glass Computer Desk
Best overall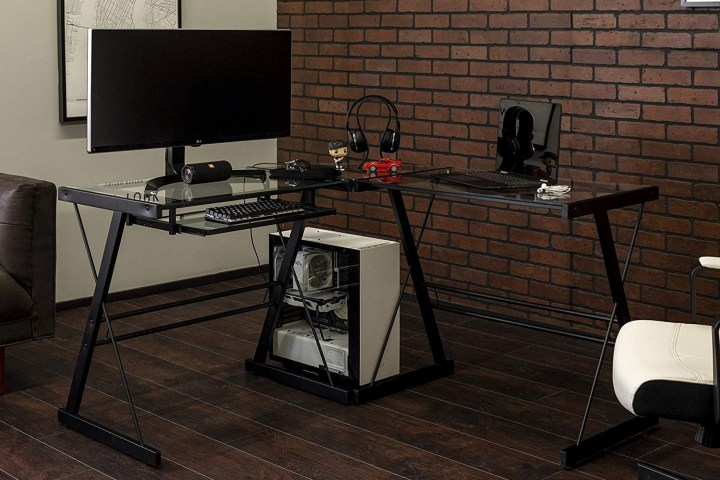 Modernize your home office or study with Walker Edison L-Shaped Glass Computer Desk . This desk is crafted from beveled tempered safety glass and powder-coated steel legs, making it both durable and an exceptionally long-lasting. The L-shape design provides the perfect fit for space-saving needs and features a sliding keyboard tray and CPU stand. Its flexible configuration allows you to mount the tray on either side of the desk according to your needs. Unfettered by excessive drawers and shelves, the simple design of this three-piece corner desk exudes sophistication.
Mr Ironstone L-Shaped Desk
Best looking L-shaped desk
The Mr Ironstone L-Shaped Desk  offers a sleek modern design crafted with durable steel. Made of a large desktop in three pieces, the desk can be separated into two tables, which help expand the space effectively and complement any room. This desk has a round corner design with adjustable leg pads, which helps the table stay stable even on an uneven floor. This L-shaped desk is constructed of a high-quality P2 MDF board and black metal frame, providing a large weight capacity and features an "X" style bracing that ensure stability and durability.
Le Crozz SHW L-Shape Corner Desk
Best budget L-shaped desk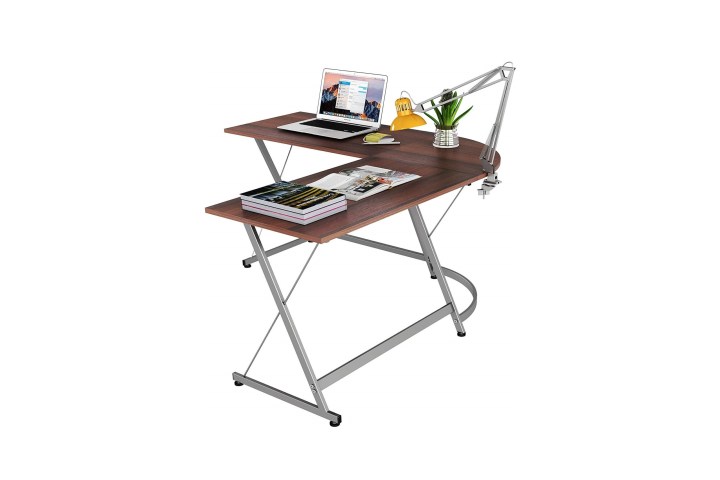 The Le Crozz SHW L-Shape Corner Desk can help you transform your office into an active, adaptable workspace. This stunning L-shaped desk has a splendid work surface that is constructed of particle board with a steel frame and a powder-coated finish for a sturdy yet stunning modern design. You can kick back and relax in more comfort than ever with this desk's featured footrest bar. This amazing desk features a nifty adjustable glide to help stabilize and balance the desk, so you won't ever have to worry about uneven floors.
If you're trying to maximize the space of your home office or just increase your productivity and organization, a great L-shaped desk is an essential addition to your workspace. So whether you go with the best overall, the best looking, or the best budget, we've given you all the information you need to minimize procrastination and maximize your space.
Editors' Recommendations