Daybeds are one of those essential pieces of furniture to buy if you're trying to maximize space. Anything that can have multiple uses — in this case sitting and sleeping — is a winner in our book, and the daybed fits the description perfectly. Whether you need extra seating in an office or a place for guests to sleep in a multipurpose room, a daybed can help solve most space issues.
There are tons of daybed ideas for small spaces, including which ones work best in different rooms, different ways to style them, and how to find one that maximizes storage space for even more functionality. Here are six genius ideas for a daybed that will have you wondering why it took you so long to purchase one.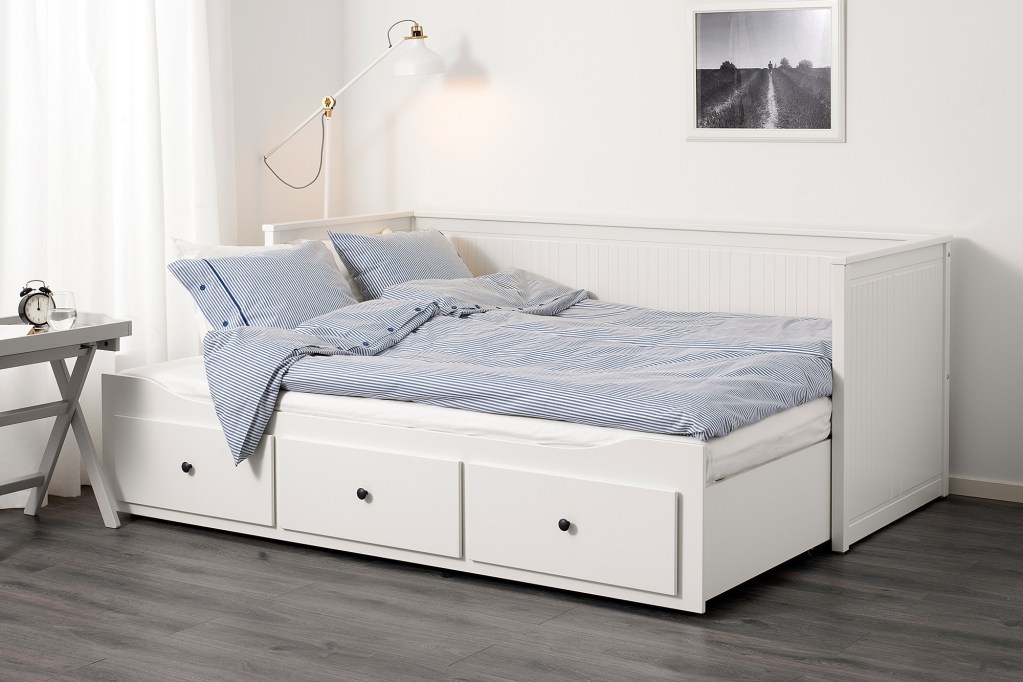 Are daybeds good for small spaces?
The short answer is absolutely. Daybeds are perfect for an apartment, studio, or a living room where you need to house the occasional guest. It can be tucked into a corner or star as the main attraction in an office or living room, serving as an extra sofa until you need a place to sleep.
A daybed can be a reading nook or a place to cozy up and watch a family movie, and it's perfect for a kid's room that isn't big on space but needs both sleeping and sitting potential when friends are over. If you mostly plan to use it for sleeping, you can dress it as a bed but quickly change it to a couch with a cover and throw pillows. Either way, it's a comfortable place to eat, sleep, work, and sit.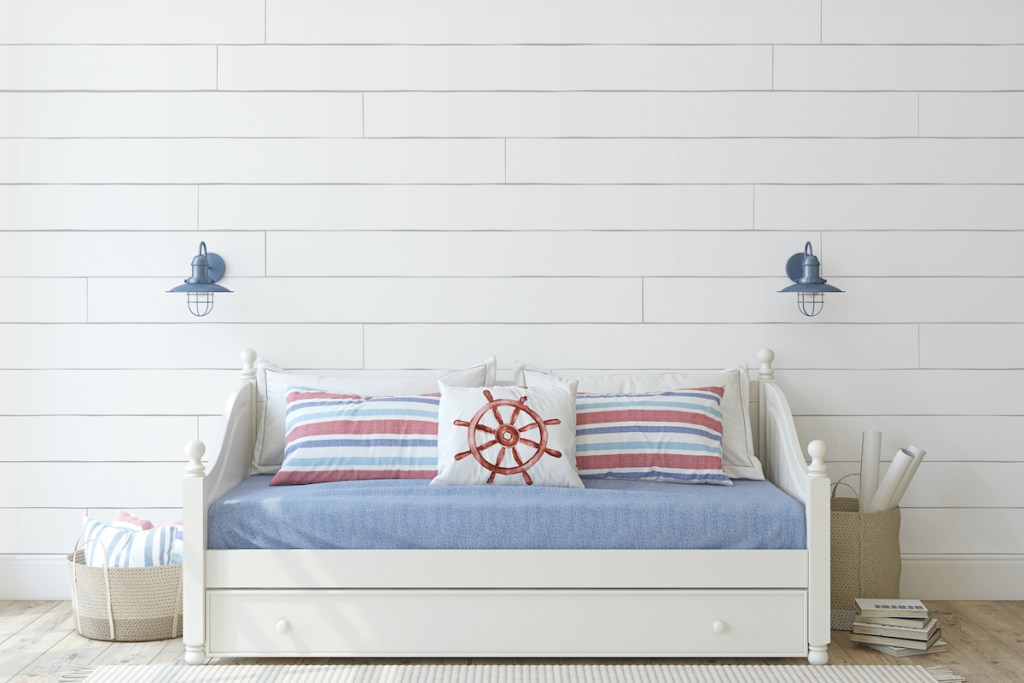 Can I put a daybed in the living room?
A daybed can most definitely be placed in the main living space in your home. This works wonders for families that may have an extra guest stay the night from time to time but use it mostly for additional seating. Not only does it make an incredibly comfy and cozy couch, but it doesn't take much effort to turn it into a bed for someone who drops in and decides to stay. In terms of decorating, find where you want it to live in the room and plan the color and fabric around the room's aesthetic. Daybeds come in all shapes and sizes, and they can be dressed up or down depending on the vibe you're looking to achieve.
What should I hang over a daybed?
This will really depend on how you plan to use it. If it's in a kid's bedroom and will serve mostly as a place to sleep, you can hang art, a mirror, or bookshelves on the wall behind it. If you choose one without a fixed headboard, you could fill the wall behind it with pillows and a fun wallpaper print to give it more character.
If the daybed will live in your home office, you may choose to fill the walls behind it with books or perhaps place it under a large window to maximize the light. You can always add curtains behind it so you can block out light if needed.
Should I buy a daybed with storage?
If you can, we highly recommend a daybed with built-in storage, like this twin option from Wayfair. This would be perfect for a kid or teen's room so they can keep toys or extra clothes underneath. If you plan to use it mostly for sitting, check out this charcoal daybed, also from Wayfair, that has plenty of storage underneath for books, games, or extra throw blankets.
We love the flexibility and functionality a daybed offers. Whether you're short on space, need an extra bed for guests, or want to use it for extra storage, it's a must-have item for the home. You can dress it up or down depending on your personal style with pillows and blankets that could be used for sleep or seating, and it's so easy to transform it from one to the other. You can find daybeds in all sorts of sizes, with headboards and without, and in pretty much any fabric and style you're looking for.
With people working from home more and more, a daybed is also a great option for those sick of working from the kitchen table and who want a cozy place to work that isn't in the bed. You'll still get all the benefits of a bed, but you'll feel better that you've actually moved out of your sleep space for the day. If you need a break during the day (and who doesn't), just grab a book or put on a podcast and lay your head back, relax, and reenergize for the afternoon ahead.
Editors' Recommendations