Now that more people have work-from-home days or are part of the all-digital workforce, a home office is a must. You may not have the classic, stuffy study, but there are spaces in your home that you can repurpose to build a stylish home office space to help productivity and keep you organized.
These ideas provide you with a functional space that doesn't take over your entire living space. You'll have storage for necessities and a place for organization. We can't do anything about that new Netflix show calling your name, but we can help you design a workspace that enables you to stay on task.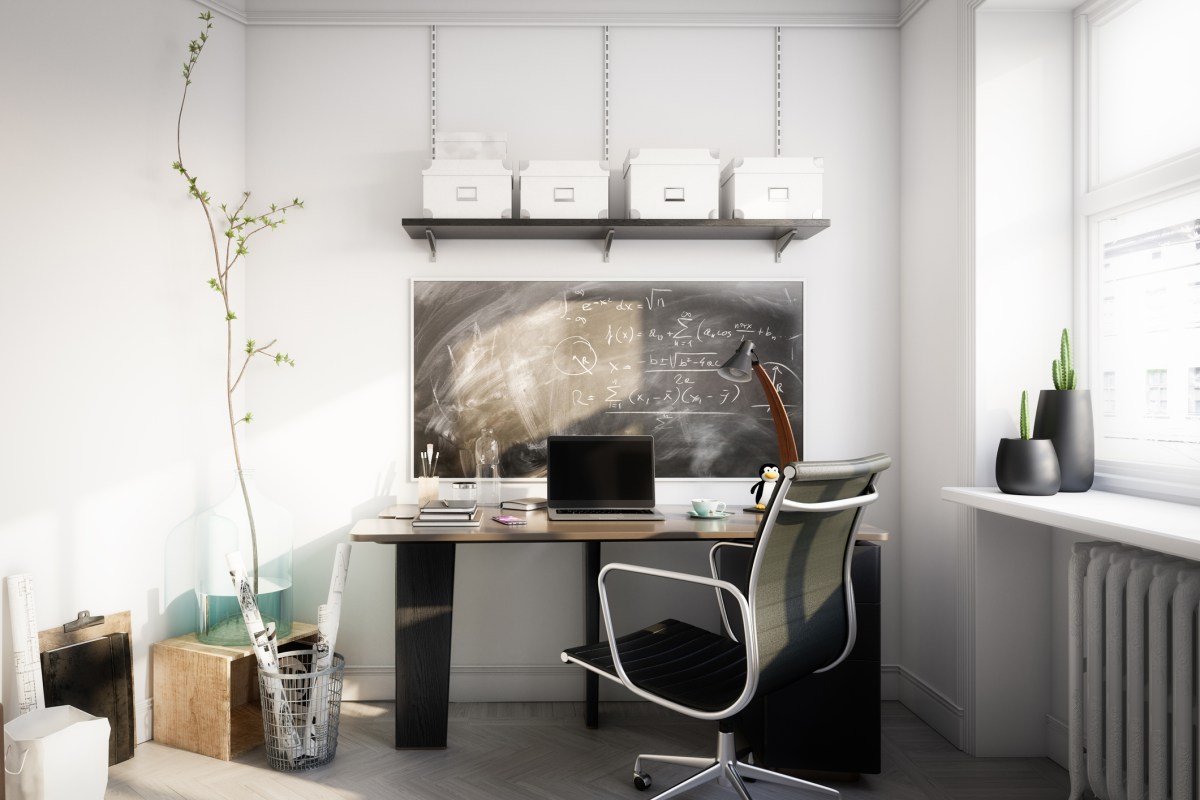 The foundation of the home office

A small space home office doesn't just happen. You need to be intentional about the space. Working on your bed just makes you want to nap, and your couch doesn't give you ergonomic support like you need.
Consider your space
The first step in setting up your office is finding the space. There's a nook in your kitchen, but will that distract you more than help you focus? The flow of the room might be messed up if you put a desk right near a walkway, and if you add it to your bedroom, are you going to use it or your bed?
These are all serious questions you need to ask yourself before you begin finding the gear for your office. Find a space that has
Good lighting, preferably natural light to help with any fatigue or distraction, says Healthline.
Accessible walkways so that you aren't blocking yourself in
Privacy, or as much as you can manage in a small space (i.e., maybe don't face the TV)
Decide what you want
There are a few different ways you can manage your office space. You can get a dedicated space where things always remain in their spot like a bookshelf, or you can have a modular space that serves multiple functions.
Dedicated-space pros:

No interruptions — you always have your office space ready
Things remain secure — you won't have to worry about your tablet screen getting cracked, for example
Best for full-time or regular home workers
Dedicated-space cons:

For really small spaces, it can be tough to find dedicated space
Might be in the way or have to go in a less-than-ideal spot, like your bedroom
Modular-space pros:

Tucks away anywhere — bedrooms, transition areas, or even under the stairs
Serves multiple purposes where space is premium
Can be moved to make space for other things (like when guests are over)
Modular-space cons:

Annoying to put up and down if you work from home a lot
May not be the best place to store expensive office equipment
Designing your small office

Let's take a look at some of our favorite ideas for designing your small office. There are a few options, ranging from quick projects to involved renovations for the full-time, work-from-home person.
Use the couch back
If you've got space in an open-floor plan, arranging your area so that your desk is against the back of the sofa is a great way to designate an office zone and keep things secure. You preserve your living space and get a dedicated workspace.
One Kings Lane suggests, "If your space is large and long, dividing it into two distinct spaces using back-to-back sofas avoids creating a hotel-lobby or airport ambience."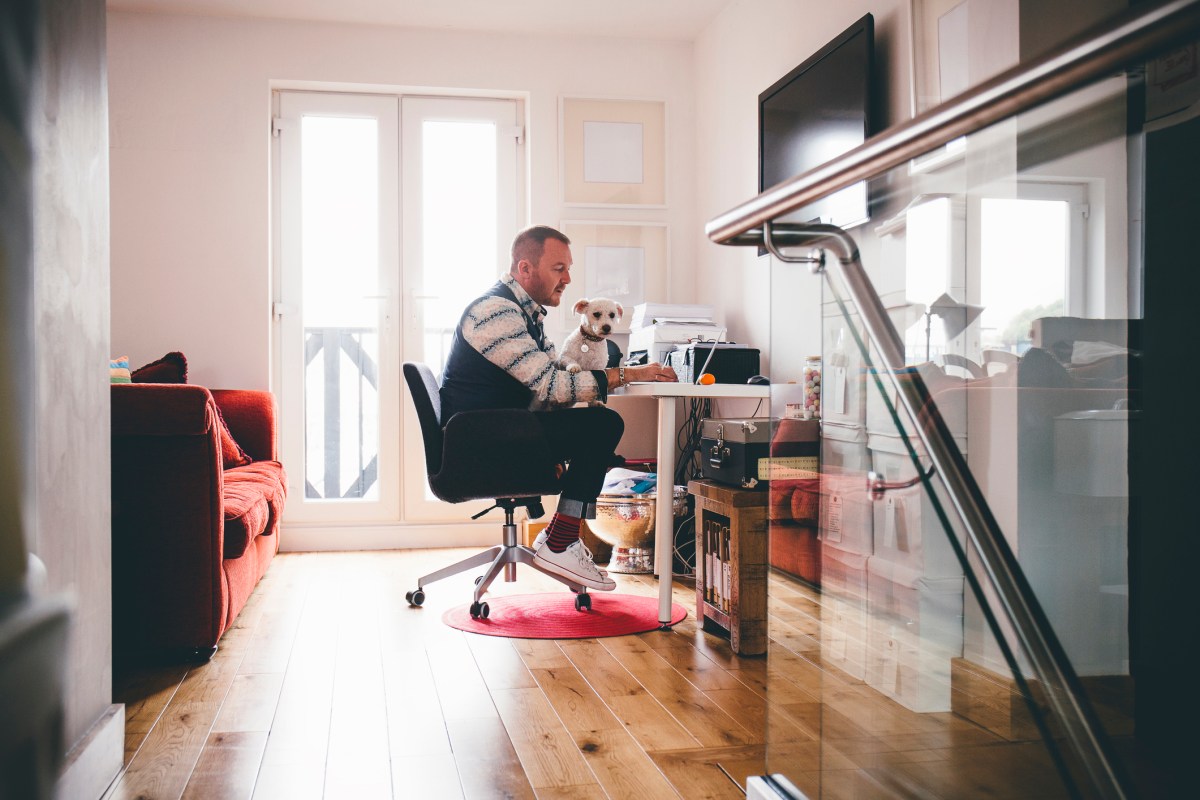 Multipurpose room
Blend the guest room with office space by using a daybed that you can make up as a couch and a desk with a cover. When your guests aren't over, you can use it as your dream workspace.
When guests do arrive, pull the cover over your desk to hide your office equipment and put down a lamp and flowers. Make the bed inviting, and you're ready for the weekend.
Make the most of a closet
A closet can be a great place to store your office. Place a small desk inside and install convenient shelving up high for files, office supplies, and other essentials. A pegboard wall for hanging things within easy reach completes the look. And the best part? It closes out of sight at the end of the workday.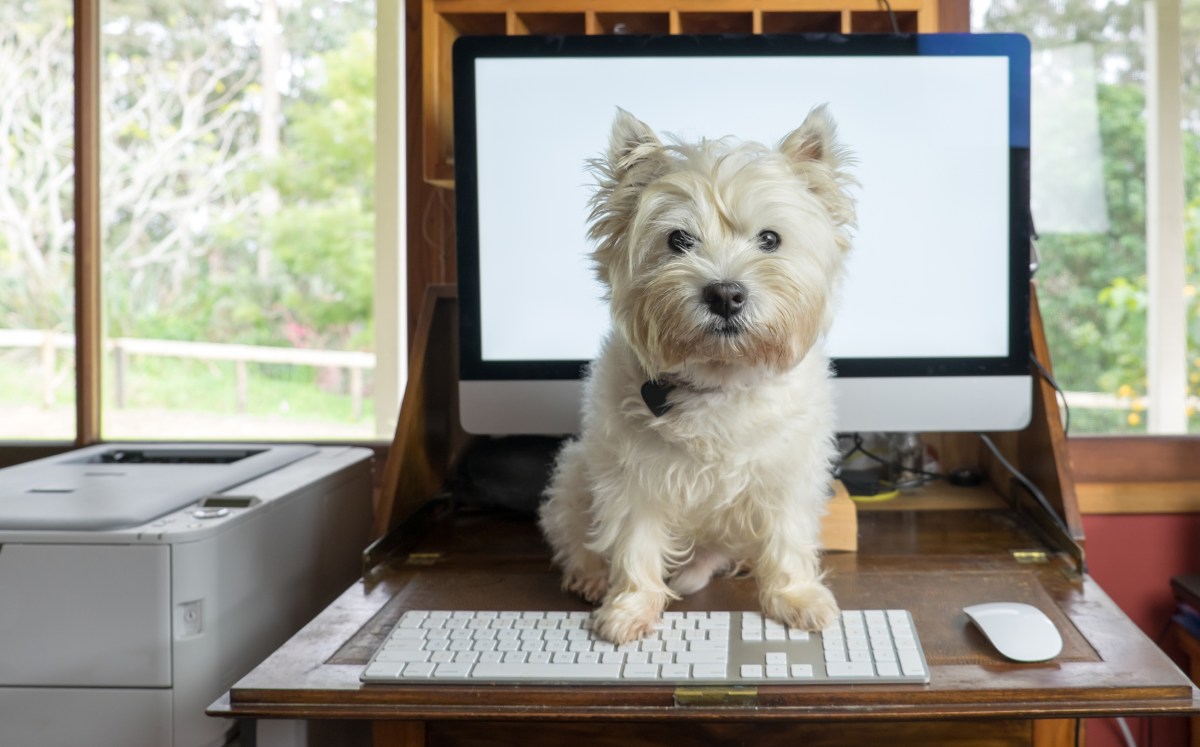 Use a bureau
Another multifunction option is to integrate a bureau into one of your spaces and to use it as a standalone office space. It looks like a beautiful piece of furniture and folds out to allow you a workspace. When you're finished, it all closes back up and fits well in a variety of spaces, including a bedroom, living room, or guest rooms.
Use a Floating Console
If space is very limited, you can use a floating console to perform double duty. One side can provide the space to support your entertainment system, and the other side can neatly store your office setting.
Because it floats, you can put a small chair underneath — go for something clear to preserve the illusion of space — and it fits well with small living rooms where space is a premium.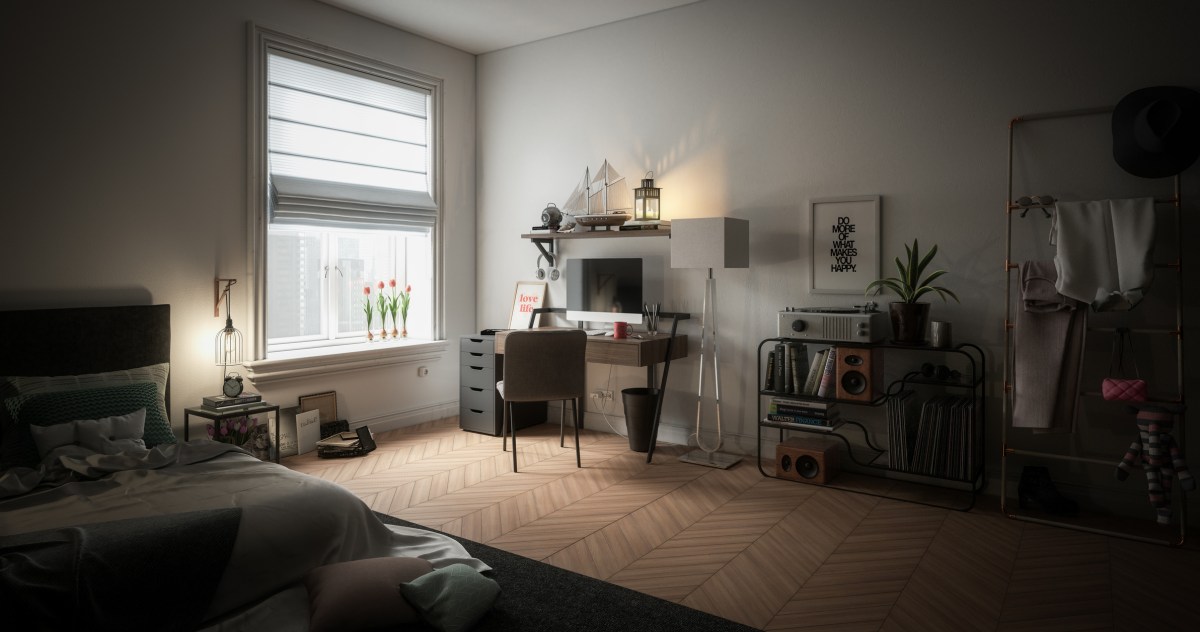 Using your bedroom
If your office must go in your bedroom, there are a few things you can do to minimize feeling like you live at your office, suggests Apartment Therapy. First, consider a hidden office, one that folds up or closes away can alleviate that worry.
You could also go the opposite way by using open shelving with colorful storage that matches your bedroom's aesthetic — think boho baskets or colorful Scandinavian-style boxes. A wireframe desk or glass top prevents heaviness in your decor.
Integrating the office that works with you

Whatever you decide about your home office, just know that there's a way to manage it without interrupting your overall design. Choose a space that works with you, not against you. Fill it with the things you need and allow it to help you work.
For those of you with super-small spaces, it is possible to build an office in the smallest of spaces. It might occupy a closet space or a bureau, but it will be organized and easy to close out of sight when you aren't working. Even where space is at a premium, your dream home office is within reach.
Editors' Recommendations