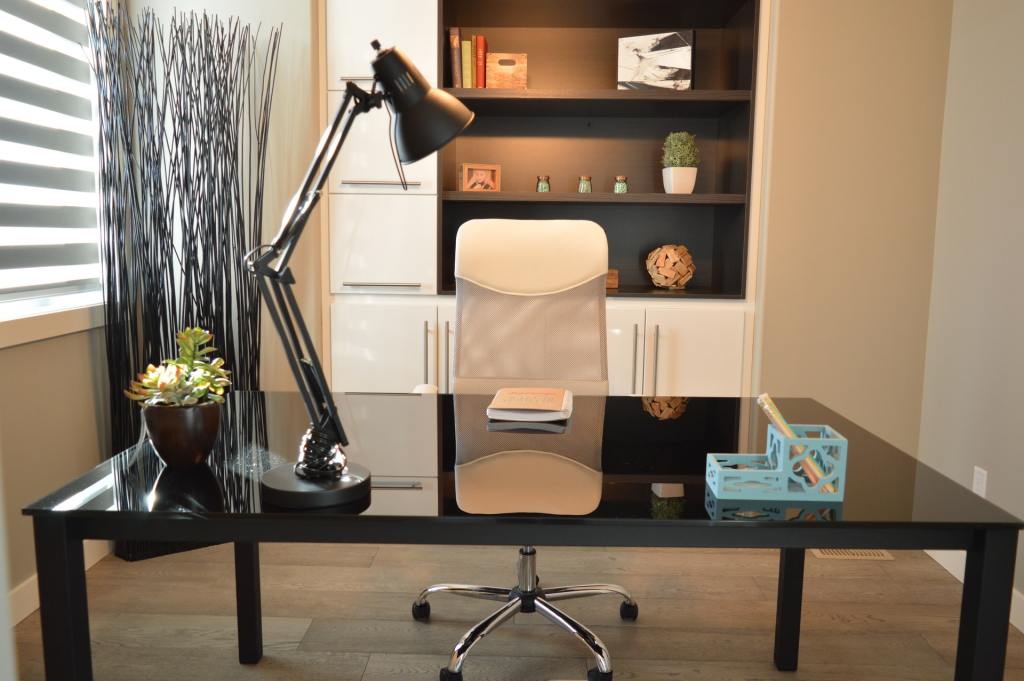 You often see chair mats in offices and industrial spaces. However, chair mats are a great addition to a home office because they protect your carpet from excessive wear and tear, and they can allow your chair to move and glide with ease. Chair mats are also recommended for hard floorings, such as hardwood or tile, as even these surfaces can get scratched and show wear over time—they are designed to prevent scratches, skids, and scuff marks and are ergonomically designed to allow you to move about your space with your posture and health in mind.
Good:
The Mind Reader Office Mat is a great place to start. It is designed for hard floors only, including hardwood, laminate, vinyl, linoleum, tile, and concrete. Do not use this product on any carpeted surfaces. This office mat is durable and is designed to stay put on hard floors thanks to its has anti-slip texture. Another key feature is that it is made using nontoxic 100 percent polyethylene, making it odorless and free of BPA, PVC, and phthalates. It is also free of lead, tin, and other metals.
The dimensions of this mat are 48 inches (length) x 36 (width) x 0. 1 (height.) It is available in two colors: Clear if you want it to blend in with your flooring or black for a sleek design. As a bonus, if you are a Prime member, it ships for free!
The Mind Reader Office Mat receives a good rating because some Amazon reviews state that it sometimes moves a little on hard floors. Another Amazon review stated, " It is not terribly thick or strong. My chair wheels sink into it, and then I can't roll."
Better:
The next option is the Lorell Tempered Glass Chair Mat. This mat comes in a rectangular shape and is only available in a clear colorway. Unlike the Mind Reader, it comes in three sizes: Thirty-six inches, 50 inches, and 60 inches, so you should be able to find the right size for your home office needs. This product is designed for all floor types, including carpet making this chair mat a sturdy and durable option.
It gets positive reviews on Amazon, and one reviewer wrote, "Wow. It's truly great. It doesn't sag or deform where the wheels roll. My chair glides super smooth." Be aware that it could potentially crack or break if a heavy object falls onto the mat because it is made of glass.
Best:
MuArts Heavy Duty Chair Mat is another excellent option, and you can use it on both hard floors and carpets. It comes in one color, crystal clear, and since it lacks teeth to grip the floor, it creates a nice aesthetic. This mat comes in two sizes: The first size measures 35 inches (length) x 47 inches(width) x 0.2 inches (height), and the larger size measures 40 inches (length) x 47 inches (width) x 0.2 inches (height) and comes in a one, two, or five-pack making it great for your home or a small office. This mat comes in a rectangular shape with curved edges and a sleek design. According to the manufacturers, it is made of plexiglass that is non-toxic and will not crack or break like glass.
Customers seem pleased with it. One Amazon reviewer wrote, "They look like tempered glass, but they are incredibly tough! No chipping, denting (like the normal plastic mats), or shredding under daily use."
When purchasing a chair mat, consider the type of floor first as the deciding factor. Then decide if plastic, glass, or plexiglass meets your needs. Thicker materials seem to hold up better and be more durable, so be sure to keep that in mind.
Editors' Recommendations