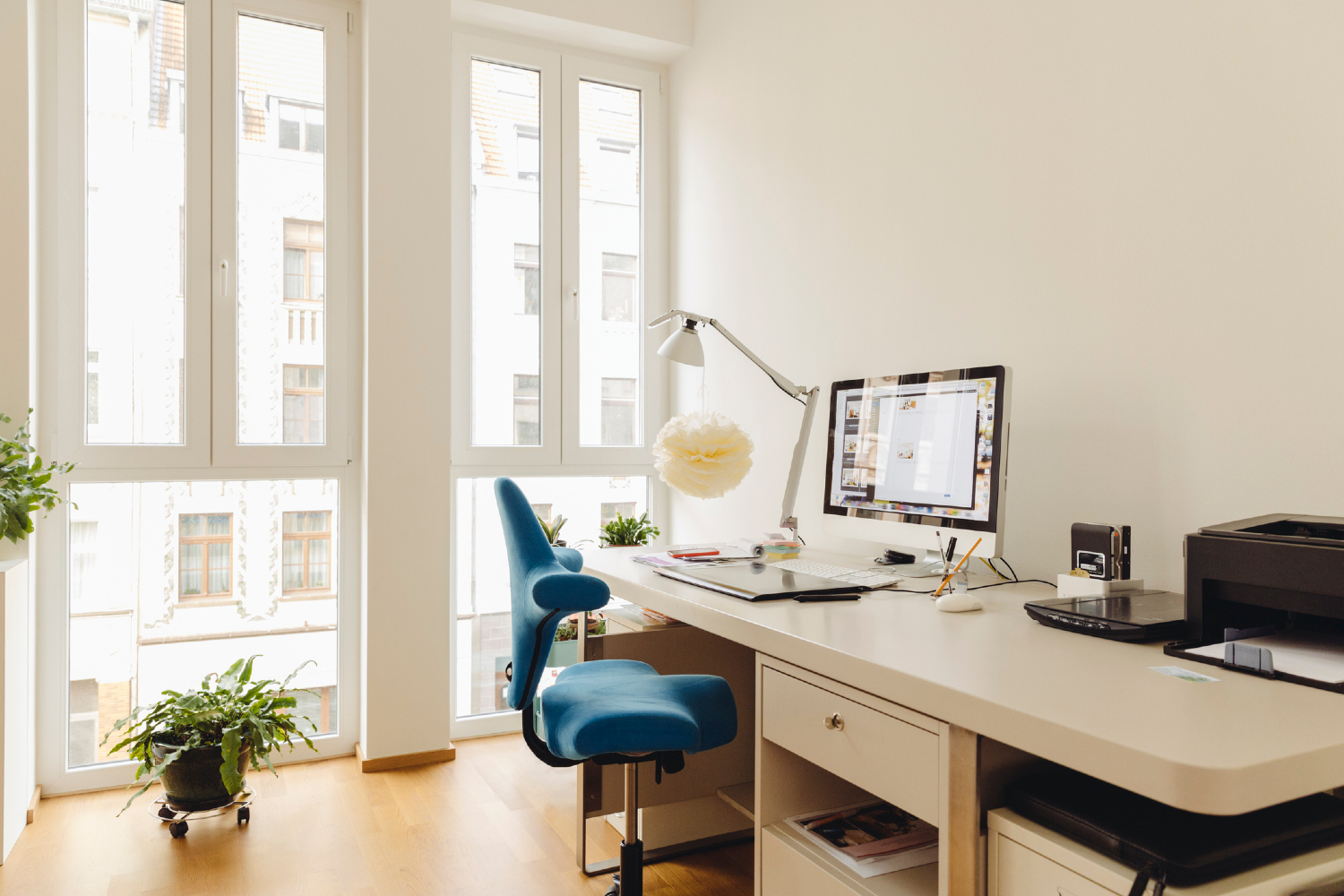 These days, many people find themselves working from home. And while that's great, we've all arrived at a similar conclusion: Our current office chairs just aren't as good as we initially thought!
There's a weird squeak when you lean back in your chair. Or maybe you never noticed that the wheels don't roll as smoothly as they should. Perhaps you've been experiencing back and neck pain from a lack of support. Whatever your situation may be, chances are its time for an upgrade. After all, you're working from home now. You need a chair that is comfortable and won't distract you from your work!
Here are a few office chairs we highly recommend you consider.
An executive chair that supports your posture
One of the best chairs for a home office when it comes to quality and comfort is the AmazonBasics Swivel Chair . It has a high back that suits people of all heights and provides room for ample neck support. Let's face it. You're sitting at your desk, hunched over for hours at a time. This chair takes the strain out of your posture and allows your neck and back some much-needed relaxation.
It's made of white leather that looks just as luxurious as it feels. What we loved most was the padded seating. It's comfortable and firm to allow you to sit upright while feeling at ease and without much discomfort.
Folding arms allow you to slide chair under desk
The Hbada office chair is designed with your back in mind. Thanks to its ergonomic design, this chair eliminates back pain allowing you to concentrate more efficiently. What's most notable about this chair is the innovative folding arm design. The chair's arms can fold up so you can easily slide the chair under your desk, saving space in your home office.
The chair is a sleek design that suits almost any office aesthetic and offers an abundance of flexibility and movement with its swivel wheels and lock-in-place mechanisms. Additionally, this chair is quick to set up and comfortable to sit in for long periods of time. While it can be a bit more on the expensive side, it is undoubtedly a great investment!
An affordable option with ergonomic design
If you're looking for an office chair that doesn't break the bank, this chair by BestOffice is a fantastic option! While it is on the lower end of the spectrum when it comes to price, you can be assured that there is no sacrifice to quality.
This chair is made of mesh rather than leather or other materials. What makes mesh such a great option for office chairs is that it is a stretchy, breathable material. It molds to the shape of your body while also remaining comfortable and relaxing.
A unique feature in this mesh chair is the ergonomic design on the back. There is a slight bend in the chair backing that fits the curvature of your spine and reduces hunching. Promoting great posture while also remaining affordable and comfortable is a win if we've ever heard one!
Includes head
rest for extra comfort
For those who prefer the classic leather office chair look, this chair by Peroine is an excellent option. It looks like a standard high-backed, black leather office chair, but it also comes with some unique features!
The back of the chair is designed for more comfortable sitting positions and includes a small headrest to relieve strain from your neck. The seat of the chair is specially made to mimic your body's natural sitting form to create the maximum amount of comfort while working.
Like most standard office chairs, the arms are adjustable, and the chair itself swivels smoothly. If you're looking for a classic office chair to replace your old one, this is a great choice.
Editors' Recommendations