When it comes to bedroom decor, you want a balance of style and function. While marvelous carved sculptures and a full set of bed pillows are fun to look at, choose equally practical pieces to maximize space. We've brought together a handy list of the best bedroom accent pieces starting from essentials like end tables to unnoticed details like serving trays. Let's get started.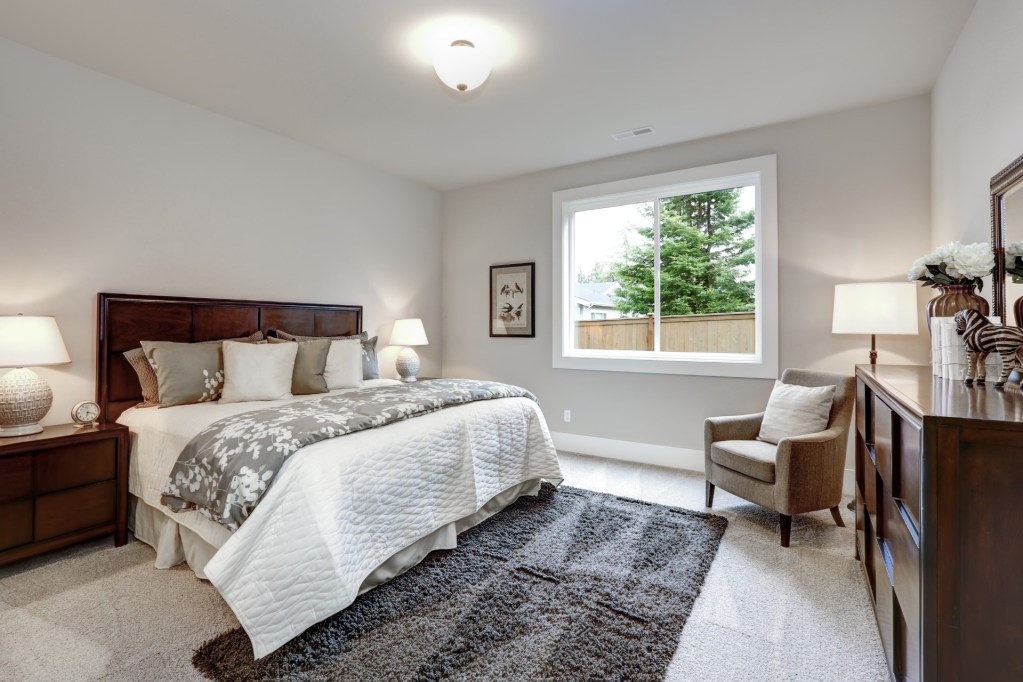 What is an accent piece?
An accent piece is anything but the main furniture. In the bedroom, this includes end tables, sitting areas, rugs, wall decoration, bedding, and mirrors. It also involves smaller pieces like displayed artwork, vases, potpourri bowls, and small light sources.
As you can see, accents might not seem as important as the bed and dressers, but they're the real MVPs when it comes to pulling the room together.
A leather or wooden magazine holder
If magazine and book clutter is a constant issue in your bedroom, discover the joy that is a magazine rack. Make it playful by choosing a leather sack that resembles a basket. They're usually available in single handle or double drop-down handle models, but it depends on how many magazine editions you'll be storing. Leather is a very tough material, and it doesn't detract from your other accent pieces. Instead, it'll look like a sophisticated bag that just happens to hold a handful of magazines.
Kate and Laurel Alton Metal and Faux Leather Magazine Holder
Decorative trays with handles
Decorative trays are surprisingly just as stylish in the bedroom as they are in the living room. Choose one with double metal handles to make it extra functional and easy to move around. Hexagon or round styles are more uncommon than their rectangular cousins, though they might be a little more awkward to place on a counter or desk.
Nevertheless, choose from different materials like marble, wood, metal, or glass.
An open bench by the foot of your bed
An open bench looks less traditional than a storage bench with a flip top lid. You can still store various items underneath like slippers and bags, though it looks considerably more contemporary than the bulky chests of the past.
Additionally, some open benches have built-in compartments that make it more stable for tchotchke, photographs, small boxes, and books.
A set of floating U shelves
A column of floating U shelves is great if you have limited vertical space but are in need of extra storage. The innovative U design not only feels more modern, but it also provides some protection against falling objects. It can also serve as a great makeshift bookend if you want to display your novels.
Wallniture Bali White Floating Shelves for Wall
A pair of multi-tier end tables
Multi-tier end tables might provide more storage than your regular pull-out drawer tables. You can set a night lamp on top and store a cup of water, your smartphone, and books underneath. These also work well in living rooms, so it can double as a living space accent when you want to redecorate the bedroom.
HOMECHO End Table with Storage, set of 2
An area rug
The Spruce says, "Add a rug to a room that lacks excitement, and problem solved." If you have hardwood floors in the bedroom, then all the more reason to get an area rug. It'll protect your floors from scratches or dents caused by furniture legs, and it feels better on your feet during the winter compared to cold wood. Try a material that's easy to wash and keep clean like cotton or synthetic fabric.
A natural body pillow protector in a bright color
If your bedding is patterned or neutral, choose something that will pop against your sheets, duvet, and other pillows. Linen and cotton look especially warm, and pillow protectors are available in endless color options.
A lounge chair with a matching ottoman
Additional seating is never a bad idea, and a lounge chair-ottoman combo is ideal for the bedroom. When needed, the ottoman can serve as seating for another person or you can use it as a footrest during down time. We recommend a neutral color like gray or off-white so you can have more freedom with color for other accent pieces. Overstock suggests, "A well-chosen ottoman can help break up a monochromatic room, adding color and pizzazz to an otherwise monotonous setting."
A big, round mirror
Lastly, this traditional accent favorite is always functional and stylish. Thin metal frames are trendy, though more ornate designs like a lace, rattan, or wooden border also keep it fresh. Some mirrors also feature a bottom shelf to store small planters or oil reed diffusers.
Omelo Mirrors says, "Hanging round mirrors is a lot like hanging paintings. Position, size and proportions are key."
Wall decor, extra bedding pieces, magazine holders — you'll have a difficult but fun time deciding what works best in your room from this comprehensive list of stylish and functional bedroom accent pieces. One last piece of advice we'll leave you with is to have fun with patterns and color. Since accent pieces are just that — small — they're a great way to showcase a bold new print you've been wanting to break out.
Editors' Recommendations