Stop leaving the area under your bed to dust bunnies or lost socks. Make good use of this prime storage space to put away the overflow of toys, crafting supplies, or towels inside a practical under-bed, wheeled-storage container.
With the help of wheeled-storage containers, you can effortlessly stash linens, sporting equipment, or seasonal items under your bed and easily access them whenever they are needed. Avoid paying for storage units that end up being costly and impractical. With these useful under-bed repositories, your belongings always stay safe in your own home and at hand's reach. We've compiled a list of our favorites, for your storage convenience.
Sterilite Wheeled Latching Box
Best overall
The Sterilite pack of wheeled latching boxes includes four white lids and four clear bases that hold up to 53 liters. Keep your items protected and visible with these stackable boxes that make under-bed storage very convenient. The latches are easy to open and close, while the wheels make this storage container manageable and portable.
ECR4Kids Lock and Roll Under-Bed Safe
Best rolling underbed safe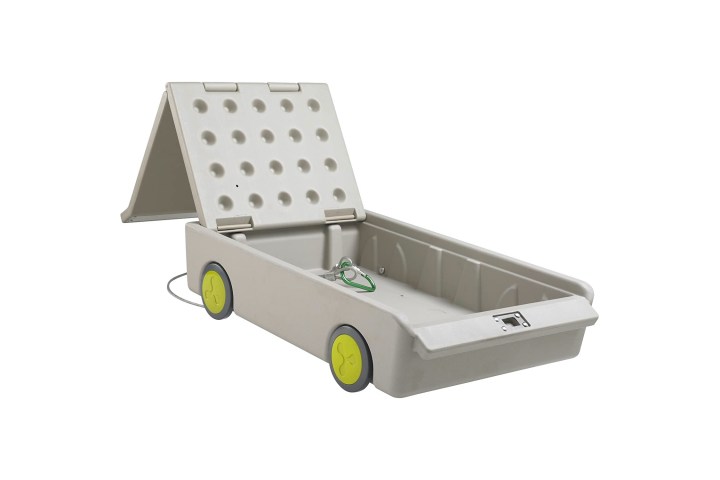 Keep your valuables and personal items safely stored with the ECR4Kids Lock and Roll Under-Bed Safe. With a capacity of 50 pounds, this safe includes two security keys and a steel cable with carabiner for you to secure it in place. The top unfolds to open fully or partially, and the container stows away easily and discreetly.
DormCo Rolling Underbed Storage Shelf
Best rolling underbed shelf
Storage has never been as easy as with the DormCo Rolling Underbed Shelf. With canisters that roll easily and can be locked to keep in place, this carbon steel storage shelf is strong and built to last. Convenient, frequent access and easy organization that is raised from the floor, to keep dirt away from your items.
Let the organization begin with under-bed wheeled-storage solutions that keep your home tidy and make efficient use of your space. Stop trying to cram everything into your closets. Instead, you can create a sense of spaciousness with the underbed storage with rollers on our list to store, safeguard, and organize your home.
For more, read our brilliant storage ideas for a small bedroom with no closet, that are also stylish.
Editors' Recommendations