If you have a fireplace in your home and are interested in dressing it up to show off its gorgeous allure, why not opt for timeless vintage decor that will highlight the antiquity and elegance of this space? Vintage decor is a great way to take classic styles and create a stunning look for your home. Below are six of our favorite vintage mantel decor ideas to create a more tailored look for your fireplace.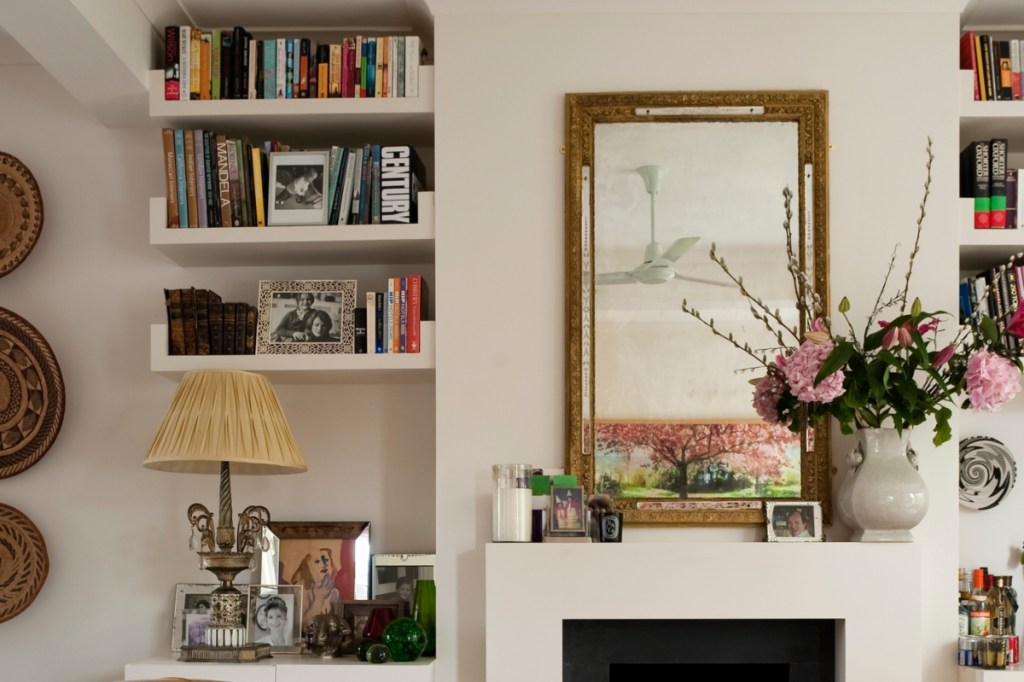 Add an antiqued mirror to your mantel
Antiqued or distressed mirrors are a popular addition to fireplace mantels. These often large pieces of decor replace classic oil paintings without appearing too modern. You can choose to antique a mirror yourself, or you can purchase a distressed mirror from your local vintage or home goods shop. We adore this decor touch because mirrors allow you to expand the look of a space while also filling in any empty areas on your walls.
There are a few ways to style antique mirrors. First, you could opt for one large mirror to place on your mantel. Consider setting it directly on the mantelpiece and leaning it against the wall. Arched frames are best for this option as they add more shape to your design.
Alternatively, you could choose to hang a large mirror on the wall above your fireplace mantel. We recommend using a circular mirror for this option to offset the square appearance of the fireplace. If you use these methods, it's best to dress up the surrounding area with some of the decor ideas listed below.
Another way you can use antiqued mirrors is by layering three to four mirrors of different sizes and styles. For example, place a large mirror toward the center of your mantelpiece and add a couple of smaller ones in front of it. This layered look will give your home a natural and vintage feel.
Create more functionality with a large clock
If you like the idea of creating a large centerpiece above your fireplace but want something more functional, we recommend using a large clock. Large clocks create more functionality in your space while also adding a touch of elegance to the overall look. Choose a clock that is sized similar to the opening of your fireplace, ensuring the diameter is the same length or slightly more or less than the width of the space. Choosing a clock that is too big or too small will make your design look tacky and ill-planned.
Opt for a neutral color for your clock and determine whether you prefer something more ornate or simple. We've found that clocks with roman numerals suit vintage designs best, but you should get whatever works for you and your space.
Candelabras are a perfect addition to your vintage mantel decor
Once you've determined what your centerpiece will be, it's time to decorate with a few smaller touches. Candelabras are the perfect addition to your vintage mantel decor. They add a touch of sophistication and look stunning in vintage settings. You can purchase metal, worn wood, glass, or porcelain candle holders to blend cohesively with your design. Again, we recommend maintaining a neutral palette to pull off the vintage aesthetic.
When decorating with candelabras, keep it simple. It's easy to get carried away and go overboard with vintage designs. Therefore, try to limit yourself to one or two candelabras. If you use two, place them on either end of the mantel for a symmetrical look.
Add some books to your mantel
There is nothing more cozy and eclectic than adding books into your design. Head over to your local antique mall or thrift store and find some classic titles to add to your mantel. Thick books with aged pages, elegant spines, and beautifully kept hardcovers look best on a vintage-inspired fireplace mantel. To pull off the look, stack three books on the side of the mantel and top with a plant or small ceramic decor. Arrange the stack nearby a mirror or candelabra to create a beautifully curated look.
You can also stand a couple of books upright and use glass jars or small statues as bookends. Doing so will create an authentic look that feels magical and sophisticated.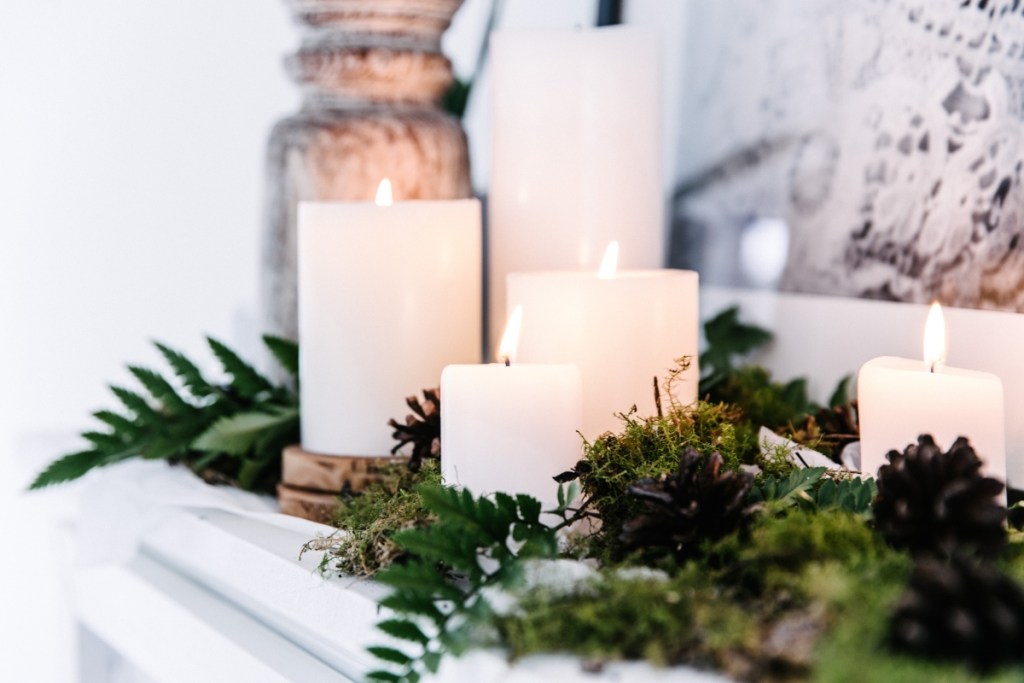 Adorn the space with plants
Plants are the perfect addition to a vintage fireplace mantel. With so many options to choose from, you're bound to find the ideal piece of decor for your design. When it comes to a vintage look, pampas grass, ficus, peace lilies, and ivy are amazing plants that blend seamlessly with vintage decor. Work one or two plants into your mantel design, placing them nearby candelabras, small mirrors, or other elements of your decor.
Many homeowners enjoy placing their plants in neutral-toned ceramic pots or in glass jars to add more elegance to the design. Additionally, the best thing about adding plants to your mantel is that you can always change them out depending on the season. For spring, add some peonies or lilacs. And in the winter, poinsettias and evergreens look stunning.
Go old-school with a large painting
If you want to go old-school, place a large painting above your mantel. This is a wonderful way to add more color and pattern to your design while filling in the blank space above your fireplace. However, be careful before placing any canvas or painting on the wall, as soot and heat from your fireplace could damage the art.
Using hand-painted items, whether acrylic on canvas or watercolor and oil on paper, is not recommended above the fireplace. These items can quickly become damaged or ruined. Instead, opt for inexpensive mass-market solutions or place large prints behind glass frames. Place your handcrafted or expensive pieces of art in other areas of the home to best protect them. However, large prints or inexpensive paintings are fine above fireplaces. Be sure to clean the glass now and again and rotate the art pieces you showcase to ensure they withstand the test of time.
Fireplaces are the center of attention in many homes, and therefore, leaving your mantel undressed or empty can leave your design feeling bland. Dress up your fireplace mantel with some beautiful vintage decor that showcases your personality while providing a homey aesthetic to your space. Use mirrors and antiqued materials to add character and age to your design. In the end, you'll adore the curated look of eclectic pieces that suit your style.
Editors' Recommendations