With antiques and vintage-inspired decor seemingly here to stay when it comes to home decoration, there are so many ways to introduce the look into your next home redecorating or renovation project. It's simple to add pieces to infuse any space with a vintage feel. You can find furniture pieces that make a big "wow" statement as well as smaller decor mixed in to bring you back to the days of running around your grandparent's house.
Vintage-inspired decor can be found online, in your local antique store, or by heading to garage sales and estate sales. Online retailers like Etsy, eBay, and One Kings Lane have tons of options at varying price points. They'll also provide an item's history and show items in a showroom so you can get decorating ideas and use the piece in a way you may not have thought.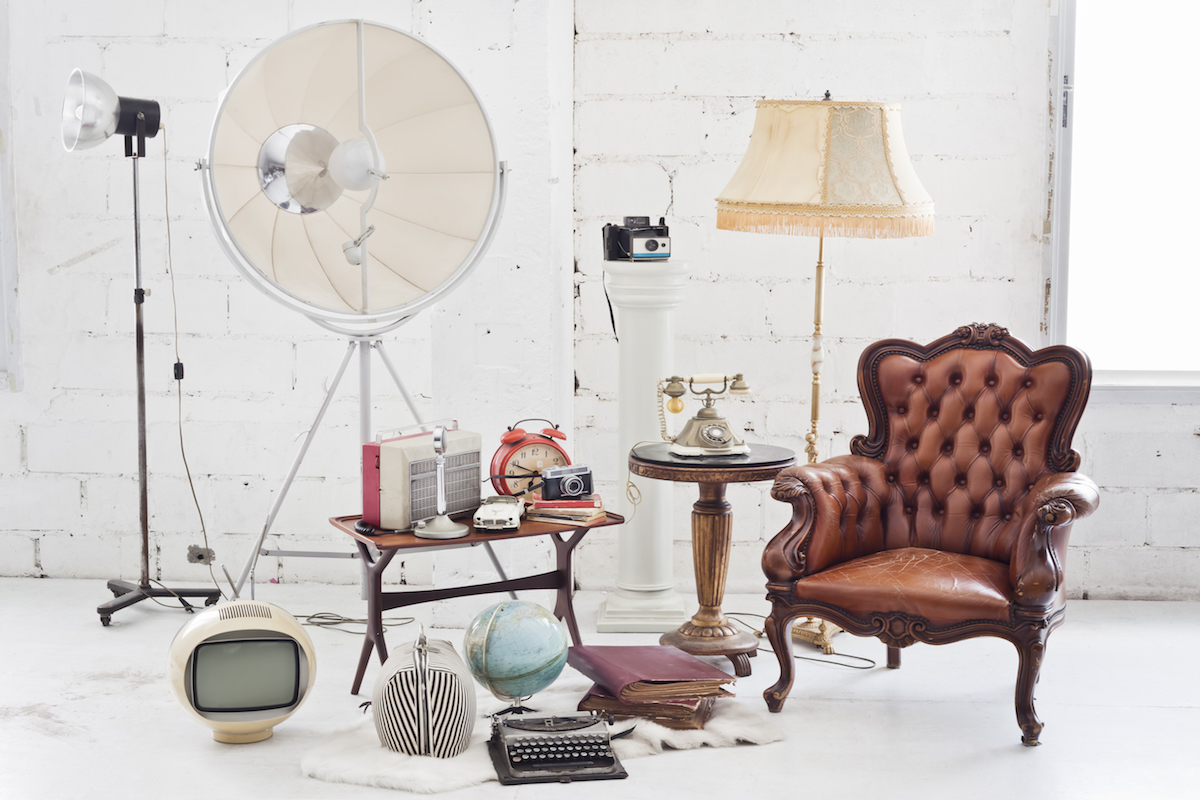 Furniture pieces
One fun idea is using an old trunk like this one we found on Etsy as a coffee or side table. You can mix this with a traditional couch or chair, but it offers a bit of old-world charm to any room. It's a versatile piece that adds a story to any space. The best part is the more scratches and dents, the better it looks.
Another way to get a vintage look in a bedroom is via an antique-inspired bed frame like this one. You can pair it with patterned, multi-colored textiles for a mix of old and new. This one is made of cast iron with gold beveled details giving any bedroom an elegant, refined look.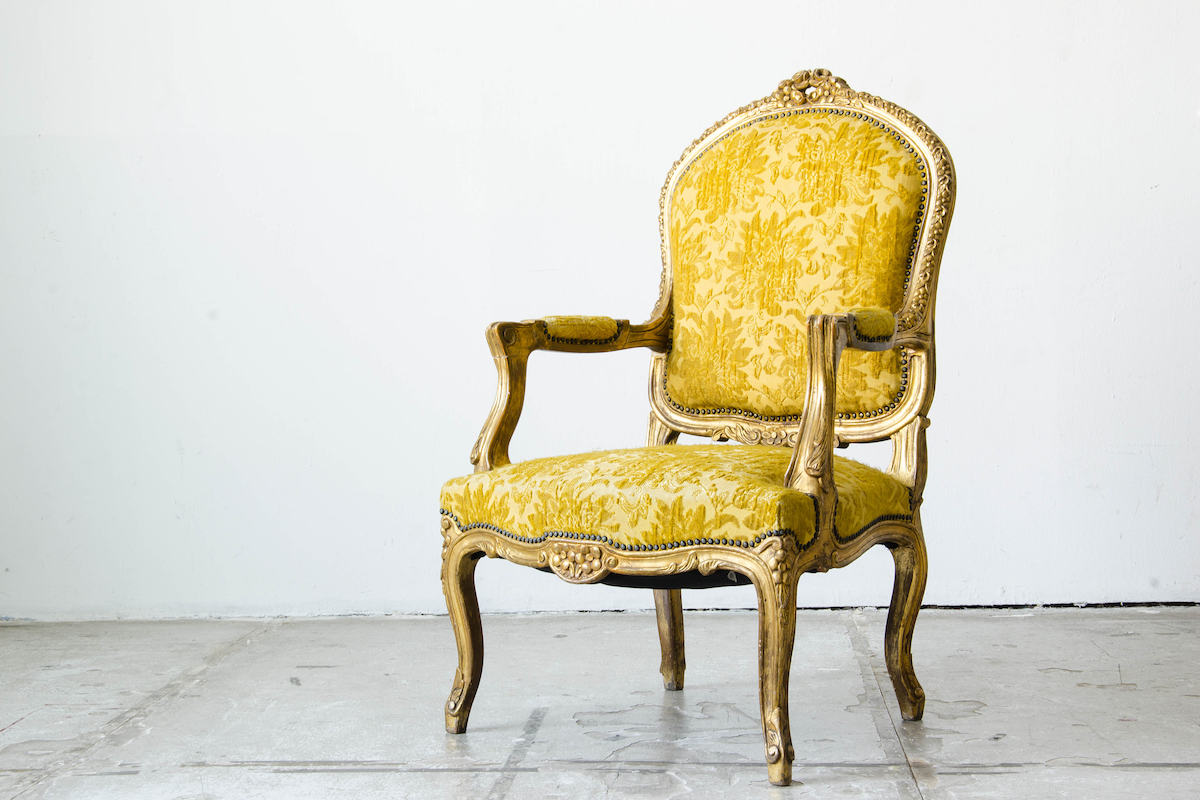 Finding a vintage-inspired accent chair is another fabulous way to add larger pieces into a room without committing to an entire set of furniture. This off white and honey British Colonial-inspired chair from One Kings Lane would look perfect in the corner of a dining room or next to a bookshelf. The site also boasts a huge assortment of cabinets, both large and small, which is another good way to add a pop of color like this one into a room.
Accent furnishings
There are many unique vintage decor pieces you can add to a space to give it a throwback vibe. One of my favorites is using an antique ladder as a blanket or towel holder in a living room or bathroom. This one from Urban Outfitters isn't an actual antique, but it is vintage-inspired and a lovely shape to leave on its own or pair with your grandma's afghan.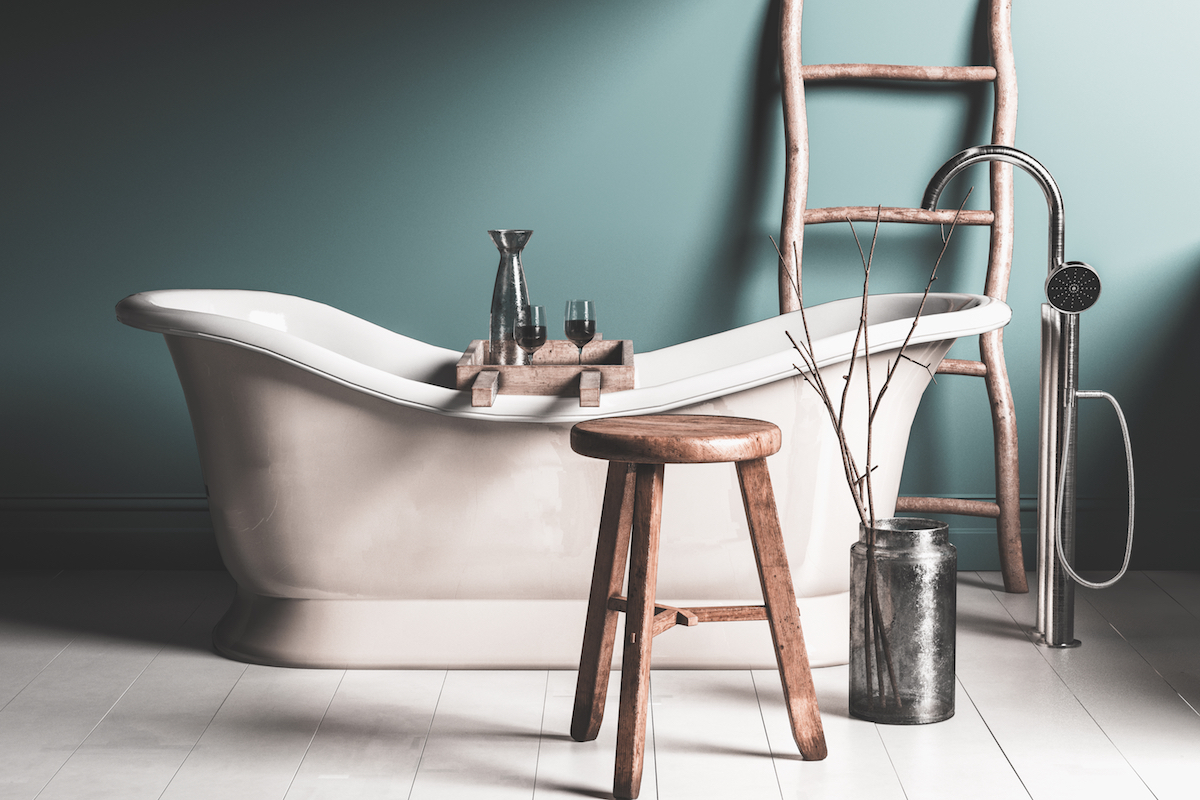 Similarly, finding a metal mirror in copper or gold can offer itself as a nice addition over a fireplace, as a part of a wall collage, or in a powder room. You can also use mirrors in smaller spaces to make them seem larger.
Open shelving in a living room or kitchen can also give a space a vintage look because you can use them to showcase dishware, pitchers, glass bottles, and anything else that catches your eye while perusing an estate sale. You can find all-metal options like this one from Ballard Design or look for one with a wood and metal mix for a more industrial-inspired look.
Finding unique ways to use vintage pieces can be a fun way to add character to any room. Hang old dishes in a grouping on your kitchen wall. Find an old cutting board and use it as a tray for candles or small books. Stack two or three vintage suitcases together and make it your bedroom side table. The more playful the design, the more authentic it will look.
Before you shop
Before you invest in any piece of decor, you'll want to measure (and then measure again). Many pieces you find online and especially in-store that are antique cannot be returned, and you want to know for sure that it will fit in your space, especially if it's a larger piece of furniture. This also goes for smaller pictures, mirrors, and trays. Every place you buy should be able to provide you with measurements, but if you don't actually measure it out on the wall you want it to live, it may not look like you'd hoped.
If you're buying a piece online, remember to ask about its history if it's not already in the product description. I like to write it down and tape it to the bottom of anything I purchase so I remember how it came to be and where it's lived before me, and I can pass it on to my kids or another buyer down the road if I choose to sell it. There is so much inspiration online and in magazines to transform any space; use it all for fresh ideas and placements you've never thought of before. It just takes a bit of research and patience to locate the perfect vintage items for any space.
Editors' Recommendations