If you're looking for a relaxed, simple approach for your home design this fall, hygge may be just what you're looking for. Deriving from Danish culture, hygge is a term used to express a sense of comfort and coziness. Many people have fallen in love with the simplicity and connectivity that hygge can bring to a home, inspiring designers to create warm, cozy spaces during the fall season.
What is hygge?
Hygge, pronounced hyoo-guh, is a Danish term that means comforting and cozy. The term is often used to describe an atmosphere, feeling, or way of living. For example, a person might call a small coffee shop hygge, or they could say that they had a hygge time with friends the other night. The term is quite versatile, so don't get bogged down on the details of incorporating it into your vernacular. Instead, focus on bringing it into your home.
How to bring hygge to your home
Bringing hygge into your home is all about creating an inviting atmosphere, whatever that means to you. This is all about personalizing the space to fit your personality and lifestyle. Here are some of our favorite ways to make your home hygge.
Get cozy
One of the best ways to make your home hygge is to use elements that inspire coziness and comfort. Gather soft, cozy materials to scatter around the room and sitting areas, and add some relaxing scents to a reed diffuser to add in some aromatherapy. Fireplaces, mugs, neutral colors, and rugs can amplify the feeling of coziness and comfort in your space as well.
Stay away from bright, white lighting
Proper lighting is essential for achieving that hygge feeling that designers love. Avoid bright, white lights whenever you can, as they can be jarring and make people more alert. Instead, opt for soft, orange lighting that makes guests want to cuddle up with some blankets and destress. Candles and fireplaces are other fantastic sources of lighting if you aren't keen on orange-glow bulbs. The flickering of the flames can make for a more intimate environment, encouraging friends and families to connect with one another and enjoy the tranquility.
Make your bathroom a spa
Embracing hygge is about more than creating a nice space for your guests — it needs to make you feel happy and cozy as well. While we understand the desire to upgrade your entertaining spaces first, don't neglect your bathroom. Give yourself a spa-like experience by adding candles and bath bombs, and invest in some plush towels, rugs, and robes to keep yourself swaddled and warm. Don't forget the small accents like sweet scents, gentle music, and bath trays to elevate the sophistication of your bathroom.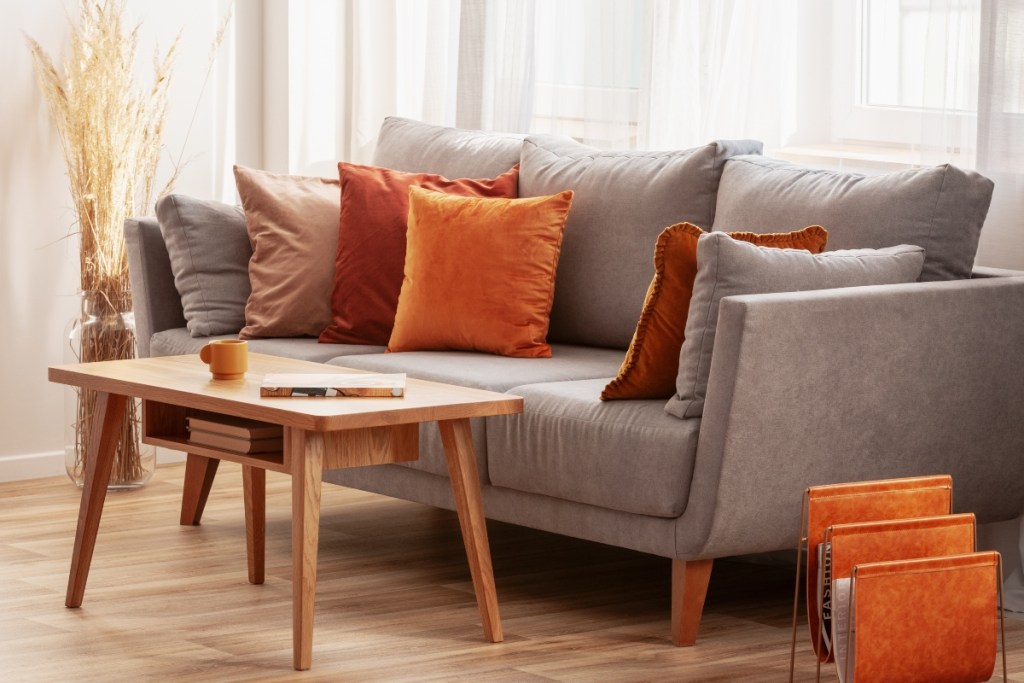 Create social spaces
One important aspect of the hygge lifestyle is the focus on social gatherings, creating atmospheres where family and friends can share stories and sweet treats. While you don't necessarily need a fireplace for this, it's a surefire way to get friends and family in one spot to talk, laugh, and maybe even sing a song or two.
To create the perfect hygge social space, opt for comfy chairs, sofas, and ottomans. Diversify the seating arrangements and opt for asymmetrical placements that will achieve a more lived-in and homey look. Be sure to adorn the seating area with lots of pillows and blankets and provide table space for board games and other activities. To truly create a social space, keep screens and technology away to focus everyone's attention on each other and not their Twitter feed.
Try the "less is more" approach
When it comes to bringing hygge into your home, we recommend taking the "less is more" approach. Hygge is very personal, so you don't have to fill your home with busy colors, patterns, and decor if you don't want to. Neutral colors and a big plush couch may be all you need to achieve your own brand of hygge. When searching for accessories and decorations for this space, choose just a few meaningful objects like your favorite mug, candle, vase, or statue. This will feel more hygge than any curated decor you may find.
Embracing hygge in your home this fall is a fantastic way to find comfort and coziness as the weather outside gets colder. Warm lighting, neutral colors, soft fabrics, and social spaces will make your home the ultimate relaxation destination. While curated collections and designer trends may look lovely, hygge about a feeling more so than it is a specific style or product. As long as you're filling your space with meaningful items that make you feel at home, you're well on your way.
Editors' Recommendations