If your main bathroom doesn't give you the relaxing feeling it should, perhaps it's time for an update. Your bathroom should create a calming and tranquil oasis you can unwind in and give you a "fresh out of the spa" feel. With a few helpful design tips, you can transform your run-of-the-mill bathroom into the ultimate spa experience (minus the masseuse), regardless of its size.
For those with the time and budget for an in-depth remodel, feel free to tear apart the bathroom and build it back up to realize your vision. Consider what about the bathroom is the most important to you, and dedicate a larger portion of your budget to that. Whether it's a clawfoot tub, steam shower, oversize vanity, or luxurious tiling, picking one or two statement pieces to up the elegance without overwhelming the small space.
On the other hand, you can also upgrade this space with a few smaller and less expensive changes. Buying some pricier towels, toiletries, and decor can transform your space without breaking the bank.
Ready to bathe in luxury? Here are some spa essentials that will make a splash in your bathroom.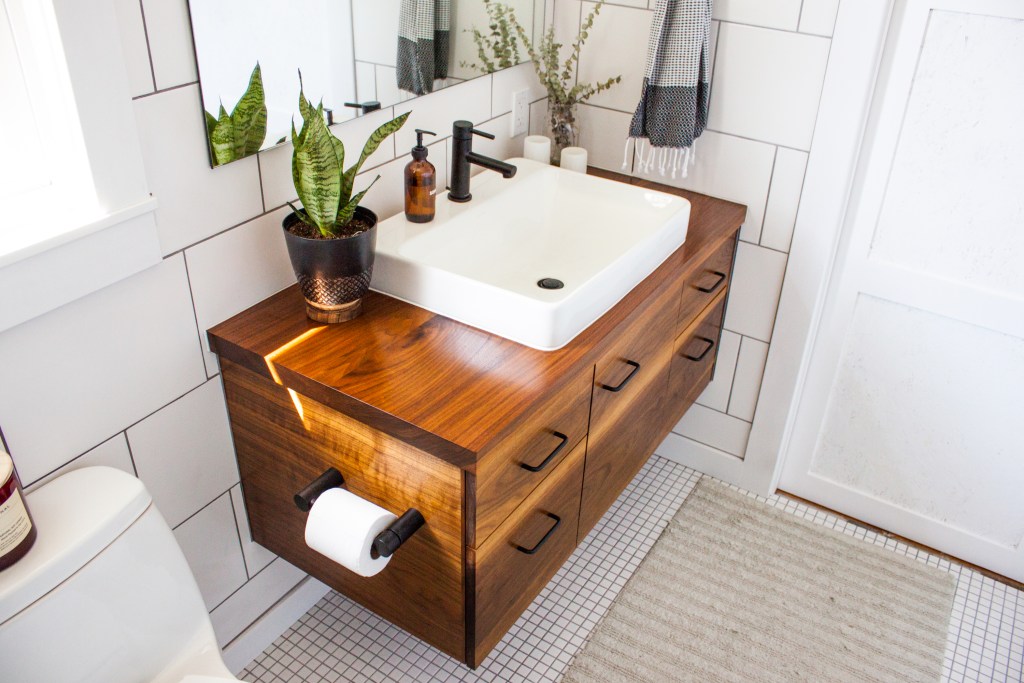 Time to declutter
Spas are so relaxing in part due to their minimalistic design. There are no piles of towels and dirty clothes or jars of unused hand cream to distract you. Clutter can increase anxiety too, so a no-fuss, streamlined design is a key part of curating a Zen-like environment.
If your bathroom has items laying everywhere, invest in some simple storage options and closed cabinetry to keep your makeup and hair products out of sight. We love this freestanding cabinet from Wayfair because it comes in three color options (white, espresso, and gray) and has plenty of shelving and drawers to organize and store everything neatly.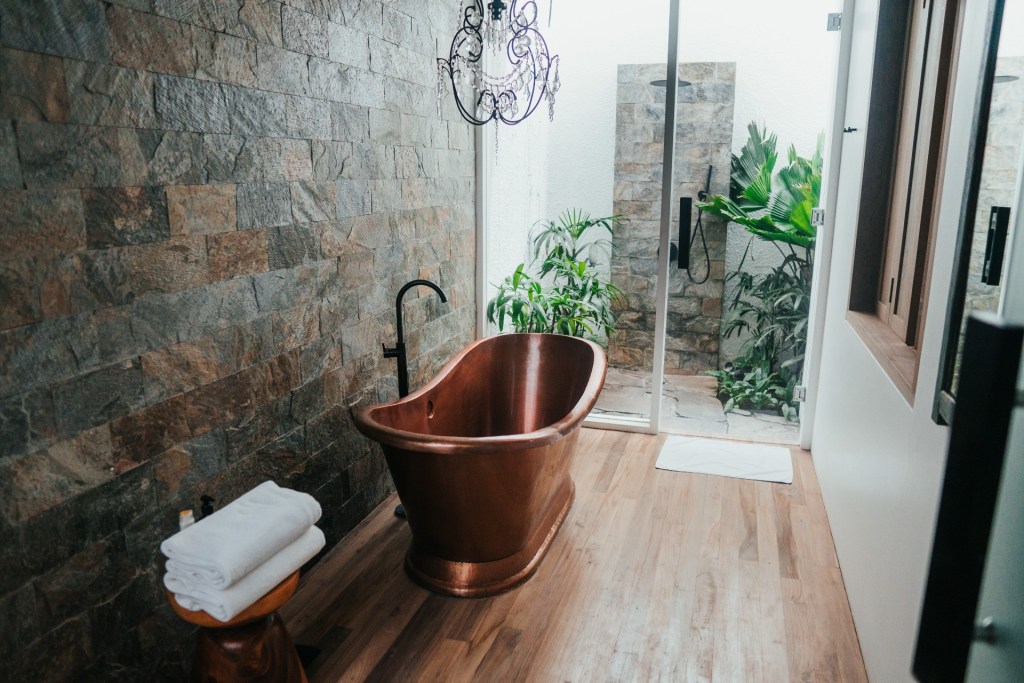 Mood lighting is essential
Lighting is also key here — nothing ruins a peaceful space like bright, fluorescent overhead lights. With soft lighting, you still have enough illumination to read your favorite book or navigate the space, but it's not too harsh on the eyes.
Achieve this look by installing a dimmer switch on whatever light fixture you currently have in your bathroom or investing in a dimming chandelier to give your bathroom a stunning focal point. We love this semi-flush crystal option from Build because of its cool industrial finishes.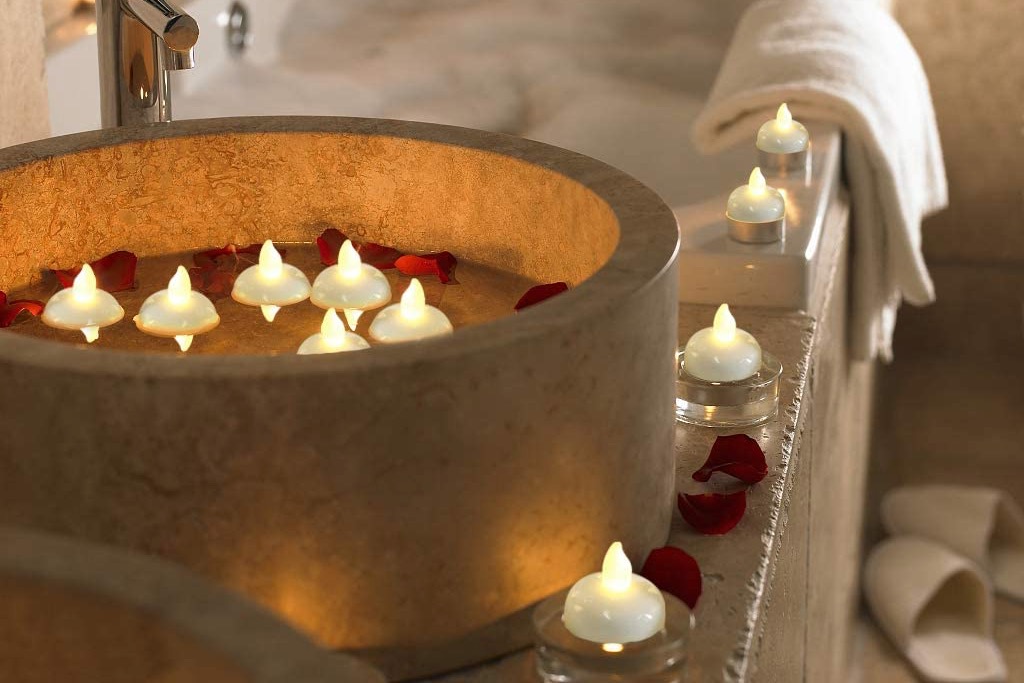 Indulge in spa-like smells
Aromatherapy is an integral part of the spa experience, and all the products, scents, essential oils, and overall cleanliness of the space can contribute to the relaxing aroma. Recreate this calming fragrance by selecting a few essential oils and candles that speak to you. We love this Japonica lavender candle from Bloomingdales. It's $30 but this luxury candle is so worth the splurge.
If you have a bathtub, invest in some fresh-smelling bath bombs and gels that will make both you and the room smell amazing for the rest of the day.
Don't forget cozy textiles
The small details matter too, so make sure all of your robes, towels, and rugs are as soft and plush as possible. These little luxuries are really the icing on the cake whether you have two hours to spend on full spa treatments or only a few minutes to jump in and out of the shower. We love this plush-lined microfiber robe from Amazon because it feels fantastic on your skin and isn't too hot to wear while you blow-dry your hair. This one is so soft you may find yourself wearing it around the house all day long.
With these few additions and upgrades, you can elevate your bathroom from boring to beautiful. Don't underestimate the power of a well-designed space — it can make the difference between going through the motions every day and truly enjoying every moment. Anything you can do to bring yourself peace, both mentally and physically, is worth the time and effort.
These ideas are a great place to start, but we encourage you to explore and experiment with other decorative and functional additions for your oasis. Add in some live plants, loofas in the shower, and ultra-soft bath mats to fill the space with cozy textures. To separate your normal bathroom duties from your special spa days, purchase some luxury-grade upgraded lotions and bath gels that you only use on special days as a little treat to yourself. Long story short, you deserve some pampering every once in a while. Now, with a bathroom that rivals your favorite hotel's, you can treat yourself to a spa day when the mood strikes without making an appointment or leaving the house.
Editors' Recommendations