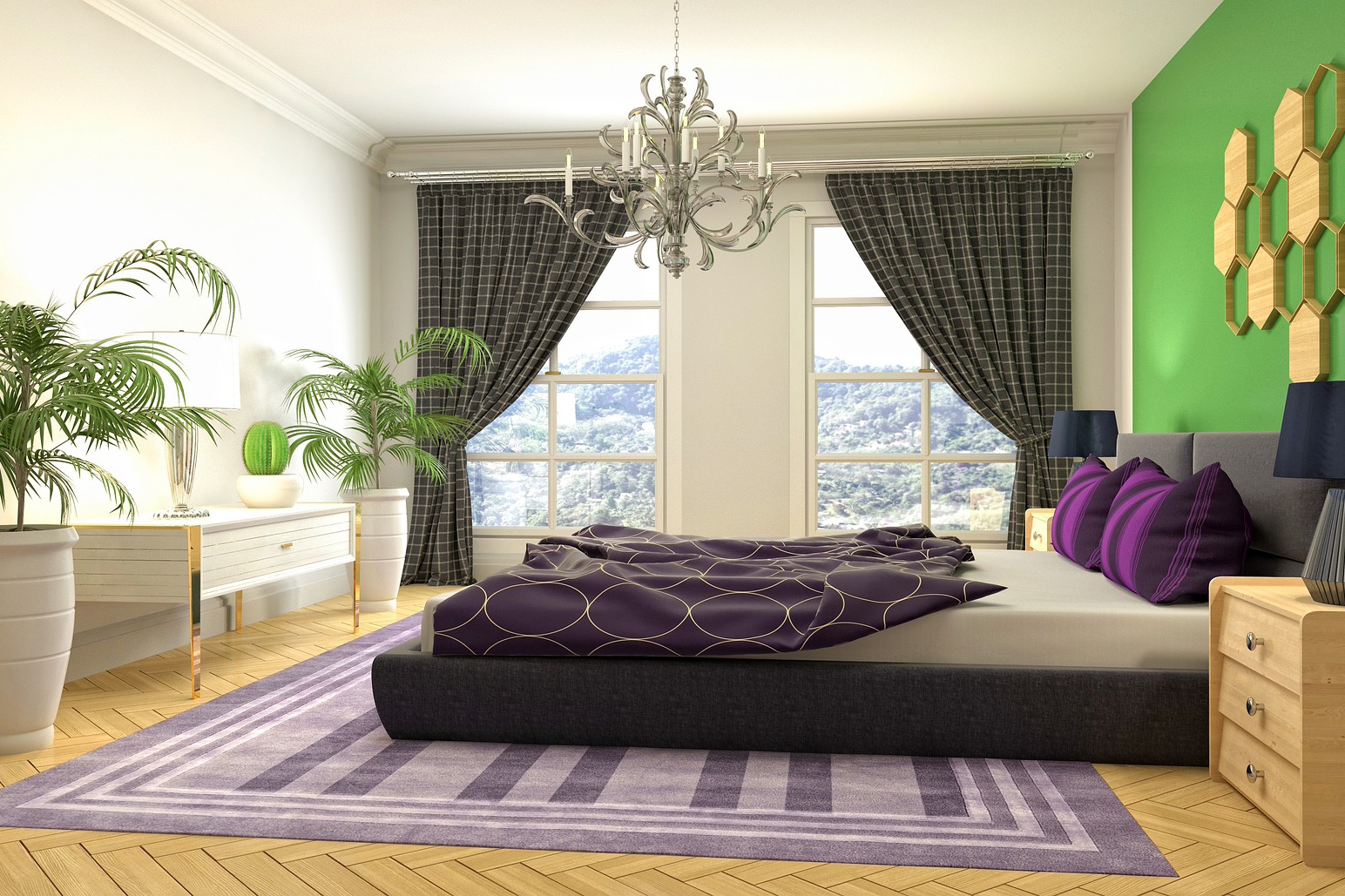 When people think of traditional interior design concepts, they usually envision dark, formal, heavy furniture with dusty, scrolled elements. Don't confuse traditional with old. Traditional is now defined as classic, but with symmetrical designs. It is comfortable, maybe slightly formal, but not totally neutral. It is decorating with a natural elegance and contemporary touches.
Let's break it down
A classic design is considered, for example, to be basic lamps with lampshades, one on each of the nightstands. Two nightstands give you symmetry, as does a bench, settee, chaise, or couch centered at the foot of the bed. The bed centered, perhaps between a window and a closet door, and there may be two dressers or a dresser and an armoire. The bed will typically have a headboard and is probably upholstered.
Getting the idea? If there's a comfortable chair, there will be a table, perhaps an ottoman, and a lamp grouped with it to make it a classic setting.
Traditional bedroom design elements include hardwood or reclaimed pine floors, beamed or paneled ceilings, deeper baseboards paired with wainscoting, and crown molding.
Take classic bedroom ideas and add contemporary touches with pops of color. How about a bright ottoman or a modern, trending starburst mirror?
Switch it up for traditional looks
Bring in an area rug and place it underneath the bed. You can choose traditional designs or switch it up to an area rug with a simple, medium-sized geometric print or jute, or even animal hide. An area rug adds texture and pattern to a traditional bedroom design.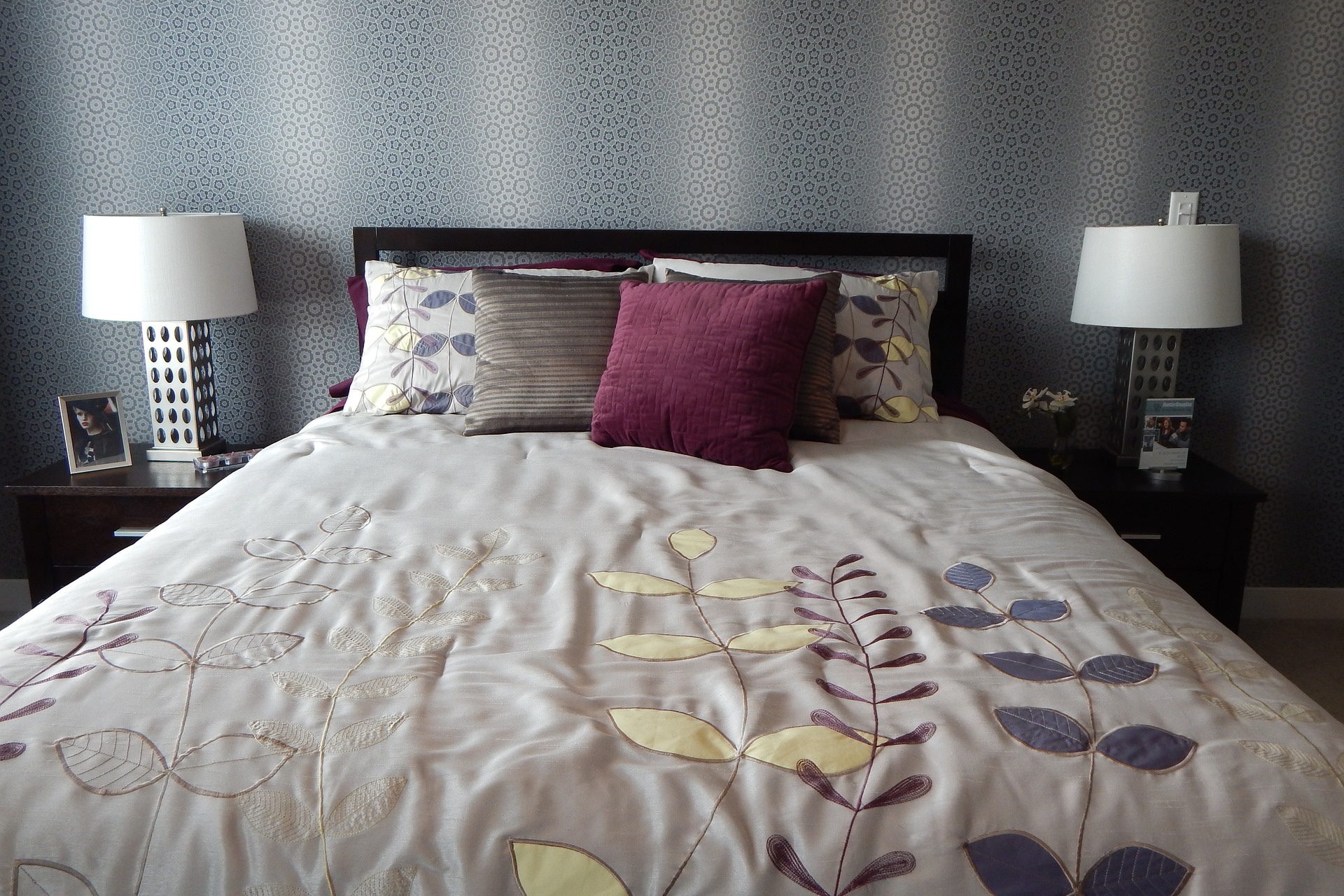 Use an unexpected pattern to give a jolt to traditional design, like polka-dot pillow shams or floral prints. Keep the classic floral pattern but go for patterns on a white or cream background.
Use furniture that looks like it came from a collection. The traditional style matches its end tables, bed frame, and dressers. You can go for a collection look and maintain that traditional feel. Collect and use bedroom furniture with the same stain color, basic shape, and scale. An ornate four-poster would be traditional, but use end tables with less scrollwork. You can use a dresser with a similar stain and ornate hardware, and everything will play together nicely.
Drapes with fussy patterns, tasseled tiebacks, and shears underneath are traditional. Use less fussy drapes, maybe with tassels or decorative fringe on the bottom. Decorative patterned shades (instead of plain shades or blinds) fit into that traditional design aesthetic.
One large framed piece of artwork centered above the headboard is a big part of traditional bedroom design. You can also go with a gallery wall behind the bed or even a large, stretched canvas piece. Just be sure, if you have an upholstered headboard, you don't go too small or fussy with the artwork.

Pass up fussy for favorites
Old traditional design has knick-knacks everywhere. For example, you might find tiny statues on the dressers with several different kinds of jewelry organizers, or a haircare set with an ornate hand mirror and collections of small figurines on the end tables and in the bookshelves. Instead, pick a few favorite items that evoke a peaceful feeling or happy memories and use those as your accents.
Forgo lampshades that are fluted, scalloped, fringed, bell-shaped, and need regular blow-outs with a leaf blower to get the dust off. Stay traditional, but go a bit modern, and switch them out for drum-shaped. Use colored lampshades to add symmetry and a pop of color.
Pump up the neutrals with texture. Classic traditional often have throw blankets at the end of the bed, carefully folded and stretched taut for a clean look. How about mixing things up with a nice nubby throw? Or even some fabulous faux fur in a neutral color? You can use a tufted comforter with a pop of color or pattern and still maintain that traditional look.
Today's traditional is more of an airy motif, so when you are dressing the bed, use several sizes of pillows, but ensure that not all of them are fringed and tasseled. To keep that traditional bedroom design, the drapes, bed linens, and area rug should have similar hues to keep a classic, neutral vibe. Think wall colors in soft grays, tans, and greens instead of deep jewel tones. If you have classic furniture and bedding and a traditional area rug, you can show a bit of whimsy with an accent wall.
Editors' Recommendations