A bedroom should always be the place in your home where you feel the most comfortable. As with the other spaces, you want the colors in it to reflect your design aesthetic. What happens when that leans to shades of gray and black? Is it possible to use them in a bedroom without it feeling like a cave? The short answer is yes, but there are a few keys to getting it right. Here, we outline how to design the black and gray bedroom of your dreams.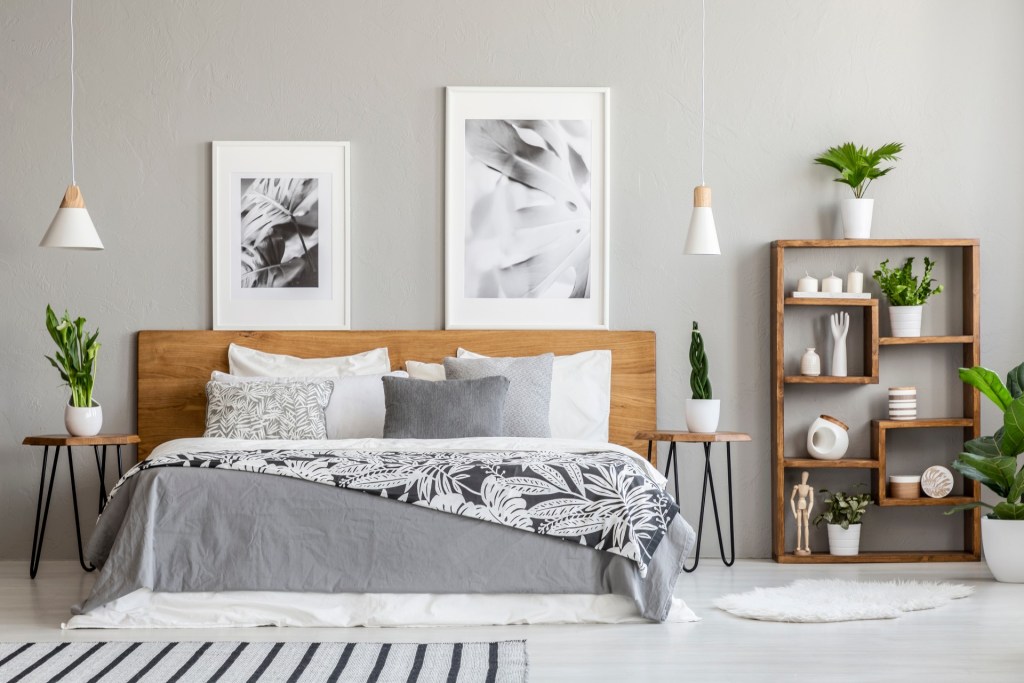 Find the right gray
Gray is a popular choice for walls because it is versatile and works with many different styles. Lighter grays read as neutral and can be used to give a room an open feeling. They impart an airiness into the design. When used on walls, a light gray also offers the flexibility of bringing in either bright pops or dark, rich colors.
You can use deeper grays to elicit coziness in an expansive room. They work particularly well when mixed with crisp white bedding or striking art. Always remember design is about balance. If you have dark elements, mix in light ones to ensure it doesn't feel oppressive. Another factor that can greatly impact how a darker shade reads is lighting. Any room that showcases a deep hue should have more than just one overhead lamp or ceiling fixture. Make sure to layer your lighting with multiple sources throughout the space. Mirrors are also a good way to break up walls and reflect light.
Gray may seem like an easy color choice until you visit the paint store and see the number of variations. Grays have undertones that run warm or cool. What that means is some have a blue base that reads cool, and others have a yellow base that reads warm. Although that may seem subtle, it can have a big impact on how the color looks in a design. Make sure you determine which category your gray falls under and get samples to see how it looks in your space. Just keep in mind that the number of windows, light, and the room's position can also impact how the color looks.
How to use black
Black walls are a bold choice. A solid black wall can look flat, and because it is such a strong shade, it needs to be balanced. If you choose to paint a wall or an entire room black, consider adding molding, wainscotting, or a picture rail to give it dimension. One way to bring harmony is to use wall color combinations for bedrooms. This can mean painting the lower portion of the wall black and the upper a white or a striking color. In this way, you can use black to ground the design, and the lighter portion gives the illusion of airiness and height.
People often shy away from black because they think it is too harsh or it overwhelms a design. If you painted an entire room in black, this might be the case but mixing in a few black elements gives a solid foundation that you can weave throughout. Black can be a great grounding force in any room. Black wrought iron or painted furniture can be a good starting point. With them as a base, touches of black can be brought in with bedding, rugs, picture frames, or pillows.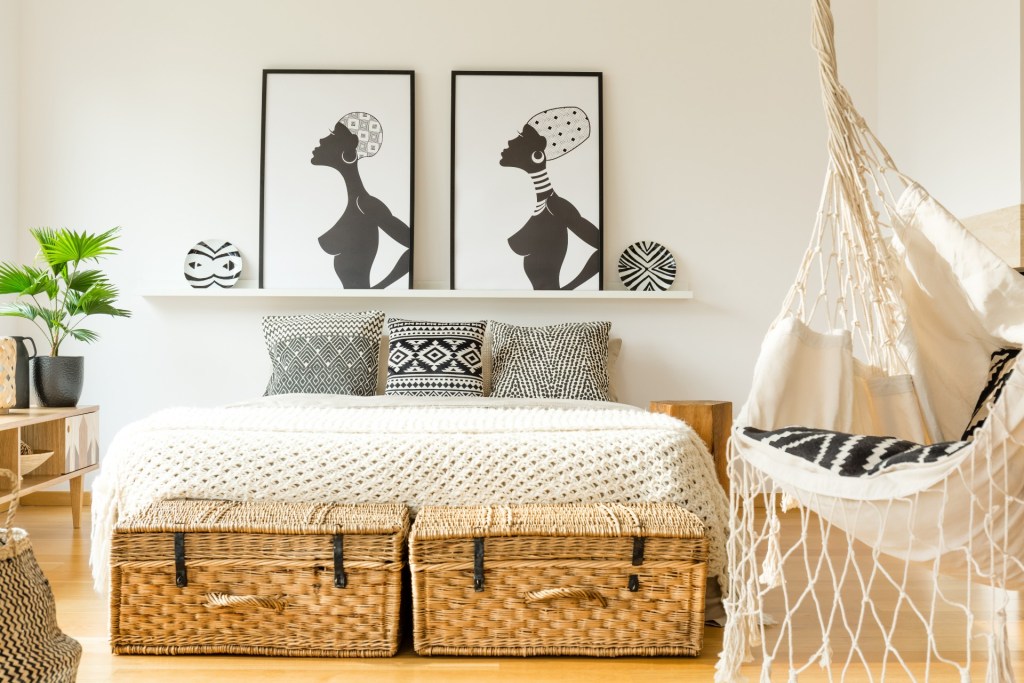 Off the walls
This timeless combo doesn't always have to be on the walls. Why not paint the room white or neutral and add gray and black in bedding and accents? This is especially effective when small pops of color like emerald green or indigo blue are dispersed sparingly throughout. These can be plants, decorative accessories, or even throws or pillows.
One of the most popular interpretations of this look is the boho bedroom. White walls, soft grays, and bold black and white accents with wood and botanicals mixed in. It works because instead of making a space feel closed in, it feels open and airy. Nothing in the design is competing. Instead, it lets elements like the deep green of a hanging plant stand out.
Bringing black and gray into your bedroom doesn't have to be gloomy. Using the right shades or adding them in subtle ways can make any bedroom feel like a sanctuary.
Editors' Recommendations