You may not think saying rustic and modern anything goes in the same sentence, but you can successfully pair the two styles when it comes to home decor and furnishings. You don't have to choose one or the other. In fact, there is a ton of inspiration online and in stores that provide a wealth of information about how to marry the two together.
According to the National Association of Realtors, farmhouse-style home design is the most Googled interior decoration in the U.S., followed by rustic at 190,240 searches a month. Though we all want to stay up-to-date on all things contemporary in terms of design, it looks as if our sensibilities respond much more earnestly to rustic decorating ideas. It seems people desire the warmth and welcoming feeling that rustic decor brings to a home. If you want your space to feel modern and rustic, there are a few simple ways to go about it.
Mix woods and metals
This is one of the easiest ways to mix the two in perfect form. Using wood beams or wainscoting in a kitchen along with a modern light fixture like this metal sputnik chandelier creates comfort and a look that is very much of-the-time.
Although you can blend these styles however you like, mixing natural woods like oak and walnut with metals like brass can help bring both rustic and modern elements to any space.
Combine modern artwork with rustic textiles
Finding bold mid-century modern artwork like this Mod Pod piece from Great Big Canvas and displaying it over a more rustic-style bed and bed linens is another good way to bring both into a space. If you're looking for a new duvet or pillow shams, consider striped or damask patterns in warm tones like gold and burnt orange.
You can also pair artwork or modern-shaped mirrors with a rustic bed frame like this one from Amazon in warm wood with a metal frame. It's an ideal way to combine comfort with classic, traditional pieces that never go out of style.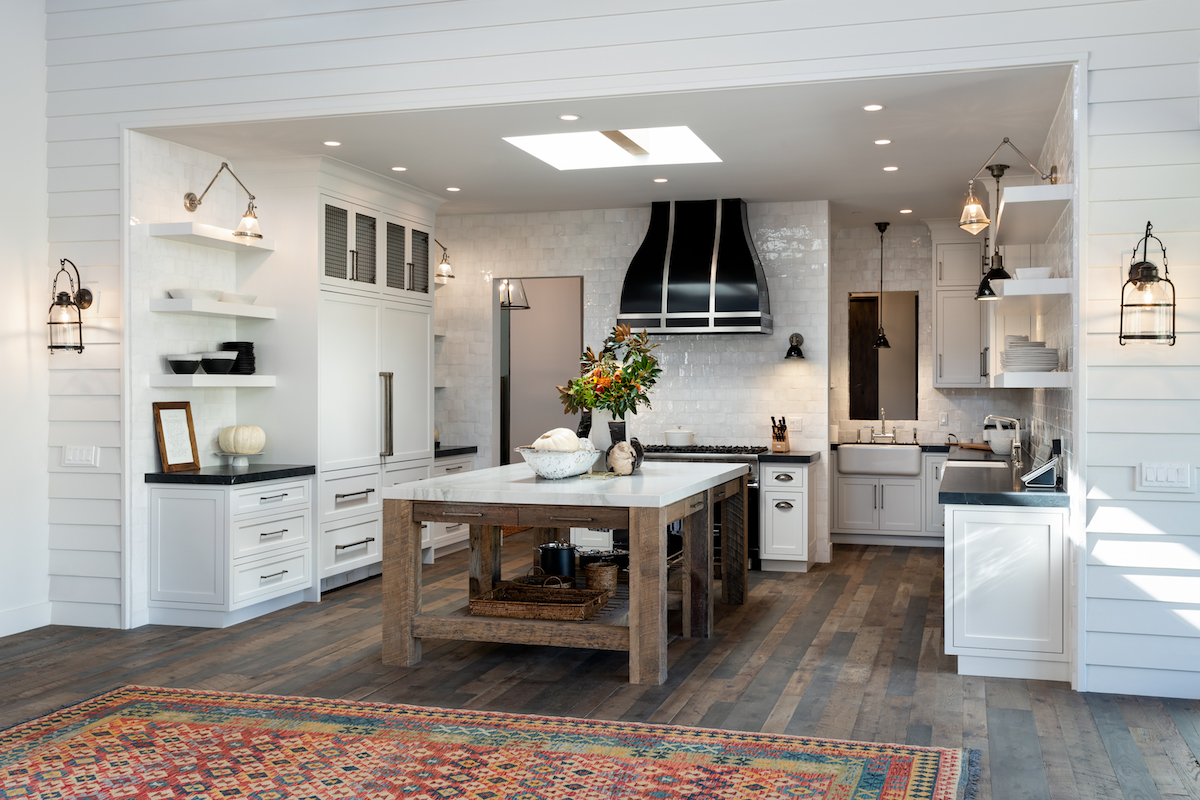 Center one rustic item in a modern room
If you're set with mid-century modern furniture that you adore, consider adding one statement piece that screams north woods cabin. One idea is to add a stand-along wood burning fireplace into the corner of the room, which will (literally) warm up any living or dining room. If you have room, you could also consider a rustic wood bookshelf or even add a shiplapped wall behind your wall-hanging TV.
These are all simple additions that give some rustic charm to a modern space.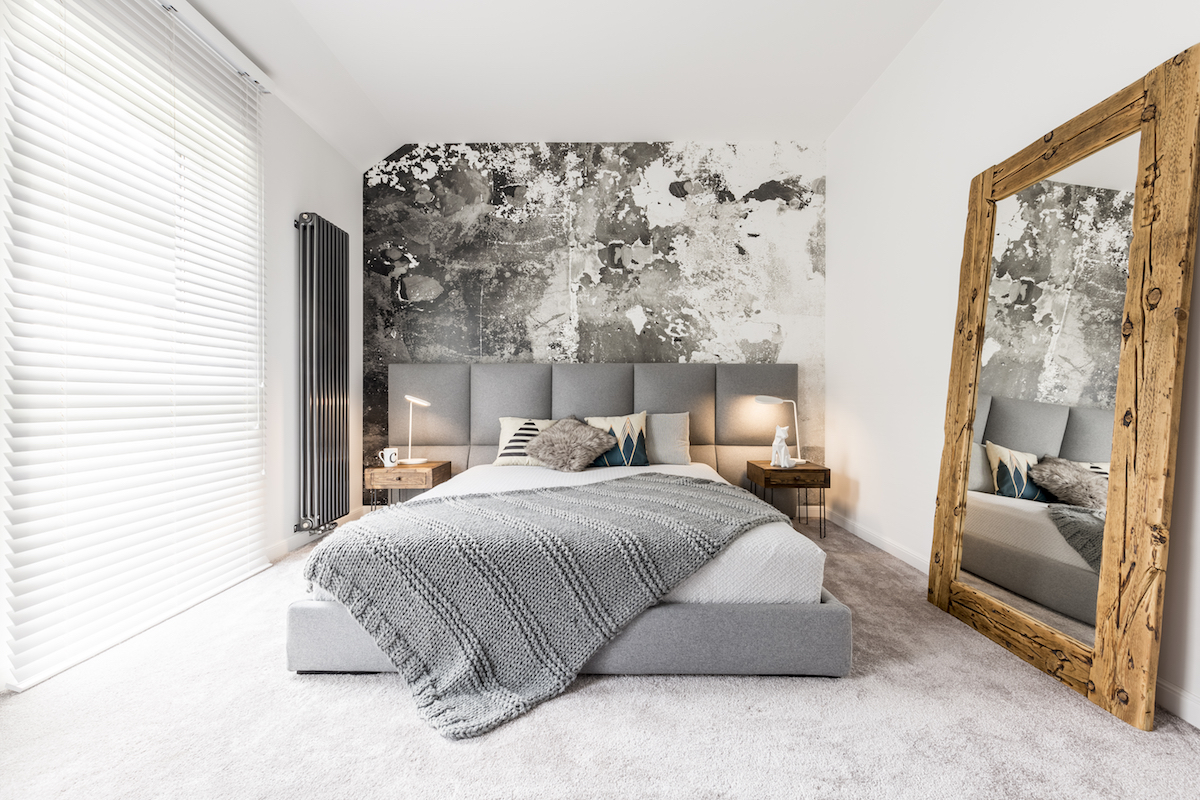 Pay attention to the details
To go mid-century rustic, it's important to pay attention to the details. If your furniture is more modern, add in wooden bowls, barn wood picture frames, a weathered lantern, or find a leather log holder and place it by the fireplace.
If you have rustic furniture you don't intend to part with, add a modern vase or end table that is neutral in tone with clean lines. Add a modern rug under a coffee table. They don't have to be big statement pieces. Sometimes the subtle details and decor are all it takes to pull the look together.
Choose straight lines
Typically, you're not going to see a ton of curved wood or embellishments on either rustic or modern furniture. Even though mixing natural wood with modern decor, you do not see many "extras" in either style. Both favor clean, fuss-free furniture, so you can use this to center a room where you want to introduce a modern-rustic look.

Have fun
When a modern house is paired with rustic furnishings, it takes the edge off the modern style's minimalistic feel. Play with rustic textures, metals, and colors to add warmth to the simplicity people have come to know and love in mid-century modern furniture. Finding the perfect piece of furniture or decor that ties everything together is the fun part!
There is a ton of inspiration out there in stores, online, and in magazines that can help if you feel overwhelmed. If you're planning a major overhaul or renovation project, you may even consider enlisting the help of an interior designer who can help refine the look you'd like to achieve. It doesn't hurt to get a professional opinion, especially if you're planning to invest a lot of money.
Editors' Recommendations