You've always wanted to entertain in your apartment, but you've always felt hampered by the limited space. But just because you have a small space doesn't mean you can't go big on style. However, before you start the process of designing and decorating a small apartment or condo, there are a few things you need to take into consideration. "Generally, the biggest obstacle is delivering on the clients' wish list for form and function," explains Gillian Segal of Gillian Segal Design. "With limited space, this often requires more thoughtful and creative solutions."
Select "double-duty" pieces
Segal suggests investing in some multitask furnishings. "One strategy we use to tackle this is ensuring we select pieces that can do double duty," she reveals. "Think of a side table that is movable and can act as a stool for an extra guest, or upholstered swivel dining chairs that are comfortable enough to be brought into the living room for additional seating."
Take advantage of wall space
Don't overlook your walls. "With floor space being limited, we also try to take advantage of the wall space, often in the form of built-in millwork," Segal says. "With a small space, having a place to store everything is key to avoid the space looking and feeling cluttered and chaotic."
Pay attention to scale
Really consider scale when purchasing your furniture for a small space, advises Segal. "Try to focus on a few smaller-scale pieces — like a love seat and two small occasional chairs — instead of one massive sectional," she says. "Having a variety of furnishings looks more interesting and creates the illusion of more space." Also, make sure to leave breathing room between the pieces — "nothing makes a space feel smaller than having each piece crammed together. Start minimal, and you can always add."
Take advantage of lighting
Lighting is a great tool in any project and can be a game changer in a small apartment. "In a small space, incorporating different sources of light, such as a pendant and plug-in sconce, helps create a more comfortable atmosphere but also draws your eye around the room," Segal points out. "I mention pendant and plug-in [or hardware] sconces because neither of these items takes up valuable floor space but enhances the mood and aesthetic."
Play with paint
Often, people are scared to use darker hues in a small space, but I find that a darker accent wall can often create a sense of depth making the space feel larger. I love to do this in something rich and textural like a grasscloth wallpaper.
Create a storage wall
Tiffany Leigh of Tiffany Leigh Design is fan of creating a "storage wall." "In our tiny condo apartment, we needed a whole wall of storage for things like our printer, extra pantry, shoes, and all of our office supplies and samples. We installed inexpensive IKEA Pax units across the wall to store everything," she reveals. "I love that they can be customized to your exact storage needs. By butting the units up to the corner of the wall, we were also able to extend the 'wall space' in the living room to have room for a TV."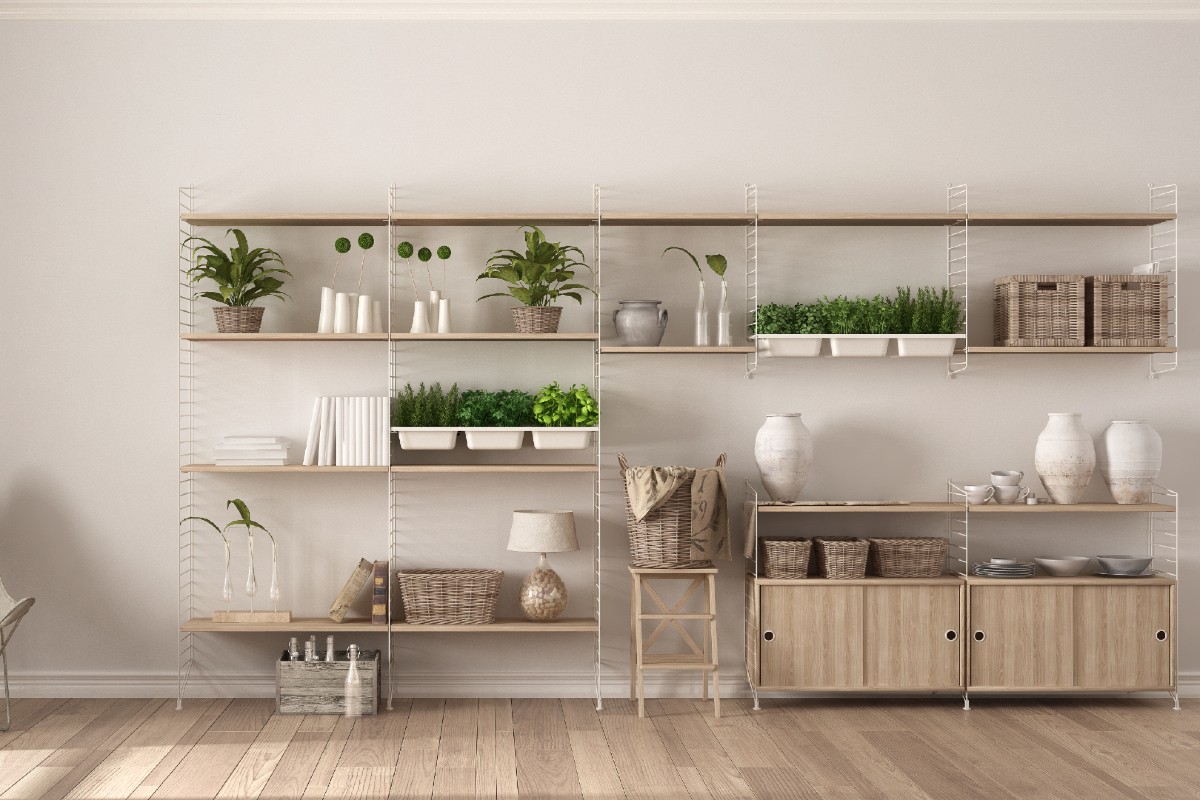 Opt for furniture with built-in storage
An easy way to take advantage of every square foot is find furniture pieces with built-in storage. "Think about a storage bed for storing off-season items to keep your closets free for daily needed items," Leigh points out.
Think vertically
Consider vertical storage if you have high ceilings. "It can be a game changer," says Leigh. "We installed open shelving in our office above our desks for additional storage."
Rely on flower power
Joyce Downing Pickens of JDP Interiors loves decorating small spaces with flowers. "I can't tell you how much putting some time and effort into a good floral arrangement makes on the elevation of your space," she maintains. "Even dried florals can be a low-maintenance way to bring your space to the next level. Or if you go fake, make sure to find a place that does really good fake florals to ensure that they remain sophisticated."
Take advantage of textiles
Pickens also suggests incorporating good pillows and throws. "By just swapping out your pillows and throws on your sofa, you can make a huge difference in your space," she points out. She suggests looking for vintage textiles with lots of texture and pattern but with muted colors. "I think people have a tendency to go cheap on pillows, but in my opinion, they are more important than the sofa!" Pickens declares. "Pillows can make a more inexpensive sofa look elevated."
Add some books
Pickens maintains that nothing makes for a chic space than a well-read inhabitant. "As a designer, I love niche-design books," she says. "Some of my favorites are Cezanne's objects, Cy Twombly Gallery, Axel Vervoordt, and Handcrafted Modern."
Accessorize with vintage goods
Don't buy all of your decor brand-new. Pickens is a fan of vintage bowls, vases, and brass items. "Hit your local flea market or vintage store," she suggests. "Big box stores sell these items for completing your space, but they almost always fall flat. The individuality and richness of a vintage accessory can make a space and complete it to perfection. And this has a much better story behind it, as well."
Editors' Recommendations