Mudrooms are a must in many homes, protecting your flooring from rain, mud, and dirt, and preventing guests from tracking their outerwear through your home. Unfortunately, not every home is blessed with ample space for a mudroom, making it challenging to properly store your items.
If your mudroom is too small or you simply need more creative methods of storing your outerwear, keep reading. We're covering some of the best tiny mudroom ideas to help you make the most of your minuscule space.
Invest in multipurpose storage solutions
The first step is investing in multipurpose storage solutions, filling the room with a handful of pieces that can do countless functions.
For example, every mudroom needs small storage benches, whether they're built-in or free standing. Here, you can provide your guests with a place to sit to put shoes on or take them off and give yourself additional storage space beneath to hold hats, gloves, or even overflow cleaning supplies.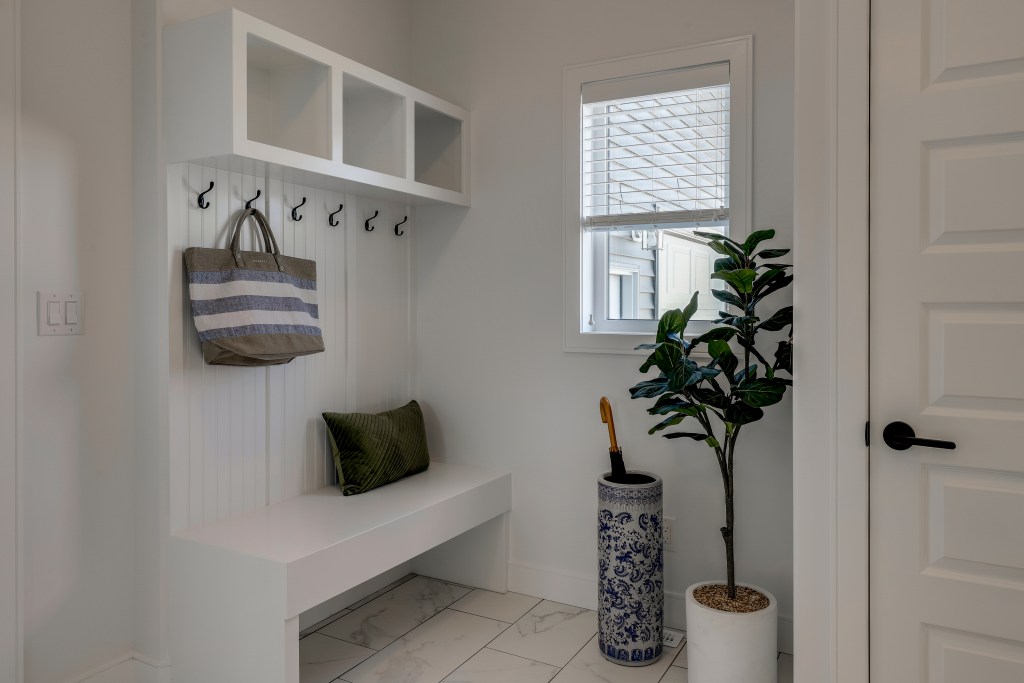 Utilize vertical space
Small rooms have limited floor space, so maximize your square footage with vertical storage. Add some shelves both close to the floor and up toward the ceiling to store shoes as well as winter accessories like gloves, hats, and scarves.
Then, install hooks to hang your coats, bags, umbrellas, and other outdoor items so they don't end up cluttering the floor or hanging on the backs of chairs. For a more decorative solution, hang a pegboard wall to hang floating shelves or coats. Pegboards are easily customizable so you can always change the layout and reorganize as needed without drilling or nailing more fixtures into the wall.
Cut the clutter where possible
If you're working with a small mudroom, it's best to cut the clutter wherever you can. Try to declutter outerwear like shoes and coats once a season to eliminate any unnecessary items. Just as your storage needs to serve a purpose, so too does your clothing.
It's also best to store away seasonal items when they aren't in use. During the summer, pack away winter accessories, coats, and boots to free up space in your mudroom, allowing you to find and replace items with ease.
As you organize this space, keep in mind that the mudroom shouldn't function as an additional closet. Keep lesser-used items in your closet and use this entryway space to hold items you always grab before heading out the door. Heels and formal outerwear can stay in your bedroom while sneakers and other casualwear can sit in the mudroom.
Opt for lighter colors
When decorating small spaces, the name of the game is light colors. Using brighter hues on the walls, floor, and organizers will open the space so it feels larger and airier. Lighter colors also reflect light more effectively, keeping the space illuminated so it doesn't feel dark and cramped. That being said, avoid stark white, which can make the room feel sterile and not very inviting. Instead, choose gentle pastels, soft, muted greys and browns, and off-whites.
Light flooring is a good choice too, but the shade should not match the walls. Often, if you choose one color for everything, you run the risk of creating a space that feels smaller than it is. It also can look downright boring. To better create visual interest and prevent the room from looking monochromatic, experiment with patterned tiles to add a little fun.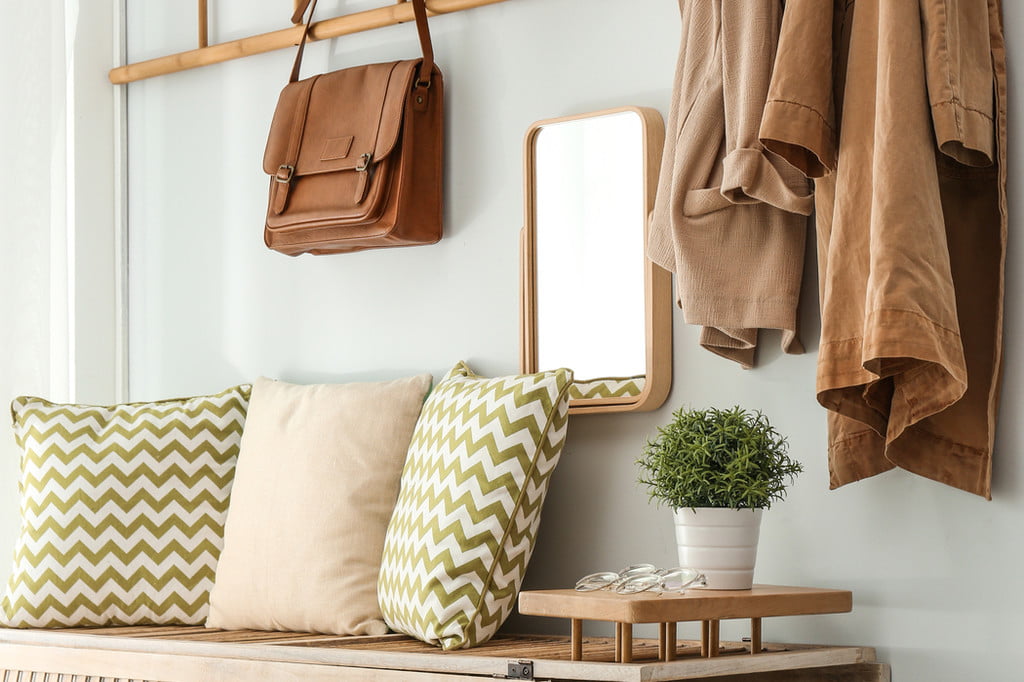 Mirrors can make your space appear larger
Mirrors are another fantastic addition to mudrooms and other tight spaces. Mirrors reflect light and trick the eye into seeing more space, creating the illusion of a roomier area. See the difference for yourself and add a large mirror (or a handful of smaller ones) to see the room expand before your eyes. Big mirrors are also functional, as placing them in mudrooms can give you and your guests the opportunity to check on appearances before heading out of the home.
Mudrooms are a great addition to a home, regardless of their size. Creating a space to store shoes and outerwear prevents people from walking through the home with muddy, wet, or otherwise soiled clothes just to get to a coat closet. While small spaces require a little more creativity, it's still possible to create a beautiful entryway in a cramped room. All you need is a carefully picked color palette, inventive storage solutions, and some motivation to tidy up every once in a while.
Editors' Recommendations