The kitchen is the gathering place of a home. It's where we reconnect at the end of a long day, entertain family and friends, and often spend time working and preparing meals. If your kitchen is in need of a facelift in the new year, but you don't have a large budget to spend on completely renovating it, you just may be in luck. There are plenty of ways to design old kitchen cabinets, decor, and furniture that can pack a big punch.
Inexpensive kitchen updates are easy to find if you do some homework. First, you need a broad idea of exactly what type of look you're going for and make your plans around that. Without an overarching vision, you may find you can't quite land on what to replace and in what order. Here is some inspiration to get you moving in the right direction. Regardless of your style, these items will immediately breathe new life into your old kitchen.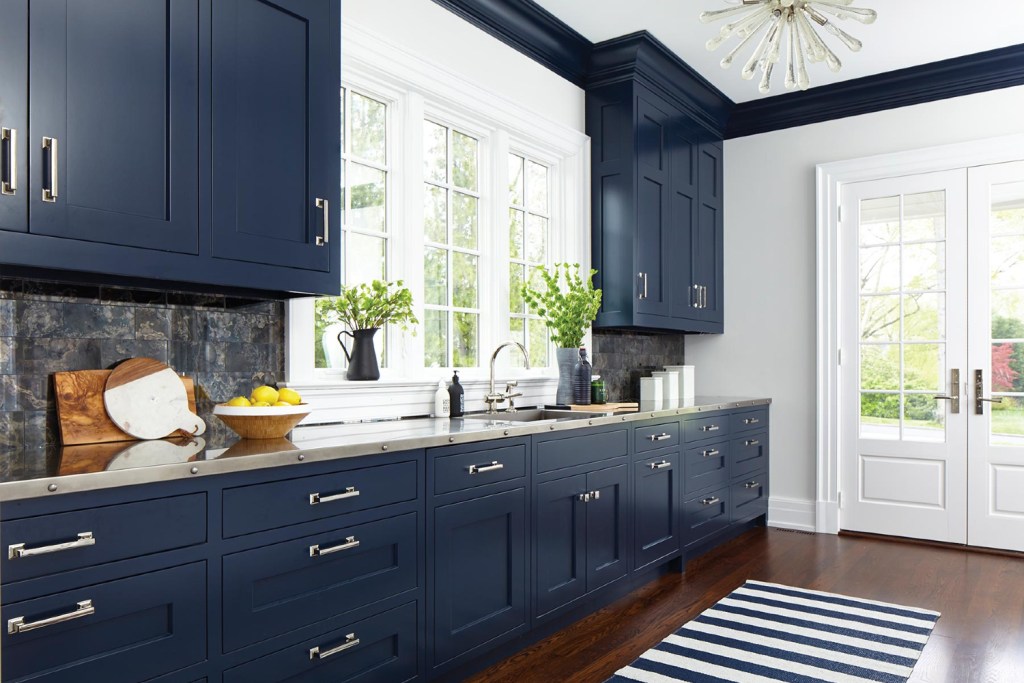 Start with the cabinets
Kitchen cabinets can make a major impact in a kitchen simply because they are the most visible. If your cabinets are outdated, there are a couple of options you have. You could consider repainting them (or having them repainted if you aren't confident about how to do so) in an updated color. We love dark hunter green or navy to give a pop of color. If you have a smaller kitchen without a lot of light, opt for a lighter color in muted gray or ivory. You don't have to replace the cabinets or doors if it's not in the budget; paint is a relatively inexpensive way to create a brand-new look.
Another easy fix is to update your hardware. Once you land on a color for your new cabinets, select hardware that compliments them. We love brass or muted gold if you're choosing a bold color, and they are very on-trend choices.
Let's talk about wood. Changing or painting floor and baseboards can also help improve the overall look of your kitchen without breaking the bank.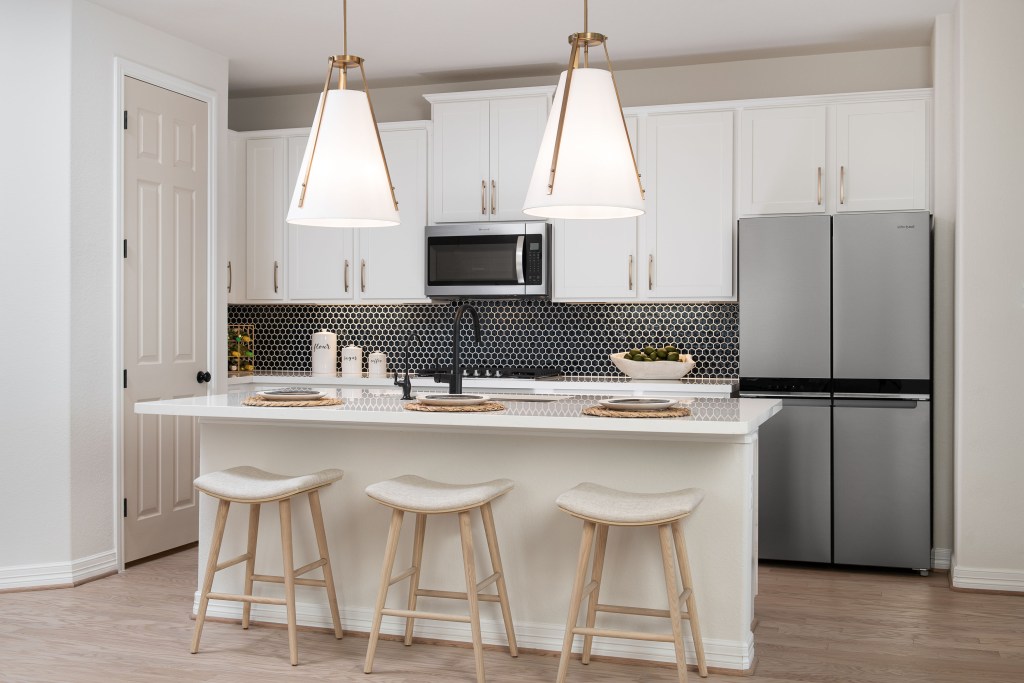 Consider decluttering
One way to bring an entirely new look into a tired, old kitchen is decluttering. Take everything off the walls and countertops and move the furniture into another room to get a sense of how much space you have to work with. It's difficult to imagine a new look when you're starting with the same old things day after day. If there are items you can move into a pantry or storeroom, it will offer a cleaner look to your kitchen, which sometimes is all it takes.
If you have old pictures on the walls, donate those and invest in new, updated items. We love anything from nature in a kitchen, so think about hanging plants, wood wall shelving that can house colorful serving bowls, or wood-framed mirrors that reflect light.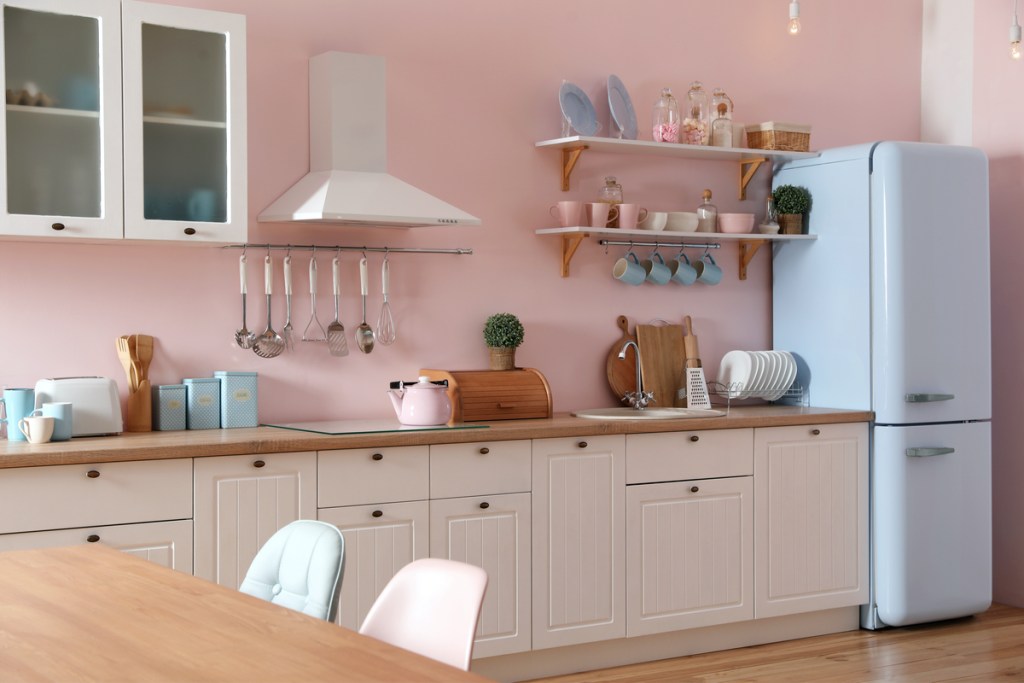 Don't get rid of vintage items just yet
Getting inspiration from some of the older elements in your home isn't a bad thing — especially in 2023. This year is about bringing back retro styles, so don't do away with all the character your older kitchen possesses. It's just a matter of bringing it into the new year. If you have an older light fixture, consider new bulbs, lampshades, or painting it to keep the integrity while still honoring the original design. If you have older kitchen chairs, update them with new fabric seats. You could also paint them if they are all wood for an updated look.
Older-looking appliances are also back in. If you have an old stove or fridge, you can look online or talk to the manufacturer about updated handles and knobs or find out how to restore them to their original shine.

Replace decor
Another fairly inexpensive way to update your space is by changing out the decor. Think about new kitchen rugs, light fixtures, switch plates, and kitchen towels. A new coat of paint on the walls can also make a big difference. Kitchens get a lot of wear and tear, and new paint can make a room look brighter. You can also invest in items you keep on display on the kitchen counter like a new toaster, coffee maker, or serving dish. You'll be surprised how quickly those changes add up to a brand-new look.
It's incredible how just a few small changes can make an old kitchen look new again. You don't need to demolish and start again; making little improvements to the cabinets, decor, and fixtures can bring a dated look into 2023. When you have more money, you can move toward bigger items like replacing countertops, changing flooring from vinyl to tile or hardwood, or updating a fireplace surround (if it's near or in the kitchen). Who knows? You may just find the inexpensive changes you've made are enough of a difference that you can use the kitchen budget for a new home improvement!
Editors' Recommendations