After an enjoyable summer with plenty of leisure time both indoors and out, we need to prepare our homes for the fall season. Colder days ahead mean more time spent indoors, and the months before the holidays are crucial for deep-cleaning projects. In addition to routine chores like sweeping, wiping off surfaces, and vacuuming, fall cleaning includes storing away items you won't need for the next few months. We'll take a look at our fall-cleaning checklist with 10 must-have projects.
Switch out your wardrobe
At the top of our list is a pretty straightforward assignment. As the days get shorter and colder, you won't have much need for that white tank top or your favorite pair of flip-flops. It's time to wash and pack away your summer clothes and break out the cardigans, jackets, and sweaters.
If you're storing clothes in closed containers, make sure they're completely dry, which will prevent mold. Organize boxes by tops, bottoms, and accessories, so you can have them ready to go when the days warm up again.
Purge the pantry and fridge
Summer vacation means endless snacking, especially if you live with children. All of these half-eaten foods may have hidden canned goods and other expired products. If this is the case, dedicate an hour or two going through your pantry inventory and tossing or composting expired foods.
Wipe away any stray crumbs or cereal, and disinfect surfaces before putting food back on the shelves. Repeat these steps for your refrigerator, which might have even more expired goods. Say goodbye to mostly empty containers of jelly and takeout containers you may have completely forgotten about.
Give your heating system a tune-up
When the weather gets colder, you'll likely use the heater every day. Make sure your air-conditioning filters are in good order and that the unit itself is in top shape. If you have a forced-air system, which has a network of ducts and vents, you might want to get the pipes cleaned.
Dust and dirt can build up over time, but these are easy to clean with professional tools. Call up your local air-duct cleaning service, and the appointment should last no longer than a few hours, depending on the size of your home.
Clear off gutters and roofs
Cleaning a house also includes making sure the exterior is clean and tidy. This step should be completed before, during, and after fall to ensure that your roof and water gutters are clear of debris. Pick up leaves from gutters via a retractable ladder and a gutter-scooping tool.
If you need to get onto your roof, wear shoes with lots of grip like rubber sole sneakers or boots. If you're uncomfortable with this step, you should contact a professional crew to take of it.
Prepare your yard for hibernation
Unless you live in an area with a very mild climate, you'll likely take a break from gardening starting at the end of fall. Root up weeds and lingering plants from summer and compost them.
Now is a good time to add fertilizers and mulch to replenish lost nutrients in the summer and to bolster your soil for spring. Plant cover crops like fava beans in late fall if your garden needs a little nutrient boost.
Lock away deck or garden furniture
Most outdoor furniture is weatherproof, but for woven or fabric furniture, take them into your shed, garage, or home to avoid damage. You might cover them with a tarp if storage space is limited. Install a sun shade if possible to provide extra protection against snow and rain.
Have a pro check out your chimney
If you're lucky enough to have a working fireplace to keep you cozy and warm on crisp fall evenings, make sure your chimney is in good working order before firing it up for the first time in the season. Creosote is a common deposit that builds up in your fireplace flue and other areas. Nesting birds may also be living in your chimney, so it's important to inspect your fireplace at the beginning and end of the fall/winter season.
Steam-clean carpets, rugs, and furniture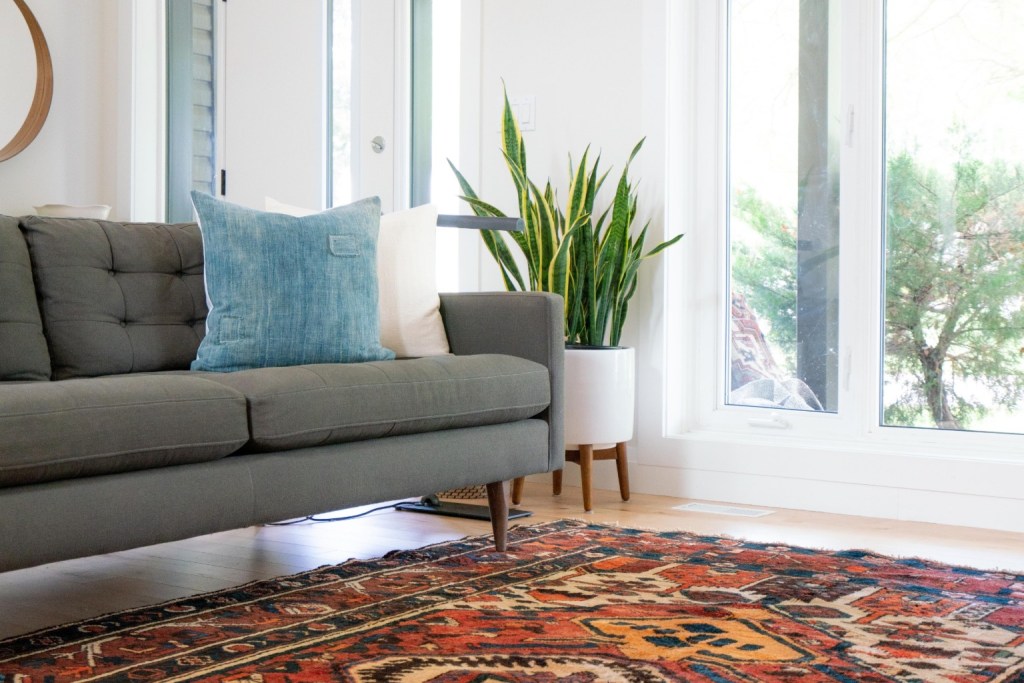 When autumn arrives, indoor traffic increases when we huddle inside to stay warm. Vacuum and steam-clean carpets, upholstery, and rugs to remove built-up dust and eliminate stains that have built up over the summer. If you have pets or young children, this is even more important because these areas are always in use.
Break out the thick down blankets, throws, and fleece sheets
In addition to clothes, you'll also want to change out your sheets, blankets, and quilts. If your blankets have developed that musty closet smell from being in storage too long, wash them before you use them. Distribute snug throws throughout the house, especially for sofas and armchairs.
Deep-clean the bathroom
You might overlook bathrooms during fall cleaning, and here's why you shouldn't: You'll want a spotless bathroom for those hot baths or showers during those cold, autumn days. Whiten grout between tiles, inspect every nook and cranny for mold, and wipe off surfaces you might have missed during routine cleanings, such as the top of your medicine cabinet.
Fall cleaning should be taken just as seriously as spring cleaning. With these 10 essential cleaning projects for fall, you'll be on your way to a worry-free autumn and winter. Focusing on deep-cleaning projects for a week can save you loads of stress throughout the following months. With only everyday chores that need to be completed, you'll have plenty of time to unwind by the fireplace or plan for the upcoming holidays with some hot cocoa.
Editors' Recommendations