As essential to decorating as the little black dress is to women's fashion, black furniture never goes out of style. It transcends decorating trends and is consistently favored by interior designers and savvy homeowners everywhere. Bold, confident, versatile, black furniture gives rooms a simple, quiet elegance.
The color of furnishings has always played a huge role in determining the proper paint color for a room. Honey oak-colored wood or pastel upholstery require a decidedly different paint palette than white furnishings or jewel-toned sofas. It's about pairing not just colors, but personalities, to create a room where wall colors and furnishings are in absolute sync.
When it comes to wall paint for black furniture, choosing paint colors that flow beautifully is quite easy as there are so many hues that work well together. Neutrals for classic appeal, earth tones for subdued sophistication, brights for all-out pop, there are choices available to suit any taste. Here are our picks for the best paint pairings for black furniture.
The timeless appeal of white
Color trends may change, but white walls never go out of fashion. Add the strong contrast of white walls and black furniture and you've got a look that can stand the test of time. There are numerous shades of white paint in the market – from whites with warm creamy undertones to whites that are cool and icy — so you are absolutely guaranteed to find that one perfect shade that will best suit your unique style.
Add accents of color or go all-out black and white, either way white-painted walls offer limitless decorating possibilities.
Gray is the new black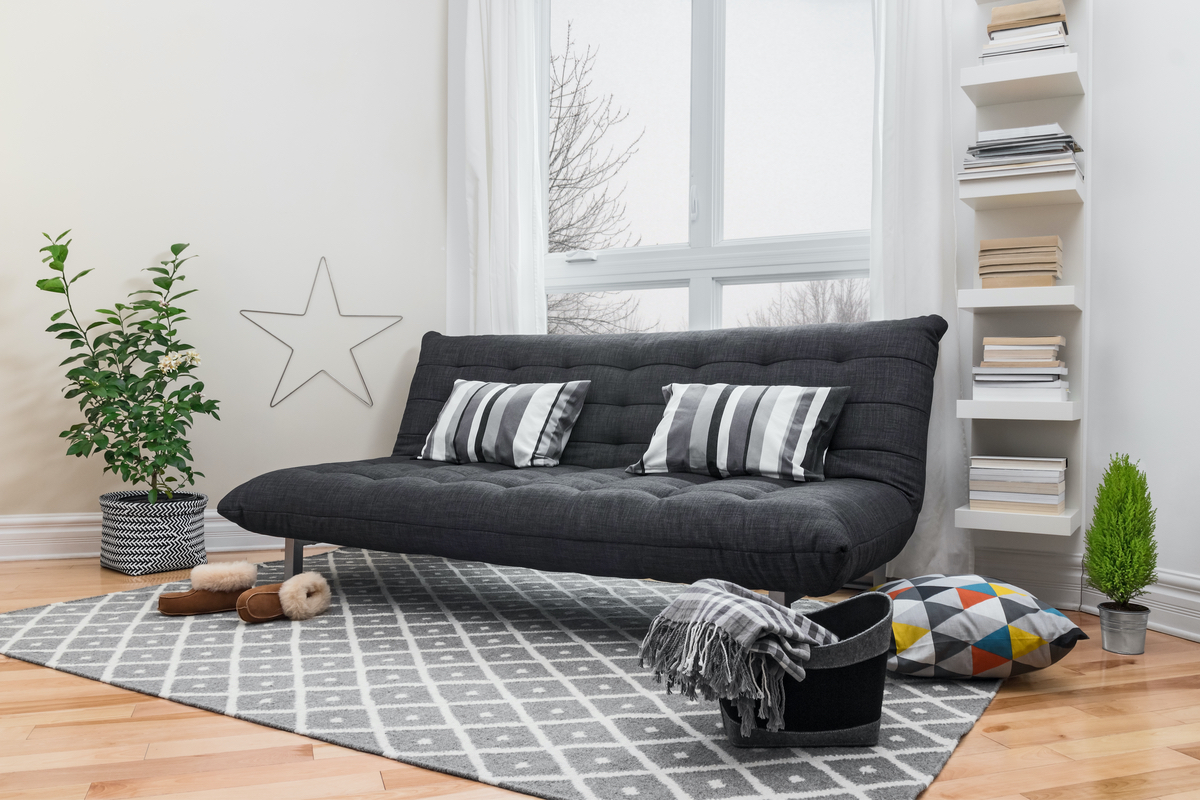 Gray continues to dominate as the neutral paint color of choice for designers and DIY decorators. In fact, home stagers most often recommend that homeowners paint walls in shades of gray to ensure the most broad appeal to potential buyers.
There is something soothing about the cool, easy appeal of gray. Paired with black furnishings, gray walls give an unrivaled level of sleekness. Add hammered silver accent pieces, geometric prints, and touches of white to give the room a tailored modern edge.
Feeling greige
A nuanced intersection of gray and beige, greige may be exactly the color compromise you've been searching for if you can't decide between the two. Offering the best of both worlds — neutrals and grays — greige can be cooler if it is more gray influenced, or warmer with a stronger beige influence. Either way, greige enhances the commanding style of your black furnishings. There are even chameleon-like shades of greige that can read either cool or warm depending on a room's specific lighting conditions.
Earth tones rule
Earth tones are more design-style versatile than their contemporary gray counterparts, making them perfect for black furnishings that are more rustic than modern. Think African prints, woven basket containers, faux animal skin rugs, and black-framed prints hung on walls. When it comes to what wall color goes with black furniture, with earth tones you can go as dark and dramatic as a coffee bean, or as pale and soothing as mushroom cream, warm clay-like colors, or cool and confident taupes.
Go bold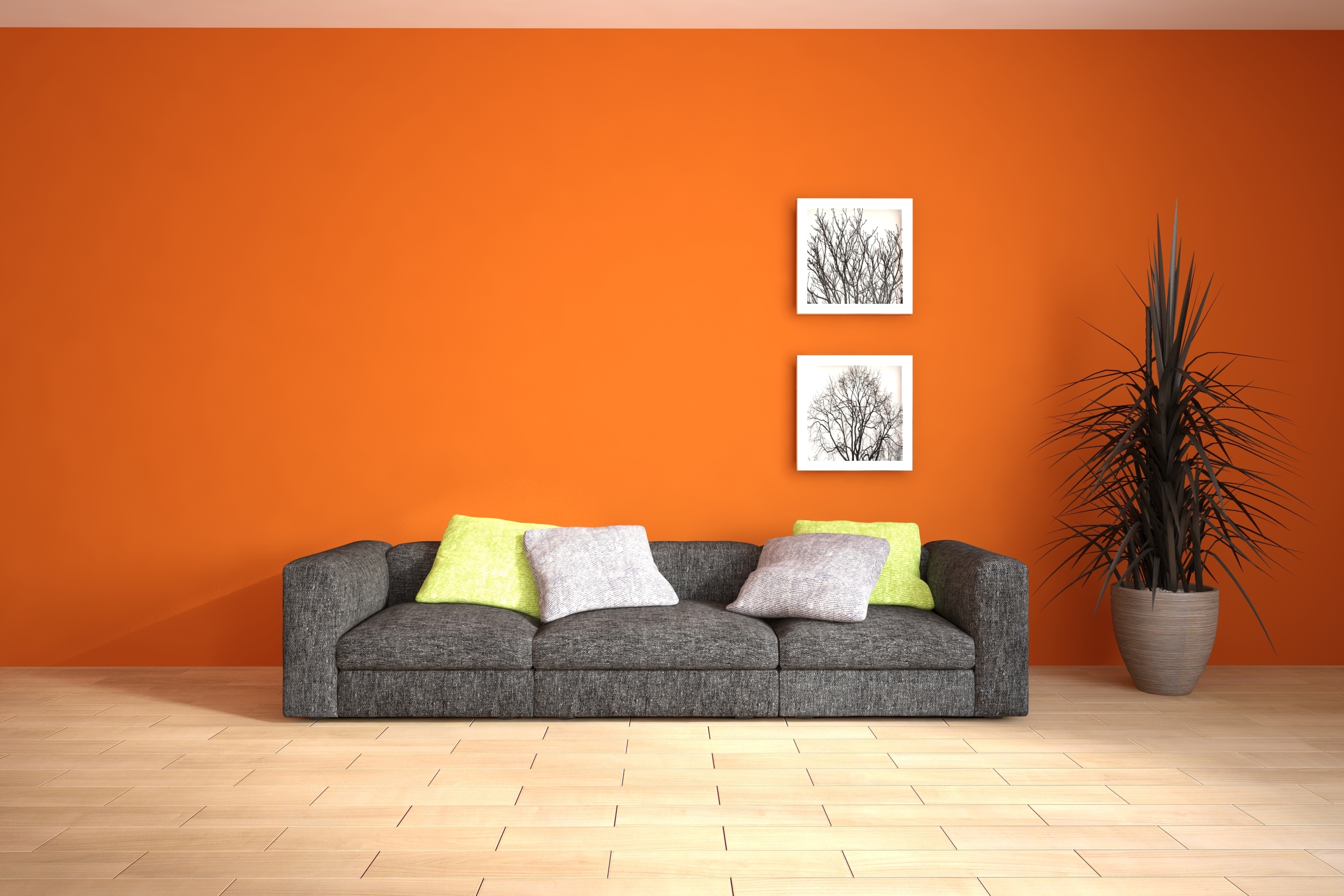 If your style is commanding and larger-than-life, choose paint colors that match your vibrant personality. Bright jewel tones of emerald, sapphire, or ruby make the most of modern black furnishings; while walls of marigold or rich red take the bold style to a whole new level. Whether you choose bright paint for the entire room, or just one or two accent walls, a pop of vibrant colors always makes a dramatic decorating statement. Need more ideas? Check out our article on the latest wall painting trends.
The finish line
Now that you've selected the perfect paint color, you need to decide on the finish of the paint. The finish or sheen measures how light is reflected off the paint surface, determining the level, or lack, of gloss. Generally, the less gloss in paint the more it is able to hide imperfections in the walls, while glossier paints tend to be more durable.
Flat: A finish without any sheen, flat paints do not reflect light; however, they are more forgiving when it comes to flaws and create a more uniform wall surface. Stains are tougher to remove on flat paint, so it's generally not recommended for high-traffic areas in your home.
Matte: Almost as shine free as flat paints, matte paint has similar flaw forgiveness and depth of color but offers a bit more durability. It's able to withstand more frequent washing, making it suitable for busier areas in your home.
Eggshell: A low-sheen similar to flat or matte paints, eggshell paints are easy to clean, durable, and perfectly suited for even high-traffic areas in your home. More light reflective than flat or matte finishes, eggshell paints cast a soft, warm glow.
Editors' Recommendations