If you're putting your house on the market or want to upgrade its overall appearance, you have several inexpensive ways to accomplish an expensive look and feel. Whether you'd like to switch out your furniture or add paint to your rooms, you don't need to spend a ton of money to get the look that you want.
If you're crafty, you have a distinct advantage in implementing some of these tips, but if you aren't, never fear. We'll tell you how to get your projects done. From utilizing textures to understanding the Zen world of budget decor, you'll have a wealth of information to upgrade your living space. 
Use color tastefully
Choose a palette and stick with it. You don't have to choose expensive paint or furniture. Pick a color scheme and design your space with those colors. Adobe offers a free tool that you can use to generate complementary palettes so you can get an idea of what you like. Remember that you don't have to choose your wall color first. Sometimes it is more convenient and smarter to design around your favorite chair, sofa, or even a piece of art.
Decorate with pillows
Pillows make everything better, more comfortable, and more stylish. From one large cushion on the floor to several pillows on your sofa and chairs, decorating with pillows is a great way to make your rooms look luxurious. So how do you do it on a budget? If you sew, explore the remnants section of your local fabric store and find something that complements your color palette. Shades of your palette work, as well. Combine that fabric with different shapes and sizes of pillow forms, and you have a classed-up room.
Don't be afraid to choose unusual shapes for your pillow inserts or get creative with the standard forms. Tying off a bench pillow in the center with some ribbon or sewing a bright button in the center of a round shape adds interest and individualizes the look.
Add crown molding
Crown molding is an architectural detail that improves the look of a room and elevates everything in it. Using this design anchors the ceiling to the walls, adds complementary color and texture, and provides a generous measure of formal elegance.
There are rules for choosing the right crown molding for your room. Proportion is king, so a lot depends on your ceiling height and room size. Also, there is an array of contemporary styles available, and it now comes in several materials, including wood and vinyl. If you are handy and follow these installation guidelines, crown molding can be done as a DIY project. Measuring for accurate cuts is the most challenging part of installation, but no matter how you get it done, it will make your room look luxe.
Paint your interior doors black
Yes, that's right. Painting your doors black adds drama and excitement to any interior. There are several reasons why black doors enhance your living space, and there are some rules below to follow that will make sure this process will deliver the effect that you want.
One reason to paint your doors black is that in new homes, standard builder-grade doors look ordinary. A beautiful coat of semi-gloss black paint smooths the grain and hides any flaws. If you have any black furniture or decor, a black door balances the contrast. Plus, a black entrance door never looks dirty.
If you think black doors are for you, follow these few guidelines to make sure they accomplish the look you want:
Use black sparingly — don't paint the door black if you have black walls or an abundance of black furniture

Don't paint the door black in a room with dark floors

Keep some contrast. Floor molding and trim can be painted bright white to contrast with the black
By employing these rules, your black doors can do wonders to luxe up your home.
Change curtain length
If you want your space to look expensive, make sure your curtains reach the floor. This rule also applies to sheer curtains you have inside the heavy ones.
Hang up art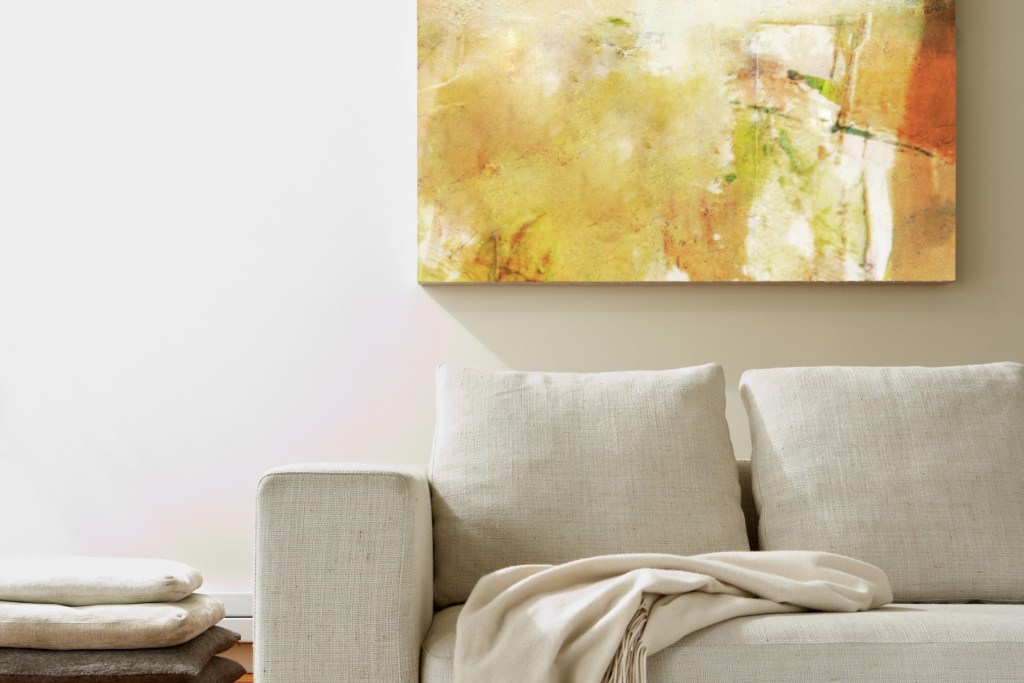 When choosing or creating art for your home, large pieces look more expensive than small ones. So there is nothing to stop you from buying a huge piece of canvas, a few brushes, and tubes of acrylic paint, then going to town on it. Hang it from a dowel or curtain rod, and you have an inexpensive, large-wall covering. You can ask friends to help, and it will be a memento of a great party or afternoon.
Additionally, flea markets, thrift stores, and consignment stores usually have a large selection of interesting objects and pictures to hang on the wall. Just make sure that it goes with your decor, your color palette, and your intentions.
We mentioned the Zen of decorating, and it's surprisingly simple to follow: No matter what you do with your living space, you want it to look like you meant to do it. Mismatching lamps and shades, throwing a blanket that clashes with on a subdued sofa, and combining oddly shaped pillows are all examples of decorating with intent.
Now that you have an arsenal of ideas to make your living space look expensive, have fun and explore your options. Soon enough, you'll be enjoying your upgraded home.
Editors' Recommendations