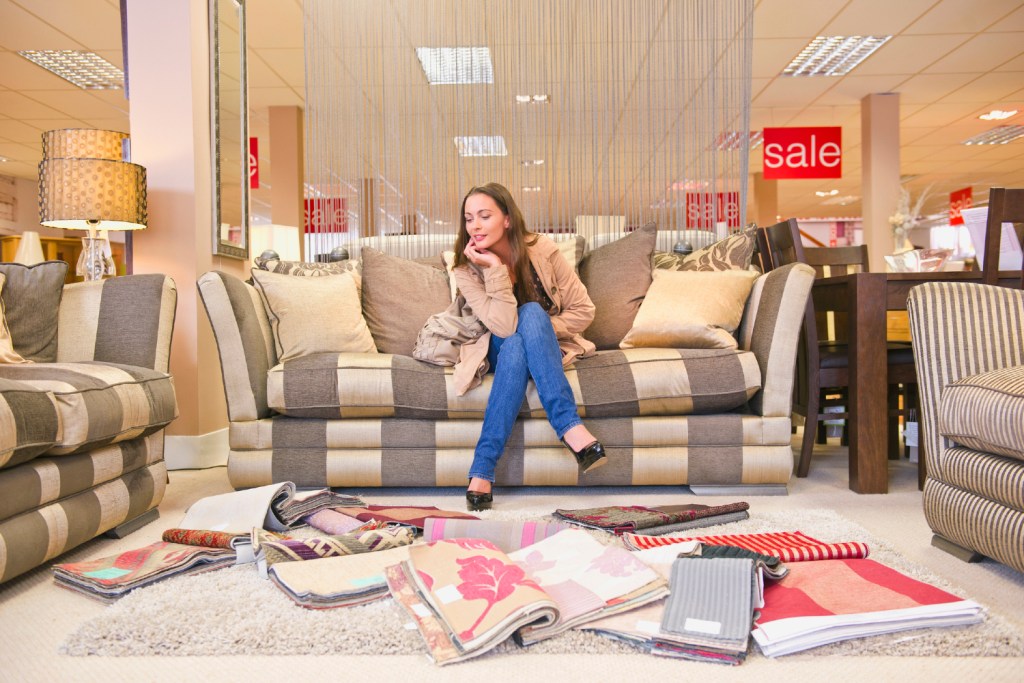 Furniture can be expensive, and shopping for furniture can be extremely overwhelming. There are so many choices out there, and many companies offer similar items, so it can be challenging to decide which merchant to buy from. Since we do so much of our shopping online these days, it can be tough to ensure you are getting a quality piece of furniture without ever touching or physically seeing the piece you are buying.
Related
All of these factors, combined with finding a good deal, can make for a daunting shopping experience. Fortunately, we are here to sort through all of the furniture out there and point you in the direction of some of the best cheap furniture deals.
Best Furniture Sales 2021
Amazon Furniture Sales

: Amazon is a significant player in all types of sales, including furniture. With a featured Deal of the Day page specifically dedicated to furniture, you are sure to find a piece that you love. From mattresses to patio furniture and standing desks to couches, Amazon has furniture in all categories and tons of different styles.
Wayfair Furniture Sales: Wayfair has all kinds of furniture at rock-bottom prices. Wayfair offers furniture that is trendy at a fraction of the cost of many of its competitors.
Target Furniture Sales

: Target has been in the furniture market since before Amazon and Wayfair even existed. If you're in the market for a new desk, futon, nightstand, or coffee table, Target can help you out. Target also has a really great back-to-school/dorm room section if you or someone you know is headed off to school this month.

Home Depot Furniture Deals

: Home Depot is not the first place you may think of when you think of furniture but, it does offer a wide selection of chairs, desks, storage cabinets, and more. Home Depot also has a wide variety of outdoor furniture, so if you're in the market for a new patio set, check out Home Depot's furniture deals.

Overstock Furniture Deals

: Overstock has a ton of deals, and it is continually rotating the stock, so you are sure to find something unique. From dressers to box frames and ottomans to daybeds, Overstock has a wide selection of furniture deals to choose from.
Best Furniture Deals 2021
Gove Industrial Modern End Table

— $52, was $65

Linenspa 6-Inch Innerspring Twin Mattress

— $75, was $80

OSleep Platform 14-inch Heavy Duty Metal Bed Frame

— $82, was $91
Charleena End Table with Storage — $114, was $129

Homall 4 Piece Outdoor Patio Furniture Set

— $160, was $217

Dalton Fabric Recliner Club Chair

— $177, was $208
SertaFrancis Upholstered Platform Bed — $237, was $250

3 Piece Torrance Industrial Wood Nesting Table Set

— $480, was $800

Royce Polar White 60-inch Hall Tree

— $743, was $1,061

Gordon Grey Velvet Sofa

— $862, was $1,436
Are Cheap Furniture Sales Too Good to Be True?
Like any deal you find on any product, some of them are worth it, and some are not. The key to finding a deal that is not too good to be true is to do your homework. Check out the reviews on the website to see what other people are saying about the furniture. Reviews should not be taken as a be-all-end-all, but you can certainly use them as a general guideline.
Another good tip is to compare. Many websites and stores have similar products, so be sure to shop around to make sure you get the best version of the furniture you want at the best price. The last bit of advice is to be sensible. Don't give in to an impulse buy that you will regret later. As the saying goes, if it sounds too good to be true, it probably is.
Editors' Recommendations