If you're considering redecorating your home or even deciding on a single piece of furniture, you don't have to do it through guesswork. Not surprisingly, there are apps to help you figure out paint colors, room measurements, and even how to place your art on a gallery wall.
There are several free and paid apps available for all phone users, so we narrowed them down to the ones that we think are the most useful. Additionally, many of these design and decorating apps link to shopping options for the added convenience for the user. So, here are our picks for the best home design apps as well as home decorating ones.
Paint Color Apps
Although it is fun to get a bunch of paint swatches and pin them to your walls, being able to apply the color gives you a much better feel for how it will look on a large scale. Here are some that allow you the freedom to visualize room color and identify a paint color that matches your inspiration. It's important to remember that these apps are guidelines. No app is going to be 100% accurate because phone screens are all calibrated differently, and displays vary in brightness and saturation. Also, many paint manufacturers have developed apps for color decisions, so if you want a specific brand, they will likely have an app for you.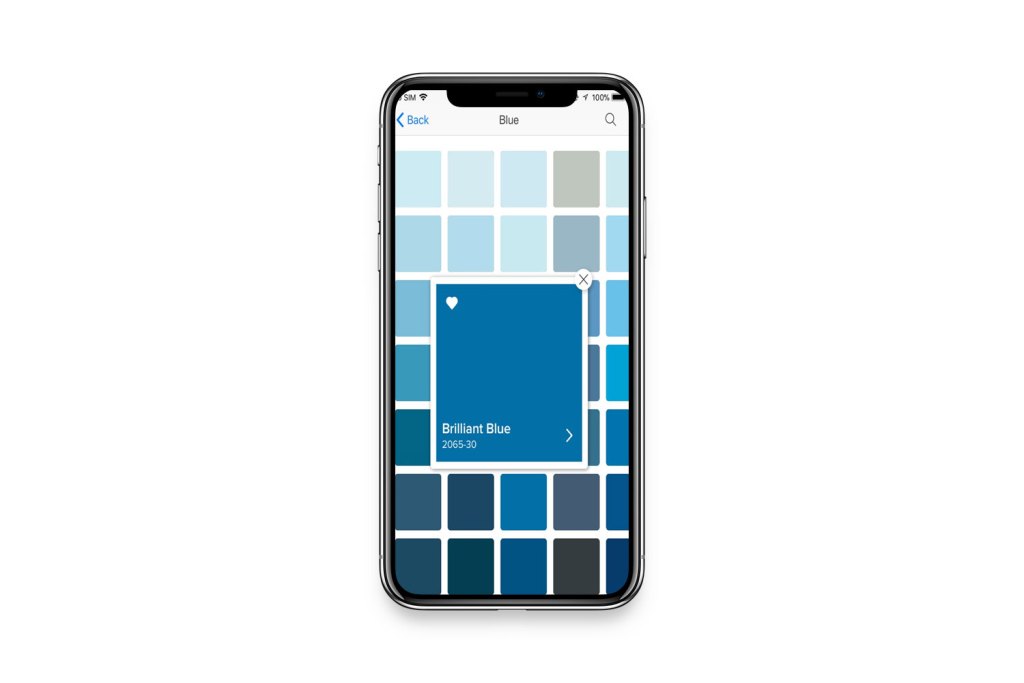 Color Capture
This handy app by Benjamin Moore matches a paint color to a photo. For instance, say you love the color of a piece of furniture or something in nature. Leaves, flowers — anything you like. The app also allows you to upload an image from your library or scan a QR code. It also allows you to save your pictures with their color matches and create color combinations.
Platform: iPhone, iPad, Android
Cost: Free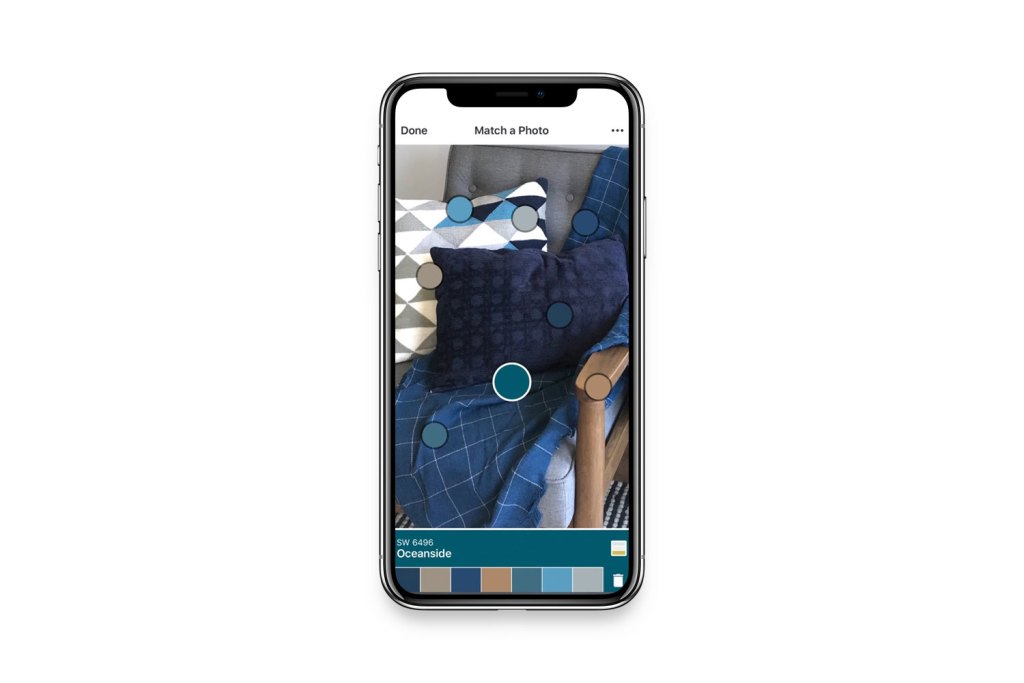 ColorSnap Visualizer
This clever app by Sherwin Williams takes the painting experience a step further and adds the ability to paint a room and preview accent colors and trim. You can use this app to virtually paint your space in real-time by tapping a wall to change its color.
Platform: iPhone, iPad, Android
Cost: Free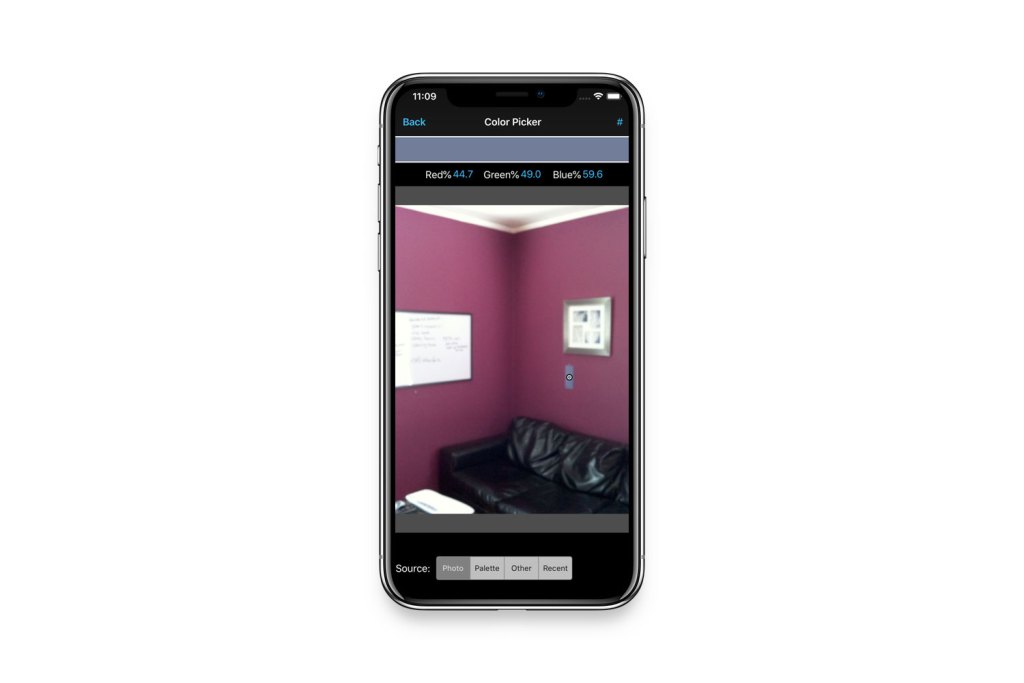 Paint Tester (iOS) and Color Grab (Android)
We couldn't find a genuinely geeky color app built for both of these operating systems, so we thought these two free tools deserved a mention.
Paint Tester is a highly rated room-painting app that allows you to pick any color and apply it to the walls of your room. You can also tape a swatch to your wall, and it will match the lighting, giving you an accurate idea of the new paint.
Color Grab is a professional color tool that generates meter-quality color information about anything you like. With that information, you can choose a paint color from numbers without worrying about an inaccurate preview. Say you have to match a room color, or you love a particular shade of a painting, this app tells you exactly what it is, and you can do the rest.
Platform: iPhone, iPad, Android
Cost: Free
Household Tools Apps
You may not have all the specific tools that you need to measure, check straightness, and keep a record of your room layouts. And the last thing you want to do shuffle through a bunch of papers when you go shopping for furniture and art. Here are a couple of apps that will save you that headache and make you feel incredibly efficient.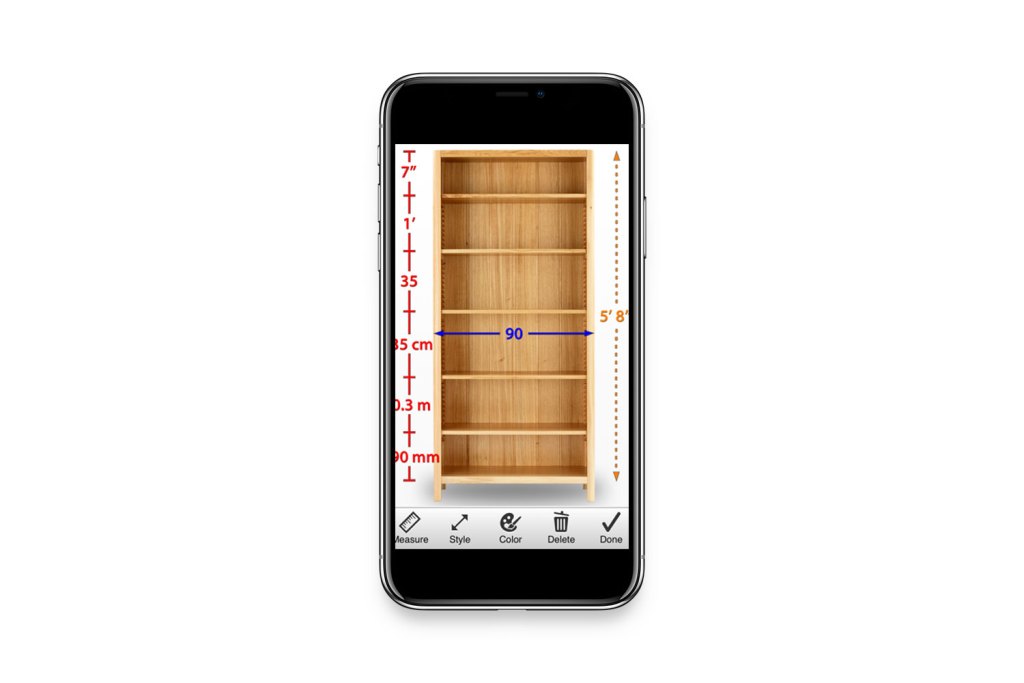 Photo Measures
Wouldn't it be convenient if once you have your room measurements, you could apply them to a wall in an app and reference the photo when you're out furniture shopping? The Photo Measures app does just that. This convenient app lets you take a photo, draw in your measurements, zoom in, customize, and organize your measurement documents. Whether you're working with a contractor or purchasing a picture frame, Photo Measures helps you stay on top of what you're doing. It also has an export feature so that you can share your documents with others.
Platform: iPhone, iPad, Android
Cost: $6.99
iHandy Carpenter
This app is as beautiful as it is helpful. The iHandy Carpenter app has five tools to use for small projects: A plumb bob for checking verticality of walls, a surface level, a bubble level, a protractor for measuring angles, and a steel ruler in both inches and centimeters. This app requires calibration, and after it is calibrated, it is accurate enough to be an inclinometer. Once you have it, you'll wonder what you did without it.
Platform: iPhone, iPad, Android
Cost: $1.99
Furniture Visualization
Back when augmented reality was still a dream in a developer's head, they weren't thinking that people walking around with phones could place furniture in their living rooms, but here we are. A couple of companies have harnessed AR into some innovative apps for the decorator in all of us.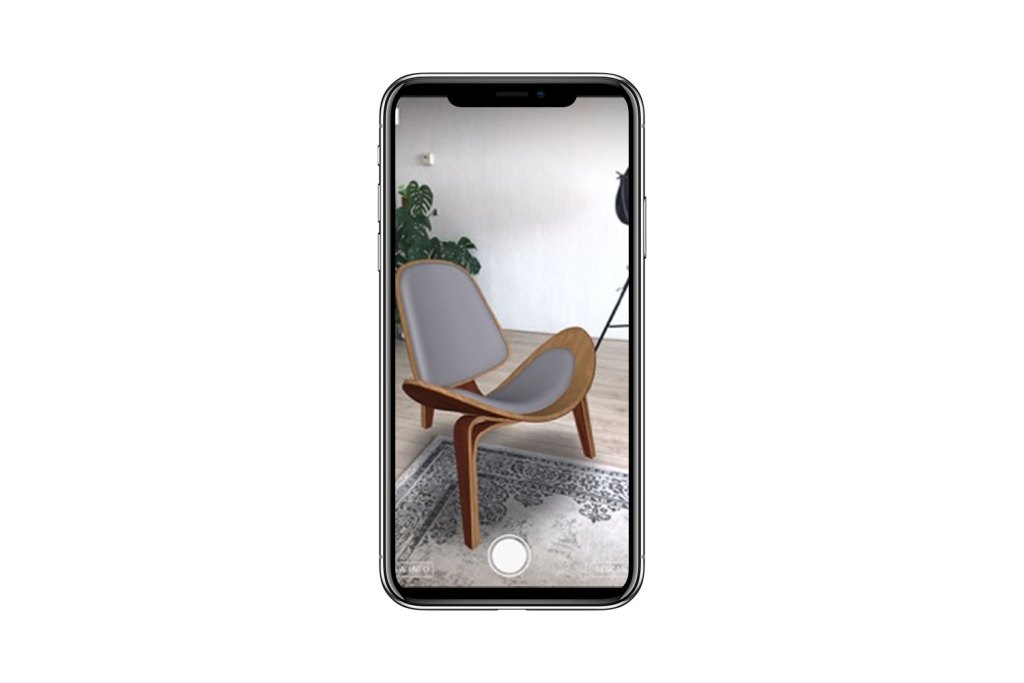 roOomy
This app gives you access to 3D models of furniture from several top retailers from Amazon to Crate & Barrel and lets you place them in your space to see if they'll fit and look good. And if you want to play with other looks, it provides a collection of 3D rooms for your convenience. You can customize the furniture and share your looks on social media, as well. A similar app for Android is "Home" Room Planner: Home Interior & Floorplan Design 3D
Platform: iPhone, iPad, Android
Cost: Free
Houzz
This exceedingly popular app features more than 20 million high-resolution home exteriors and interiors, 10 million products and materials, 1 million 3D products, and access to home-improvement and decorating professionals. This app has everything, including featured sales savings, visual product matching, and the capability to purchase products from within the app. You can also draw on your photos with its built-in sketch feature and share what you've done with family and friends. Houzz is arguably the most comprehensive decorating app available and is useful for projects on every scale.
Platform: iPhone, iPad, Android
Cost: Free
Editors' Recommendations